11 Best Gifts for Dog Lovers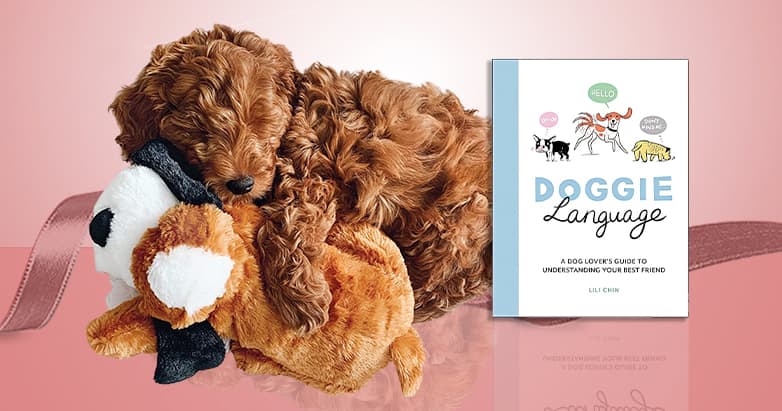 For the dog-obsessed, there is one type of gift that will ensure a smile: a present geared toward their pooch. Whether it's a practical gift they can use for their pet, a gift their dog can directly enjoy (think, a toy) or just a sweet reminder of their furry friend, it's all fair game. We sniffed out the best-in-field experts—from a trainer to a veterinarian—to find out their top picks for happy tails (and owners, too).
For the chow hound
Anyone with a pooch who inhales their food as it's coming out of the bag will appreciate the Pet Parents Forager Snuffle Mat & Slow Feeder Dog Bowl, which turns mealtime into playtime—in a healthy way. Certified dog behaviorist Juliana DeWillems, owner and head trainer JW Dog Training & Behavior Consulting in Washington, D.C., says it gives her pooch "an outlet for sniffing." Basically, it's like hiding kibbles in the plush equivalent of grass, which encourages natural canine foraging instincts—and keeps them from consuming their grub in two bites. "The foraging is so good for a dog's brain," DeWillems says, "and using a snuffle mat can tire them out mentally and help calm them down." It's easy to adjust the level of difficulty: Put the "grass" down and flat and it's easier for Fido to get the treats, or use the bowl shape and the pet has to search for the goodies. 
---
For the playful pup
For the friend trying to work remotely while their bored pup barks for attention, a bubble machine is a great solution, says Cynthia Dockx, owner of Wash N' Wiggle grooming in Morris Plains, N.J. At any given time, Dockx has a pack of pups in her studio waiting to be washed or get picked up. Desperate to find a way to entertain them, she discovered the Bubbletastic Bacon Bubble Machine, a device that pumps out a steady stream of nontoxic, bacon (!) scented bubbles. "Dogs have a blast chasing the bubbles and trying to eat them," she says, of the brain-stimulating activity. Most important, it keeps them busy for a long time. And it runs on AA batteries, so there's no danger of anyone chewing the cord.   
---
For the baker
The Dash Dog Treat Maker—a small waffle iron with bone-shaped plates—lets your pal whip up homemade dog treats. Hernandez raves about the ease of operation: Plug it in and fill the compartments with the mixture du jour. It makes up to eight bone-shaped dog treats at a time, and it includes sweet and savory recipes. Boston-based lifestyle expert and gifting guru AJ Hernandez especially enjoys using it during the holidays to gift biscuits to friends' pups from his dog Roxy. "The treats look like they came from a bakery, but the fact they're homemade makes them so much more meaningful," he says. 
---
For the curious canine
Every dog needs mental exercise, too, and DeWillems praises the Outward Hound Hide-A-Toy Plush Puzzle Toy for letting them flex their problem-solving ability. Curious dogs stick their snouts in the tree's holes to hunt for and retrieve stuffed squirrels. Play is a critical diversion that helps ease a dog's feelings of anxiety, she says. The toy is extra engaging because "it provides an outlet for a dog's natural desire to chase, sniff, tug and hunt," she explains. After she gave this gift to a client's extremely shy pup, the dog bounded around the room, squeaking the squirrels. "We used it to help her bond and feel comfortable in her new home," she says.  
---
For the angst-prone pup
Buying for someone with a shy or anxious dog? Experts say certain products can be helpful. Dockx eased her golden retriever's separation anxiety while she was at work with a Snuggle Puppy, a plush toy with a battery-powered heartbeat. "It was like having a very soft little brother or sister to comfort him," she says. The vibration of the simulated heartbeat—which can be turned on and off—helps ease their loneliness (dogs are pack animals). It's a spot-on gift for a new puppy who is getting used to sleeping away from its mom and siblings. 
---
For the dog whisperer in training
While pet parents can't learn to bark back or read their dog's mind, they can improve their communication skills. To brush up on dog speak, DeWillems recommends "Doggie Language: A Dog Lover's Guide to Understanding Your Best Friend," which decodes canine body language through illustrations that highlight subtle nuances in their mannerisms. "Dogs communicate with their bodies all the time," she says. This book helps their human spot subtle signs of stress—like a whale eye (when the whites of the dog's eyes are visible in a half-moon shape) and lip licking with a tense mouth. "Then they can defuse the situation before the dog feels so threatened, they snap," she says. It's a practical present that'll help them understand their pet's dislikes—and what makes them a happy doggy.
---
For the bored buddy
Help prevent their four-legged friend from getting into things they shouldn't by giving them something to bust boredom. The Lickimat Buddy is up to the job, according to DeWillems. Made from BPA-free rubber, it has a surface pattern they can smear with food (wet dog food, peanut butter, pumpkin purée) for Rover to remove. "Licking can work wonders for calming down a dog and decreasing stress levels," she says. The mat can also be used to keep a dog occupied during activities they don't love like grooming, or to calm them down when guests come over. DeWillems puts hers to use during Zoom calls.
---
For the destroyer of everything
If your friend has a dog who gets bored and chomps on everything in sight, they'll be grateful for a diversion toy that's actually engaging. Dockx swears by this battery-powered Jumping LED Activation Ball, which has light and sound and automatic bouncing, and will "keep pups entertained for hours." In fact, it even thwarted Dockx's dogs from chewing on the legs of her dining room table. "The sounds it makes and its unpredictable bouncing kept them on their paws trying to figure out where it would go next," she says. And bonus, the little knobs are made from a soft plastic so if they do chew on it, it won't hurt their teeth.
---
For the party pup  
If it's always wine o'clock in their house, Dög Pawrignon Rosé will give their pooch license to partake in the paw-ty, too, with a dog-friendly faux wine. Hernandez discovered this Instagram gold when a friend invited him over for wine, then served this to his dog (out of a puppy-proof goblet). It's made with organic bacon and organic salmon (without salt or preservatives) and also full of healthy fats, the manufacturer says, that promote silky, shiny coats.
---
For the nostalgia seeker
Hunter Finn, a veterinarian in McKinney, Texas, has a rule for gifting toys: "If it is too hard for me to make an indent in it with my fingernail or it hurts when I slap it on my knee, then it's too hard for a pet to chew," he says. He also avoids playthings with stuffing, "which can be toxic," Dr. Finn says. His go-to gifts are P.L.A.Y plush toys, because they're filled with a nontoxic, eco-friendly filling that's a safer alternative to traditional stuffed toys, and have a double layer of fabric—great for serious chewers. He frequently gives the 80s Classic Collection, a fun sampling of the era's retro icons—the family station wagon, a boom box, hair spray—in fuzzy form. They're cute enough that your friend won't mind having them strewn all over her floor. 
---
For the devoted dog dad
Any proud parent will dig a Dog Dad Hat, with a custom embroidered illustration of their pet's portrait. Hernandez recently ordered one with his dog Roxy's face on it, and "was blown away by how well the embroidery captured her likeness and playful spirit—every detail down to the little twinkle in her eye." In fact, he loved his cap so much, he now gives this gift out at the holidays. You can also get a beanie or bucket hat if that's more their style.   
The advice, recommendations or rankings expressed in this article are those of the Buy Side from WSJ editorial team, and have not been reviewed or endorsed by our commercial partners.