Best Puppy Food: A 2023 Buying Guide to Choosing the Right Nutrition for Your Pup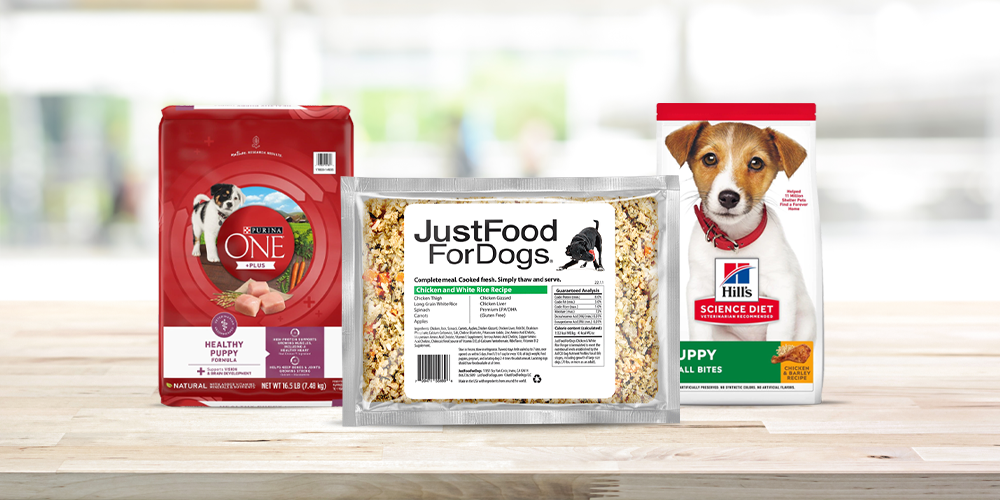 If you're a new puppy parent, the countless product choices in the pet food aisle are understandably overwhelming. With so many options promising to provide the healthiest and most delicious foods for your pup, it can seem impossible to make an informed decision about food for puppies. Finding the right dog food for your pup doesn't have to feel like navigating a minefield, though. That's why we've put together this list of our top five choices for best puppy food available today.
In this article we will review the top puppy-centric dog foods on the market today and discuss nutritional needs, the difference between small breed puppy food and large breed puppy food, wet food versus dry dog food, and much more. With this guide and some basic information about dogs' dietary requirements, you'll be sure to find the perfect dog food for your pup.
Best Puppy Food Choices
1. JustFoodForDogs: Best Overall Dog Food
2. We Feed Raw: Best Custom Dog Food
3. Purina: Best Overall Dry Food
4. Hill's Science Diet: Best Small Dog Dry Food
5. Iams: Best Budget-Friendly Wet Food
Reviews of the Best Puppy Food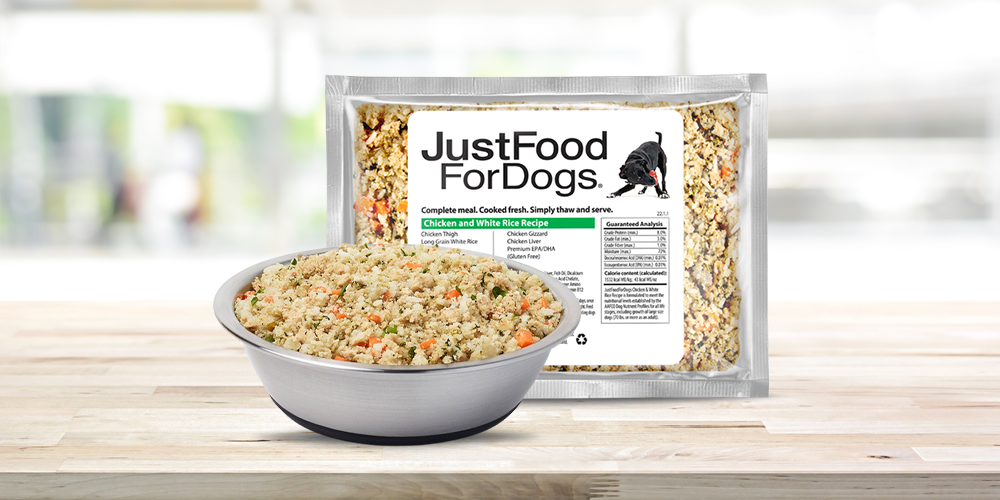 Pros
Delicious formula that dogs go crazy for
Extremely healthy and made with high-quality ingredients
Formula designed by vets for dogs at all stages of life
Cons
JustFoodforDogs has become famous for its many top-quality dog food options and their food for puppies meets this same demanding level of quality, taste, and nutritional content. JustFoodForDogs takes a very clinical yet natural approach to food, using only the best and freshest ingredients with direct input from world-class veterinarians.
If you want to be sure you are buying from a brand that cares about the health of your puppy as much as you do, JustFoodForDogs should be one of the first brands you look at.
What are the Specifics of this Puppy Food?
The focus here is on the Chicken White Rice option. Made primarily from fresh chicken thigh meat and USA-harvested whole white rice, this food for puppies (it also functions as long-term adult dog food as well) has the perfect nutritional balance to help your dog live their best life at any age. Chicken thighs generally provide more protein than white meat or chicken meal, and this food also has added omega-3 fatty acids which are important for supporting healthy skin, a shiny coat, and brain development during the translation from a puppy to adulthood.
This fresh-frozen food is built around rice and chicken thighs, liver, and gizzard and is further supplemented by spinach, carrots, and apples. The formula meets the AAFCO Dog Nutrient Profiles for all life stages, including the growth of large breed puppies.
It is gluten-free and has no added preservatives. You are able to buy this food in three different sizes: Small (just under 8 lbs), medium (roughly 23.5 lbs) and a large box which is over thirty pounds of food. There is a satisfaction guarantee, as well as the ability to save 35% off your first order and 5% off recurring auto ship orders. JustFoodForDogs also offers a lamb and brown rice formula if your pup prefers lamb over chicken.
How is This Puppy Food Different?
The JustFoodForDogs blends are formulated to meet the recommendations of American Feed Control officials and are made from 100% human-grade ingredients. What all this means is that you are getting extremely healthy and high-quality dog food that your pup will absolutely love the taste of, and they will feel great after eating it.
This is healthy, and high-quality food made to support your dog at every stage of life without cutting corners or skipping on key nutrients. JustFoodForDogs is very open about every ingredient their food contains.
What Are People Saying About This Brand?
This brand has a ton of fans and the Chicken and Rice option sits easily in the four out of five star range, though most of the negative complaints aren't really to do with the food but with occasional shipping issues, which to be fair, are probably unavoidable with such a large customer base.
There are nearly 900 reviews for the Chicken and Rice meal that you can check out for yourself, and it seems to be that most pets simply love the taste and owners love the fact that not only will dogs scarf this dog food down, but they will also be able to shed those extra pounds due to the lower caloric intake compared to some other popular dog food options.
In fact, this food is so delicious that many owners use it as a flavor additive to other forms of specialized healthy dog food – as this will not clash with their unique health needs but does provide a burst of natural flavors.
Learn more about JustFoodForDogs food for puppies
2. We Feed Raw: Best Custom Dog Food
Pros
Custom meal plans so you get exactly what your puppy needs
Wide selection of proteins will make any dog happy
Human-grade meats with no added preservatives
Cons
It takes a bit more effort instead of just buying a premade recipe.
The next dog food on our list of top puppy foods is the unique meal plan you are able to build at We Feed Raw. Rather than offer pre-made standard dog food formulas, We Feed Raw instead allows you to create custom food plans for your dog, with the best possible nutrition and prearranged portions.
Simply go to the site and fill out a basic questionnaire regarding your pup's age, gender, size, breed, and a few other details. The nutrition experts for the brand will then help you to craft the perfect meal for your puppy. Then food is then shipped frozen to your door so you just have to thaw and feed!
What are the Specifics of this Puppy Food?
You have a ton of options when it comes to customizing your dog's food and are able to include proteins such as duck, lamb, beef, chicken and more. This is all served as raw food which contains more of the amino acids and enzymes that help them to live their best life.
A high-quality and balanced raw diet like this is proven to help dogs live longer and better – and with custom options tailored to your puppy, you know that they are going to love it. As the pups get older, simply change up the recipe a bit and you have a lifetime solution.
Custom raw diets like this have been shown to help dogs gain better control of their weight, have better digestion, have cleaner teeth as well as better fur and less allergies. For a puppy this can help ensure that they grow to their full healthy potential.
How is This Puppy Food Different?
These are USDA approved human-grade meats with no artificial additives. This is truly a minimally processed option that is never cooked or heated, so there is maximum nutritional value. The food exceeds AAFCO nutrition standards and is formulated by a PhD animal nutritionist.
These are real life-changing health benefits you can be giving to your older dog, as well as the essential nutrients to help your puppy grow.
What Are People Saying About This Brand?
People, of course, love the fact that they are able to design a food for their puppy that is custom-tailored to their needs and that is guaranteed to give them the exact nutrition that they need for every stage of life. Also, the focus on raw food is essential to the thousands of new loyal customers this brand has earned, as many saw that their dog had bad food allergies before switching over to the raw and natural options found with dog food at We Feed Raw.
Learn more about We Feed Raw food for puppies
3. Purina: Best Overall Dry Food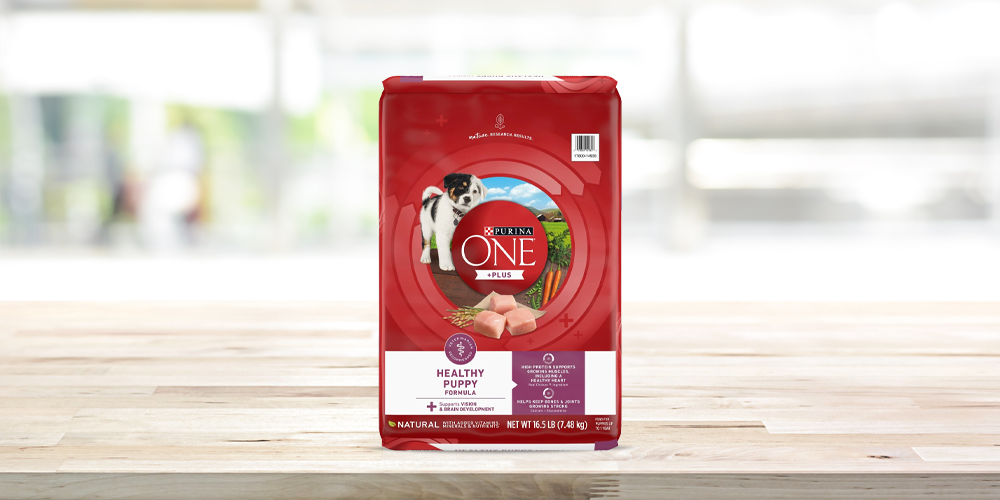 Pros
High-quality and carefully formulated
Recipe contains a number of essential vitamins and minerals for growing pups
Unique mixture of dry food kibble and softer meatier morsels
Cons
Puppies typically need extra water and care, and when this is done it cannot really be left out very long (which is usually the advantage of dry food)
The Purina name has been associated with quality dog food seemingly forever and they easily offer one of the top dry dog food lineups found anywhere on the planet. The option they have for puppies that we will focus on here is the Purina ONE Natural, High Protein +Plus Healthy Puppy Formula. This is a high-quality dry dog food for puppies that is designed to help support their brain, teeth and bone development.
This is a company that has spent more time researching their foods than most brands have been in existence, and even if you are not looking particularly for a dry food option, you should at least give this option a closer look if you are raising a puppy.
What are the Specifics of this Puppy Food?
This dry puppy food recipe is designed to contain 100% of a puppy's nutritional needs and contains both crunchy bites as well as more tender meaty morsels created with a trademarked SmartBlend of top-quality ingredients. In addition to the natural chicken and rice (first 2 listed ingredients), this formula also contains added vitamins, minerals, fatty acids, and antioxidants so that your puppy will grow big, strong, and with a luscious healthy coat.
You can buy this brand at Chewy in an 8-lb bag or a 16.5-lb bag with an option to save 5% on regular auto-ship orders.
How is This Puppy Food Different?
When compared to other dry dog food options, the ONE Natural, High Protein +Plus Healthy food for puppies stands out for a number of reasons. This formula has real chicken as the primary ingredient (not chicken meal) and it doesn't cut corners or use overly processed goods like other kibble options. Also, the recipe contains DHA, a nutrient found in mothers' milk that will work to support your puppy's vision and brain development.
Typically this food is designed to be watered down in order for it to be softened up adequately for your puppy.
What Are People Saying About This Brand?
Even with its tried and true name, this puppy formula has made people take notice and take another look at what Purina is offering these days.
People love that this is a simple and easy-to-serve dry dog food that still is able to give a puppy all of the nutrients and vitamins they need to grow properly. People trust the Purina brand and there are dog owners who have used nothing but Purina for generations of their dogs.
If you want a dry dog food that doesn't skip on quality and that your dog will love to eat, more owners recommend Purina than any other dry food on the market today.
Learn more about Purina food for puppies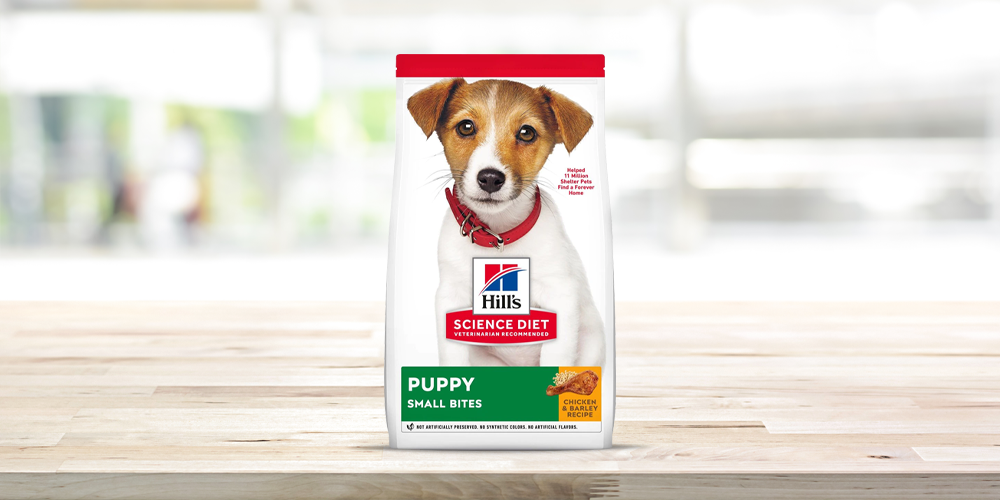 Pros
Healthy dry food designed to be enjoyed by small puppies
Best combination of convenience and great quality
Unique formulas that maximize both taste and added vitamins and oils
Cons
All of the options are chicken-centric, so pickier dogs may be out of luck.
The second dry food option on our list is the Small Bites variation of Hill's Science Diet line, in this case for healthy puppy development. While this isn't necessarily made solely for small dog breeds, the small bits are perfect for smaller pups and will allow them to easily eat and chow down.
These small bites are made with a carefully balanced set of items that are able to maximize the nutritional value in each little kibble bit, and are designed to support healthy brain, eyesight, skin, and skeletal development.
This brand is solely manufactured in the United States and all of their ingredients, such as barley and chicken meal, meet the go well beyond the strict demands of healthy puppy food standards set by the industry. There is also natural DHA from fish oil for added developmental support.
What are the Specifics of this Puppy Food?
This food was designed to be easy to eat and to be perfect for supporting the growth and long-term health of a young dog. All of the ingredients are high-quality, naturally derived, and do not contain any artificial colors or flavors.
There are a couple other puppy formulas offered by Hill's Science Diet. While these all have chicken meal as the main ingredient, they do have some other flavors between them, with options like sweet potato providing some flavor variety. There is the small paws variation (specially made for smaller dogs) as well as the regular puppy recipe. This small bite version is right in the middle-ground and is great for all breeds.
How is This Puppy Food Different?
This kibble stands apart from most of the other options on the market by focusing not only on healthy ingredients and the proper vitamins and minerals for puppy growth, but they also make a point to ensure the foods taste great and are loved by dogs.
If they won't eat the healthy food, then there isn't much point in making it healthy, so Hill's Science Diet has all of their foods taste-tested by the pets at the Pet Nutrition Center to ensure they are canine favorites.
The company also runs annual audits to ensure all of the growers and suppliers of their ingredients are meeting the absolute top standards for quality.
What Are People Saying About This Brand?
People love the fact that this is a very high-quality and great tasting food that their small dogs can actually enjoy eating. You will find hundreds of reviews from relieved owners of tiny pups that are ecstatic that they have finally found a true healthy option in dry food form – they are so happy that they can actually give this healthy food to their pup without the puppy turning their nose up at the taste.
Learn more about Hill's Science Diet food for puppies
5. Iams: Best Budget-Friendly Wet Food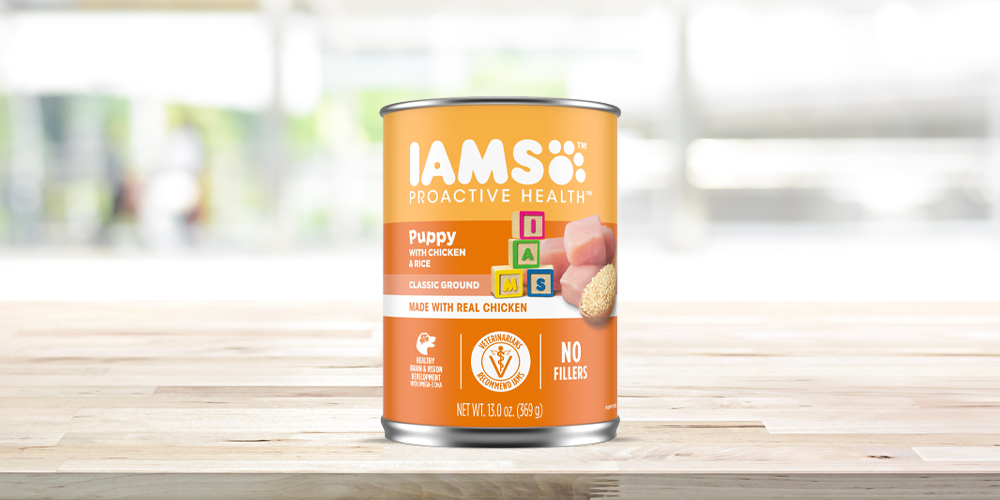 Pros
Good quality wet food with added vitamins for a growing pup
Delicious and wet, but not at a prohibitive price like some competitors
No artificial flavors or soy products
Cons
There is a small chance your dog may not enjoy this unique flavoring
IAMS has been around for a long time and they are always innovating and looking for new ways to benefit dogs and their owners at mealtime. This take on classic chicken and rice dog food is an effort to meld consumer demand with the health and palette needs of pups.
Some dogs simply demand to have wet food, but very often these are either low-quality food or prohibitively expensive. Iams ProActive Health Classic Puppy wet food is designed to break this trend and allow you to feed your dog high-quality wet food without breaking the bank.
What are the Specifics of this Puppy Food?
This wet food is designed for dogs under a year of age and you can buy it in a case of 12 13-oz cans. Each can offers a balanced nutritional meal made from chicken, whole grain rice and other high-quality animal proteins like beef and lamb, as well as added DHA. There is no soy or artificial flavors in this recipe.
How is This Puppy Food Different?
Now your pup can look and feel healthier and you are not forced to buy incredibly expensive bags of food constantly. At the same time you can trust the IAMS name to ensure your wet food is still made with high quality animal products and will contain the essential vitamins and minerals dogs need to grow strong and healthy.
What Are People Saying About This Brand?
As far as delivery goes, Chewy offers a fast and well organized delivery service that will ensure you are getting your IAMS food fast and without hassle. More specific to the actual food, customers love that they can actually afford to buy this wet food in bulk, allowing them to feed even the pickiest dogs without spending a fortune.
Learn more about Iams food for puppies
How Did We Make Our Picks for Best Puppy Foods?
There is no shortage of puppy food options out on the market today and narrowing it down to five choices was not very easy. We had to create a strict set of guidelines that allowed us to significantly narrow down the field. We quickly eliminated all brands that had any health or production issues in the last two years, as well as any brands that are not using provably healthy or growth supportive ingredients.
Once we had a master list of brands that make quality food and have a good track record, we began to narrow in on reviews, veterinary and nutritionist involvement, taste ratings and more.
After an exhaustive search and series of point-system style showdowns we came up with this list. We are very confident that all of the foods on the list are amongst the very best puppy food choices available today.
How Do I Choose the Best Puppy Food for My Puppy?
The key to choosing one of the best puppy foods is understanding the nutritional needs of puppies. Depending on your dog's breed and size, you'll need to select a diet that provides all essential nutrients in appropriate amounts for growth and development.
Younger puppies should be fed a diet that contains high-quality proteins, carbohydrates, fats, minerals and vitamins in order to grow strong bones and muscles and develop a healthy immune system.
Older puppies may benefit from reduced amounts of protein and fat in their diet as well as increased amounts of calcium for strong bones. Additionally, puppies with sensitive stomachs or food allergies will require special ingredients such as hypoallergenic proteins or grain-free formulas. You will also need to consider whether wet or dry food is preferable.
In most cases your veterinarian will help you to understand your dog's unique needs and what types of vitamins, flavors, and textures you should be focusing on.
What Type of Puppy Food Should I Look For?
When it comes to selecting puppy food, look for products that are specifically designed for puppies. Puppy-specific formulas should contain high-quality ingredients and be formulated with the right ratio of protein, carbohydrates, fats and vitamins that is suitable for your puppy's growth. Additionally, if your pup has any special dietary needs or allergies, make sure you choose a formula that is tailored to those needs.
Foods that are designed with the help of a board-certified veterinary nutritionist and that use human-grade food will often be more expensive, but will go a long way towards promoting a full, healthy and happy life.
What Type of Treats Should I Give My Puppy?
When it comes to treats for your pup, look for healthy options that are made from the best food ingredients and that have no artificial colors or flavors. Some good choices include freeze-dried liver treats, natural chews such as rawhide bones or antlers, and grain-free biscuits or crunchy snacks. These types of treats provide an extra source of nutrition and will help your pup to develop healthily.
How Often and How Much Food Should a Puppy Eat?
Puppies have very different eating habits than adult dogs and you will need to adjust their levels of food based on their age, breed, and activity level. For puppies under 12 weeks old, feeding 3 times per day is recommended. As they grow older, the amount of food can be reduced but still feed them at least 2 times a day to ensure optimal nutrition and development.
As a general rule, puppies should eat their specialized food 2-4 times per day in order to meet their caloric requirements. Consult your veterinarian on appropriate amounts and which dog foods are appropriate, as they can vary depending on the individual pup. Additionally, puppies should always have access to fresh water in order to stay hydrated.
Should I Supplement My Puppy's Food?
In most cases, keeping your dog on a healthy diet will not require additional supplementation as long as you are feeding your pup high-quality dog foods formulated for their age and breed. However, if your pup has any special dietary needs or health issues, you may want to talk to your vet about adding certain supplements, such as vitamins or glucosamine.
When Should I Switch from Puppy Food to Dog Food?
It is generally recommended that puppies switch from puppy food to adult dog food when they reach 12 months of age. However, it is best to consult your veterinarian for individual advice as this can vary depending on the pup's breed and health needs.
You also want to make the transition to adult dog food gradually, replacing portions of their food bit by bit, so that they can properly adjust to the new food. This transition can take as long as a few weeks before they are ready to eat adult food solely.
Additionally, you may want to transition over a few weeks in order for them to adjust to the new food. Ultimately, adult dogs still need high-quality ingredients that are appropriate for their age, size and activity level.
What is the Difference Between Dry and Wet Puppy Food?
Generally speaking there are two types of puppy foods that most fall under, either wet dog food or dry dog food. Dry puppy food is made into a form of kibble or pellets that can be easily stored in a bag and fed to your pup on a regular basis. Typically, dry puppy food has more carbohydrates than protein, which helps a growing puppy keep their energy needs met. Puppy dry dog food is also convenient as it requires little preparation.
Wet puppy food, typically presented in a can or as pouch food, is typically a softer type of food made with higher levels of protein and moisture. Wet food can also provide your pup with essential vitamins, minerals and fatty acids that are necessary for their growth and development. Wet food tends to be more expensive than dry food but can be easier for puppies who might have difficulty chewing kibble.
You may need to do a little experimenting to see if wet food or dry food is a preferable option. The right choice will depend on your specific puppy's needs as well as what fits into your budget.
Difference Between Large Breed Puppies and Small Breed Puppies
When it comes to choosing the best puppy food for your pup, size matters. Different breeds of puppies have different nutritional needs, so you'll need to make sure that you are feeding your pup an appropriate diet based on their breed.
Large breed puppies such as German shepherds, retrievers and Dalmatians typically reach full adult size in just a year or two, while small breed puppies like Chihuahuas, Malteses and Yorkshire terriers can take up to three years before they reach their full adult size.
Large breed puppies grow very quickly, so they require more calories than small breeds; therefore it is important to choose a large breed puppy food formula specifically designed for their needs. These large breed puppy foods provide extra proteins and calories that these dogs need to support healthy growth and development.
On the other hand, small breed puppies require foods that are lower in calories and proteins but higher in fat content when compared to large breed puppy food formulas. Small breed puppies mature more slowly and typically gain weight quickly and a small breed puppy food is designed to deal with these differences.
Overall, feeding your pup the right diet based on their size and breed can help ensure they stay happy, healthy and growing properly throughout their development. Be sure to check with your veterinarian before making any changes to assess which formula is best for your pup's nutritional needs.
Ready To Buy the Best Puppy Food?
Now that you have read the reviews for the best dog food options for your pup and have gone into detail about puppy dry dog food, wet food, and more, you should be ready to make more informed and accurate decisions around food for puppies and what your unique little guy may need. Of course, make sure to consult your veterinarian before you commit full-time to a brand, but every option here is amongst the very best puppy foods on the market today.