Dog training gives Stanley and Jackson Correctional inmates a sense of purpose and responsibility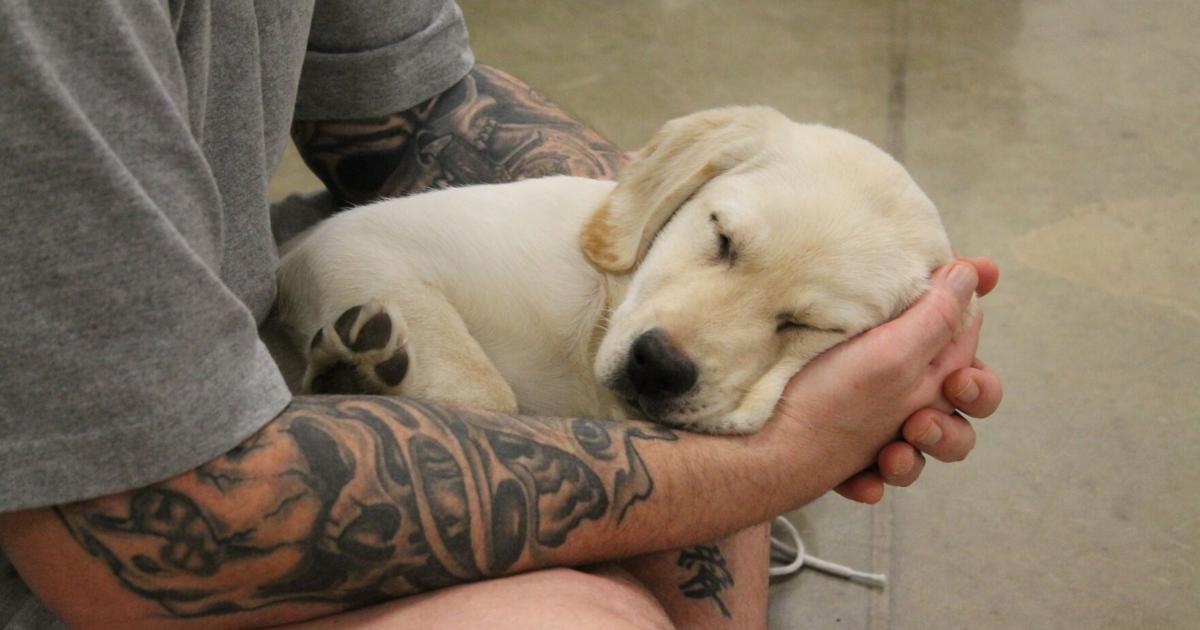 STANLEY — Incarcerated individuals at Stanley Correctional Institution and Jackson Correctional Institution have been training canines since 2016.
Dozens of PIOCs — inmates are referred to as "persons in our care" by those in the Department of Corrections — are making the best of their opportunity to work as dog handlers and trainers through what is called the PAWS program.
The program maintains about 16 dogs that undergo thorough training with the assistance of a contract dog trainer from Can Do Canines, who trains weekly with PIOC dog handlers and sitters.
Dyan Larson, director of Can Do Canines, was hired to help start the program at Stanley Correctional Institution in 2016.
"It looks like any other dog training class that I've ever taught in the last 35 years, except these students do the homework and they do the homework well," Larson said. "It is the most satisfying dog training I've ever done in my life."
Larson described the program as "a win-win" for all parties.
"Can Do Canines wants dogs trained and the institution wants inmates rehabilitated to be able to re-enter into the outside world when they get out, as good citizens making a change to be able to live appropriately on the outside, and I think pretty much across the board they find that the program does it," she said.
Larson said one of the reasons the program is so successful is that there are fewer distractions for PIOCs than for those outside of the prison system.
She also thinks that much of the success with the program is because of a ripple effect. While the dogs are born specifically to work as service dogs, inmates don't go to prison with the same goal or sense of purpose. But once offered the chance to work with canines, the impact on PIOCs is immediate and lifelong.
"When dogs work with an inmate, they change the inmates' lives for the better. So the guys in the program learn patience. They learn how to deal with frustration, they learn how to positively reinforce behaviors," Larson said. "By being in the program, they're becoming better dads and better husbands and better boyfriends and better sons."
Brandon Drost, Stanley corrections program supervisor who works with the PAWS program, said a big difference between PIOC dog training and other dog training is that PIOCs spend a limited amount of time on phone calls and devices.
"They don't have a PlayStation or a computer or a cell phone to go spend time with. They have a dog and that is their stimuli, that is their cell phone, that is their computer, that is their video gaming," Drost said. "Out in the real world people have those things. In prison, they get the dog and it takes that role."
Dedicated wing for PAWS program
At Stanley Correctional, there are housing units of about 300 individuals each. Drost works with Unit 5 on a wing dedicated to the PAWS program.
Two PIOCs look after each pup 24 hours a day and teach the dogs obedience skills, as well as how to be canine aids to those with varying abilities, limitations, injuries and illnesses.
"It's two guys and a dog living in a large bathroom," Drost said.
Additionally, there are two cells on the block that aren't assigned their own dogs. Instead those individuals act as dog sitters.
"Sometimes you just need a break and they just take their dog to a sitter and if they need an hour, if they need an overnight. The PIOC agreement with me is that they will take the dog to give that person a break. Sometimes you just need to recharge," Drost said.
There are also locals across Chippewa County who foster the dogs over the weekends. Anyone in the region is able to apply to help with this outreach.
Lori Patrouille, warden's secretary at Stanley Correctional Institution, said the program is amazing. It offers PIOCs a chance to be responsible, dedicated and to show off their dogs' skills.
"I mean they're really invested in taking care of their dogs. It's like a child for them. So they really take a lot of ownership of training their dogs and taking care of their dogs. I don't know that I have the words to explain it," Patrouille said.
Patrouille said the number of PIOCs interested in the program far outpaces the number of dogs and dog trainers they have available.
CVTC provides certification
Angela Eckman, campus and business development coordinator at the Chippewa Falls campus for CVTC, has worked with Larson to develop a CVTC technical training certification in dog training for inmates at Stanley and Jackson correctional institutions who are involved with the PAWS and Can Do Canine.
Larson approached CVTC in 2019 to see if there was a way to establish credits or certificates for the inmates who were highly invested in the program.
"That was extremely motivating to us, because CVTC has been very active in trying to establish some career-pathing for inmates from an educational perspective," Eckman said.
Eckman said CVTC spent a while researching the idea. They didn't see any other program like this in the state. They wanted to fill a gap so they began to develop the dog training certification, which is specifically aimed at PIOCs in Jackson and Stanley.
The seven-credit certification program starts with a PIOC demonstrating an understanding of communication and critical thinking skills. There are a lot of soft skills interwoven into employability, Eckman said. CVTC wanted to make sure that a PIOC was able to demonstrate these and get credit for developing these employment skills.
Eckman said one of the things she noted on a visit to the correctional institutions was how proud the PIOCs were to share what their dogs were capable of.
Instead of introducing themselves, PIOCs would introduce their dogs first and ask the visitors from CVTC if they wanted to see a demonstration of what the dogs knew and which commands they could follow.
"You could tell that there was a certain amount of pride that came out. They were so excited to share what they were doing and demonstrate what they had recently taught them to do. And there were so many other inmates who would gather around so there was even some camaraderie," Eckman said.
In the last three years, CVTC has graduated 141 PIOCs from the dog training certification programs at Stanley and Jackson correctional institutions.
Q&A with PIOC dog trainers
The Herald wanted to hear from PIOCs in their own words about the impact the dog training program has had on them. No names are used in their responses at the request of Stanley Correctional Institution staff.
Q: What have you gained from the program?
A: "Besides learning to train dogs, using positive reinforcement in this program has allowed me to regain some of my self-respect."
A: "Some of the things I have gained from this program include knowledge, patience, how to express myself and work as a group. Also, how to take instructions and apply skills being learned and how to put others before myself."
Q: How does it feel to interact with animals while incarcerated? Is there anything special about this relationship?
A: "In a word — amazing! The unconditional love and acceptance offered by these pups is by far the most rewarding thing I have experienced while here at Stanley."
A: "It gives meaning to my days here."
A: "It gives me purpose."
Q: What have you learned about dogs through this program?
A: "They're super smart. They don't care about my past."
A: "Positive reinforcement is an amazing tool, and this program has made me a believer."
A: "I get as much out as I put in."
Q: What have you learned about yourself through this program?
A: "I am more than what has been depicted of me."
A: "I have more patience than I thought and that I can be a team player."
A: "I am better than the worst thing I've ever done. I can still make a difference. I am worthwhile no matter what anybody says."
Q: Is there anything you want the public to know about the program?
A: "The program is one of the best things that has happened to me these years of my incarceration."
A: "Not all inmates are monsters. I ask that I am judged on who I am today, not the decision that led to my incarceration."
Q: Have you benefited from the vocational program through CVTC to earn a certificate as a dog trainer?
A: "Earning that certificate gave me a sense of pride."
A: "One man has started a boarding and training business on the outside. Another transferred to another institution and was admitted to their dog program based on participation here."
Q: What's the message you want to send through your work with these dogs?
A: "I am the person my dog thinks I am. I would greatly and wholeheartedly strive to be better at training and as a person."
A: "Through hard work and compassion, anyone can affect change and these dogs become our outlet to change."
A: "Both men and women who are incarcerated can and do make valuable contributions to society."
A: "Our mistakes don't define us."
A: "While those in society see inmates as a lost cause/social trash, we do have something to offer. We are capable human beings, capable of giving love and compassion."
IN PHOTOS: Dog training by inmates in prisons
First day with new pup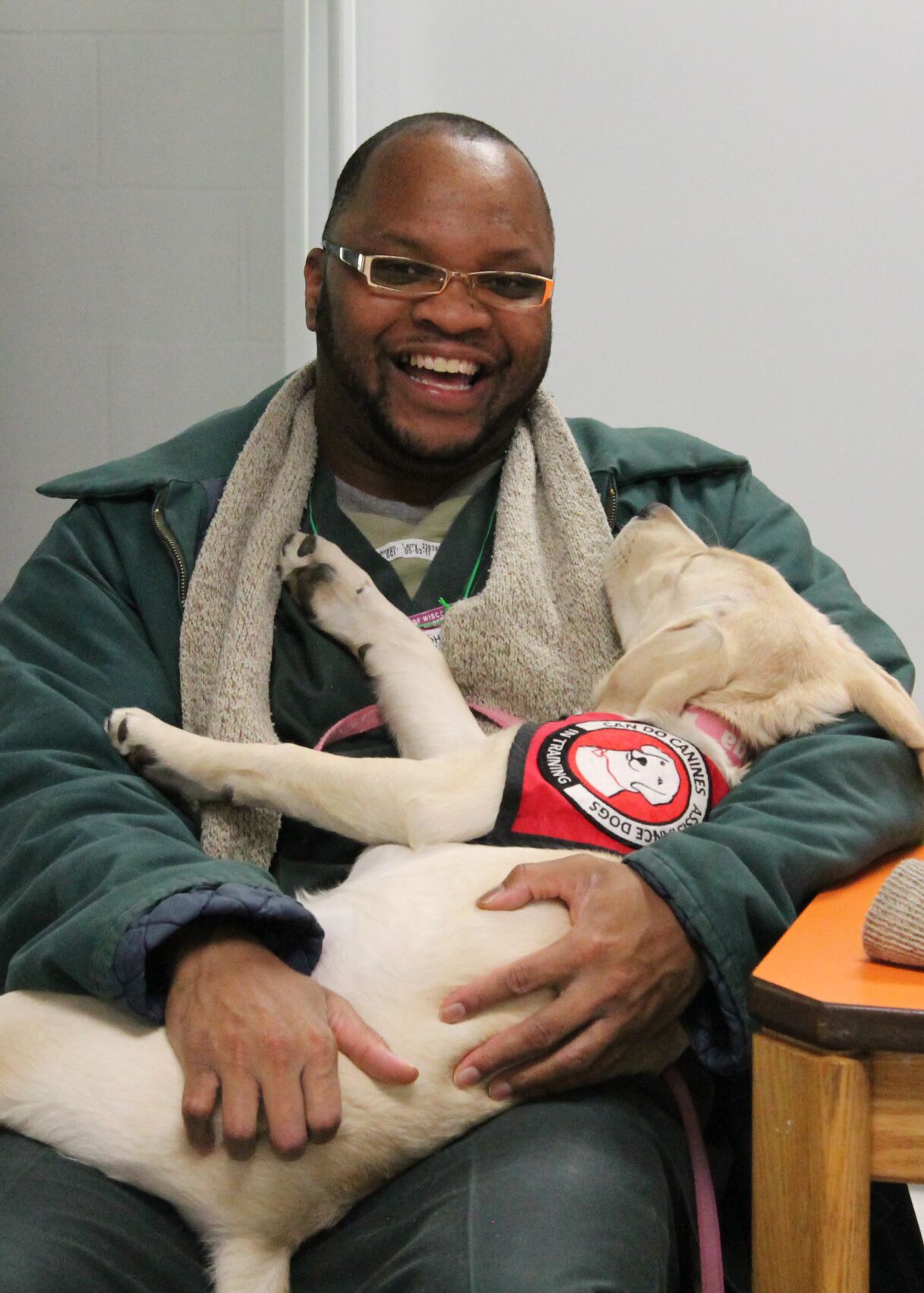 Heel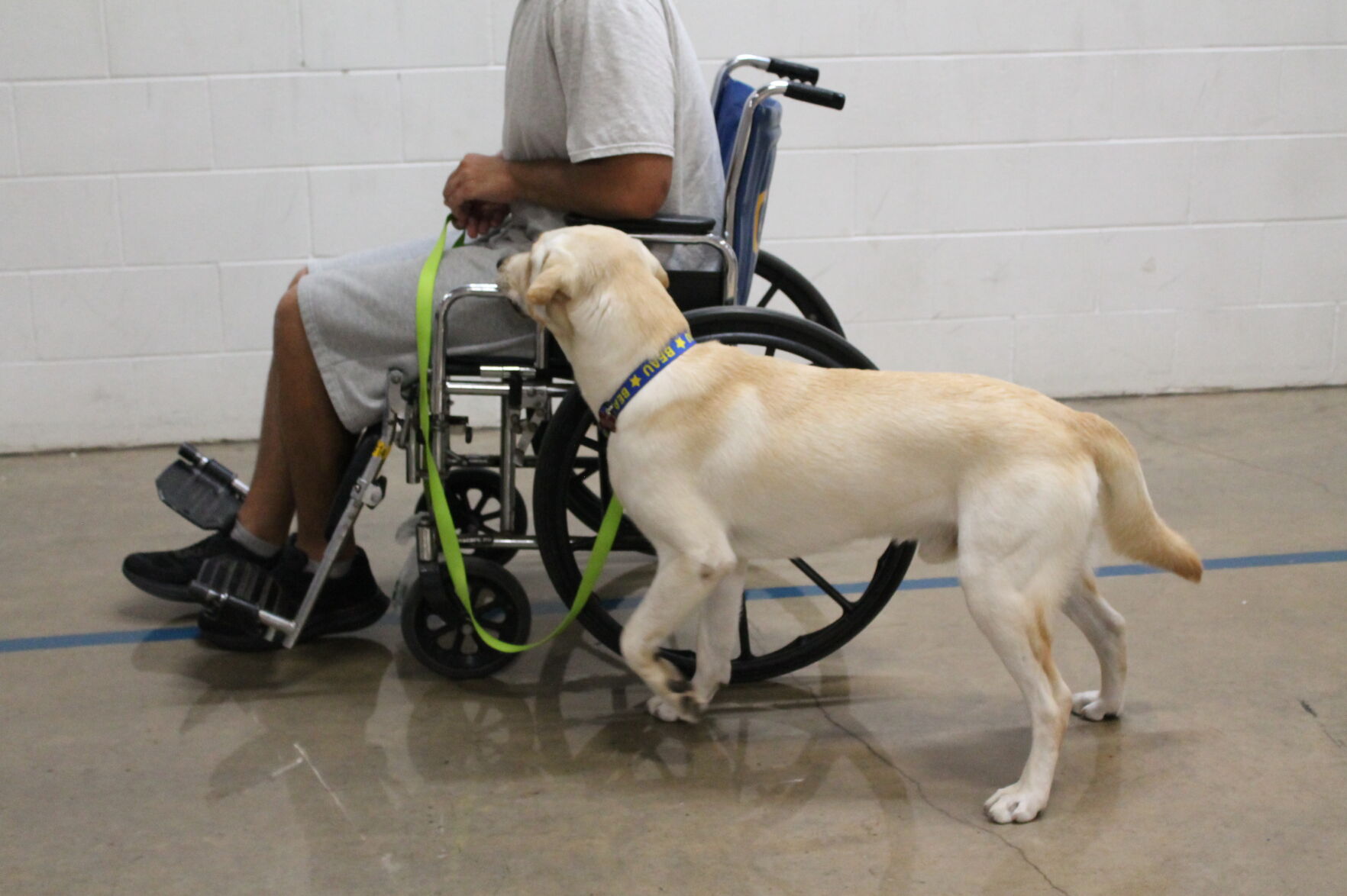 Iris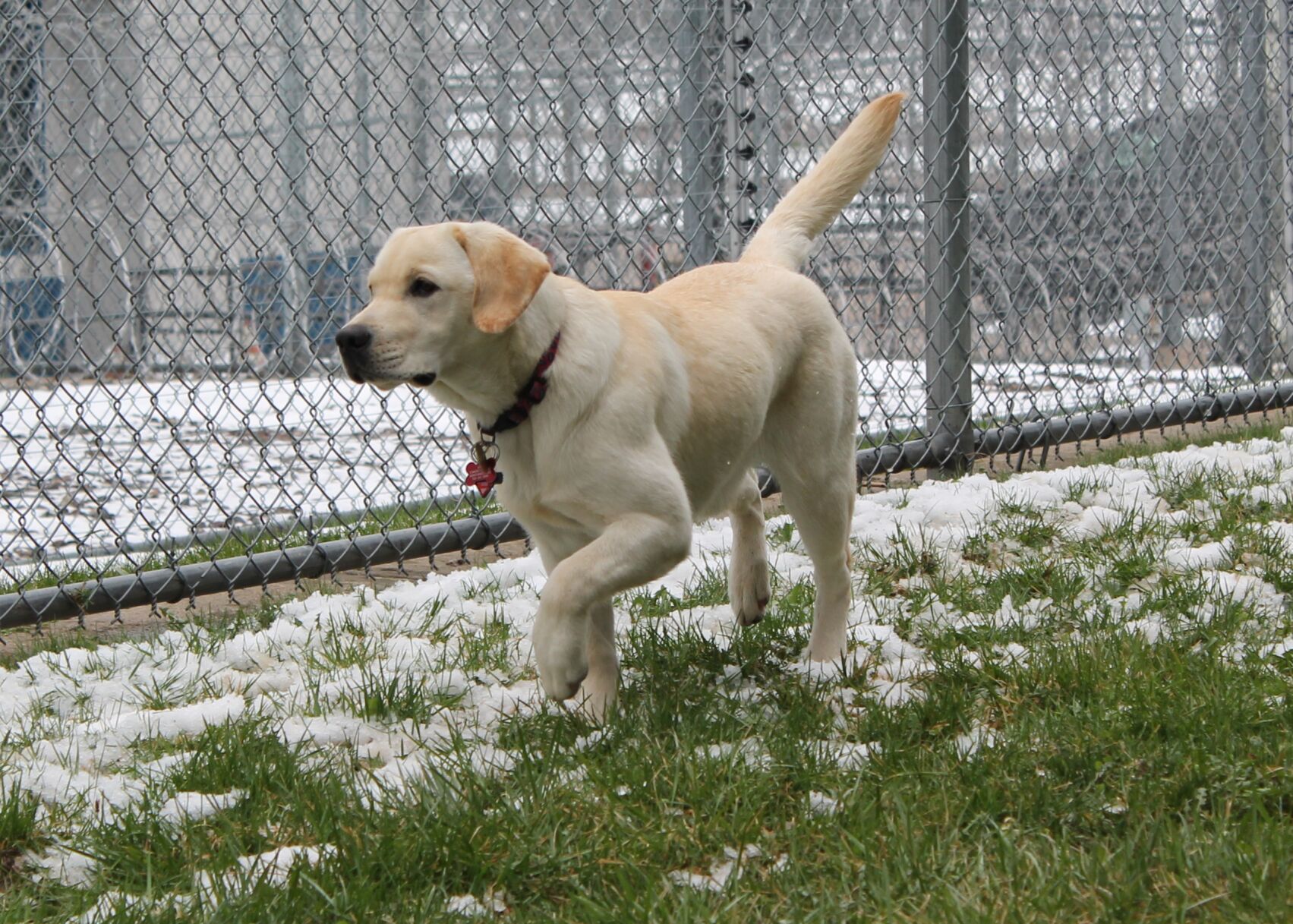 Puppy Love 3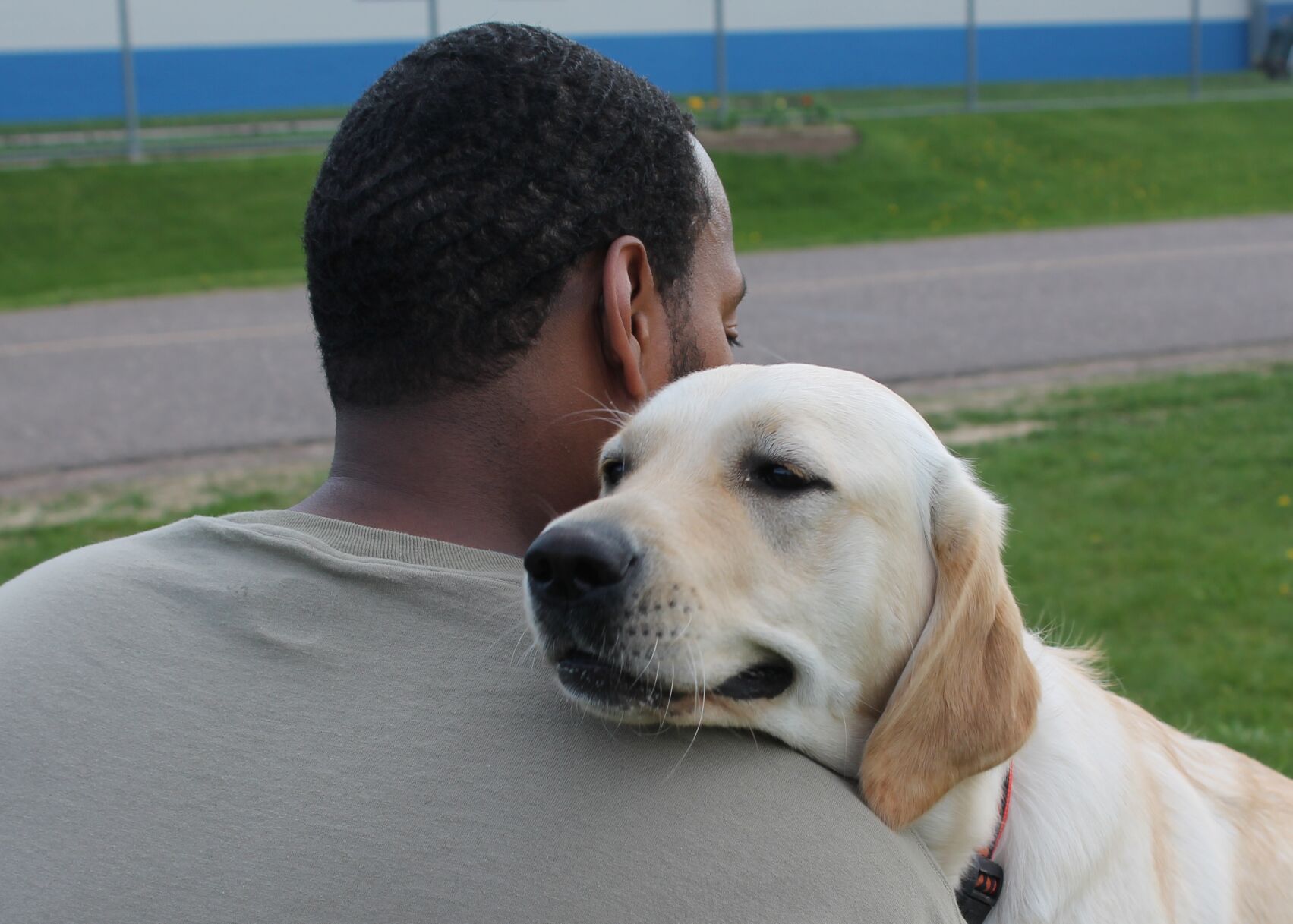 Dog and walker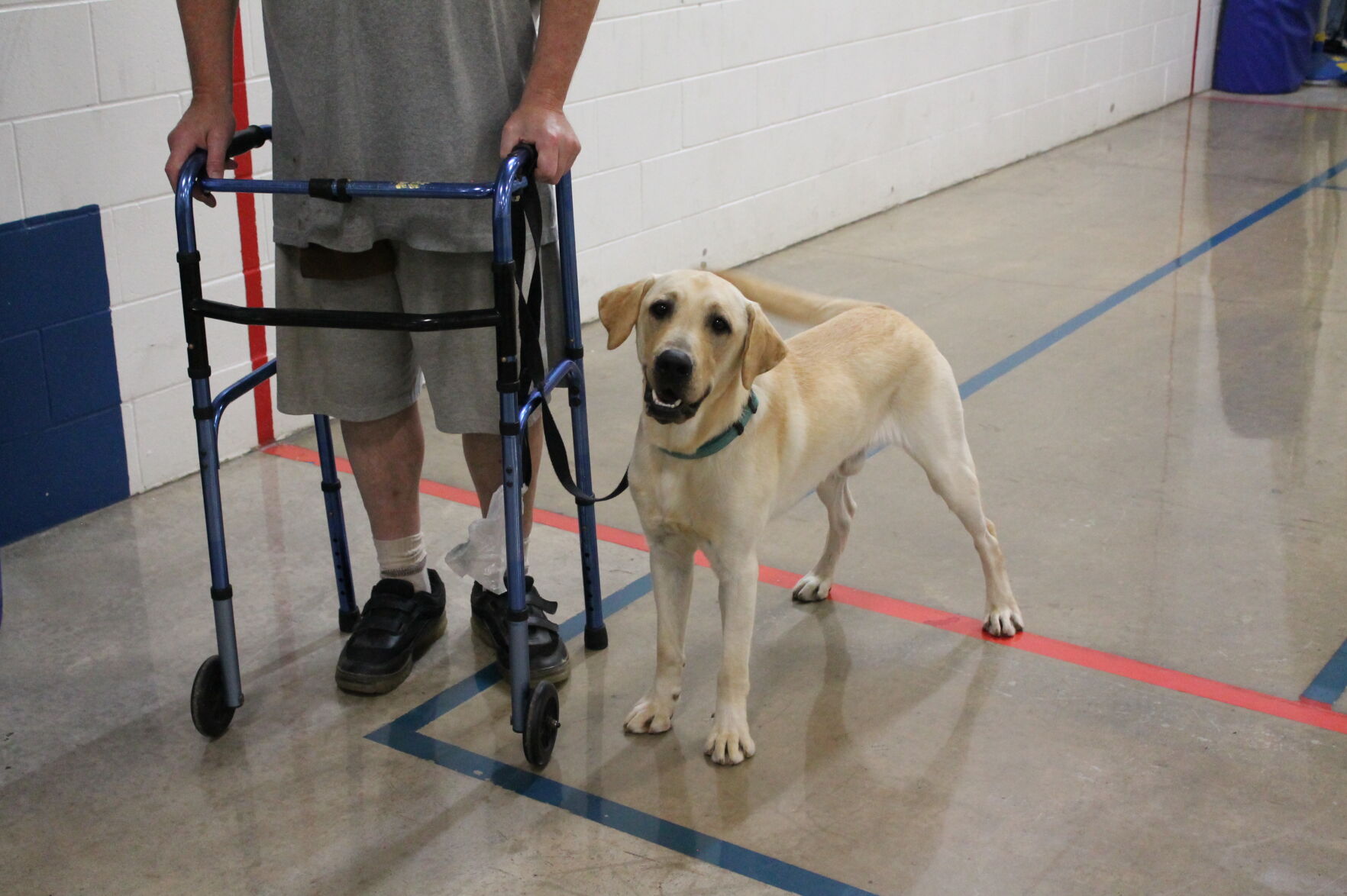 Iris and trainer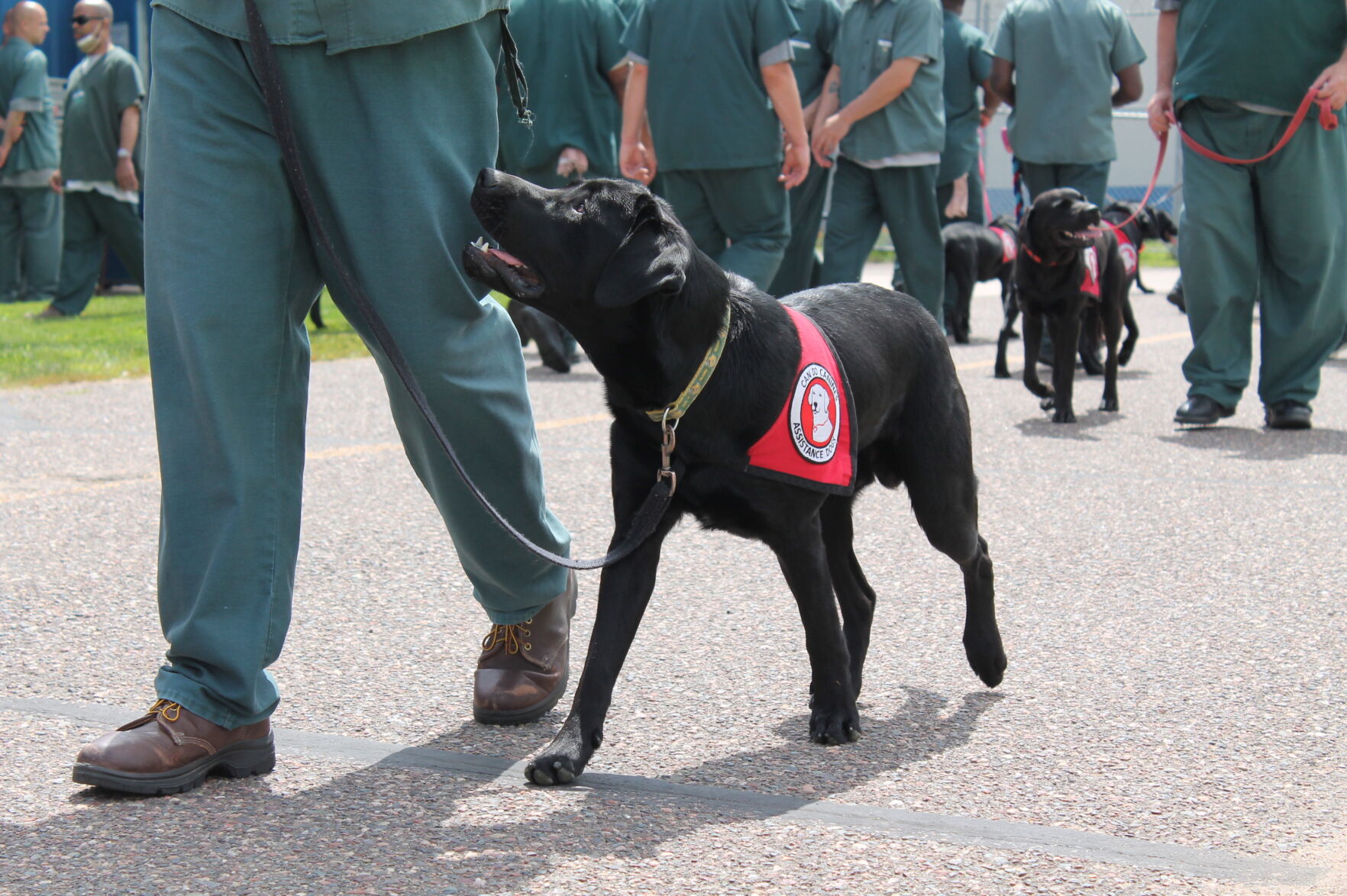 Learning commands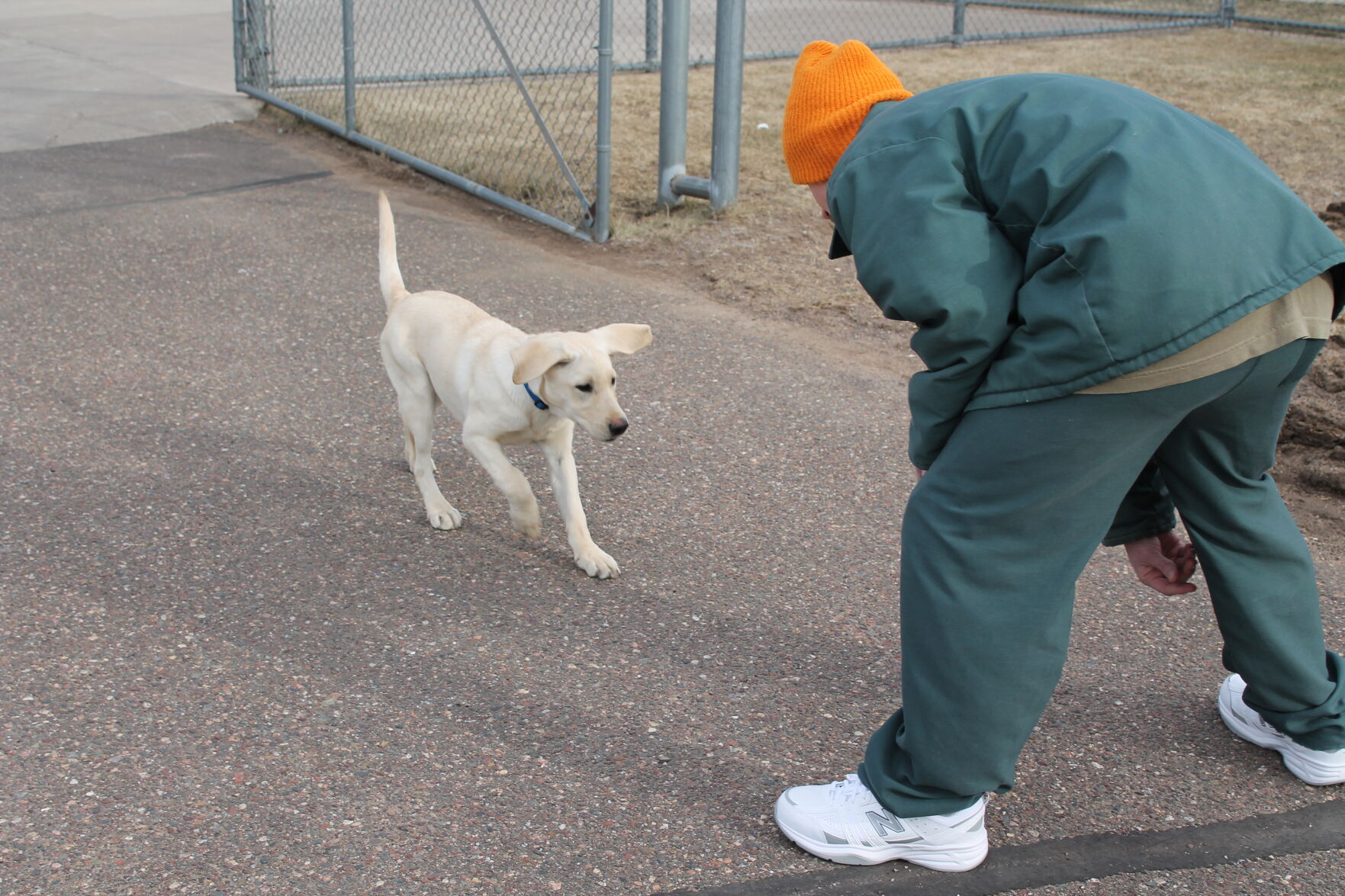 Stanley Correctional Institution PAWS and Can Do Canines Team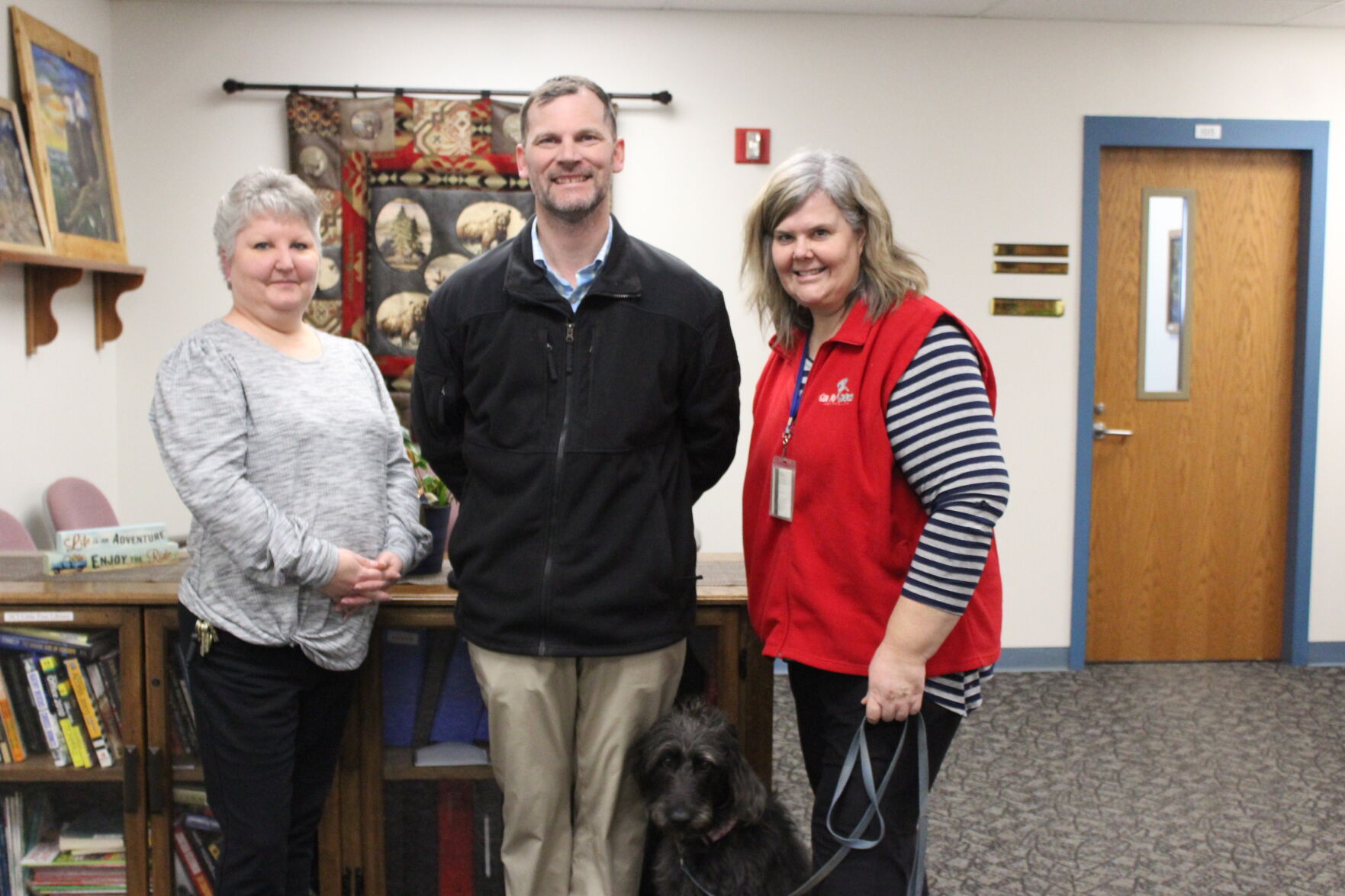 Stanley Correctional Institution sign