Hogwarts Legacy Gets Animal Rescue All Wrong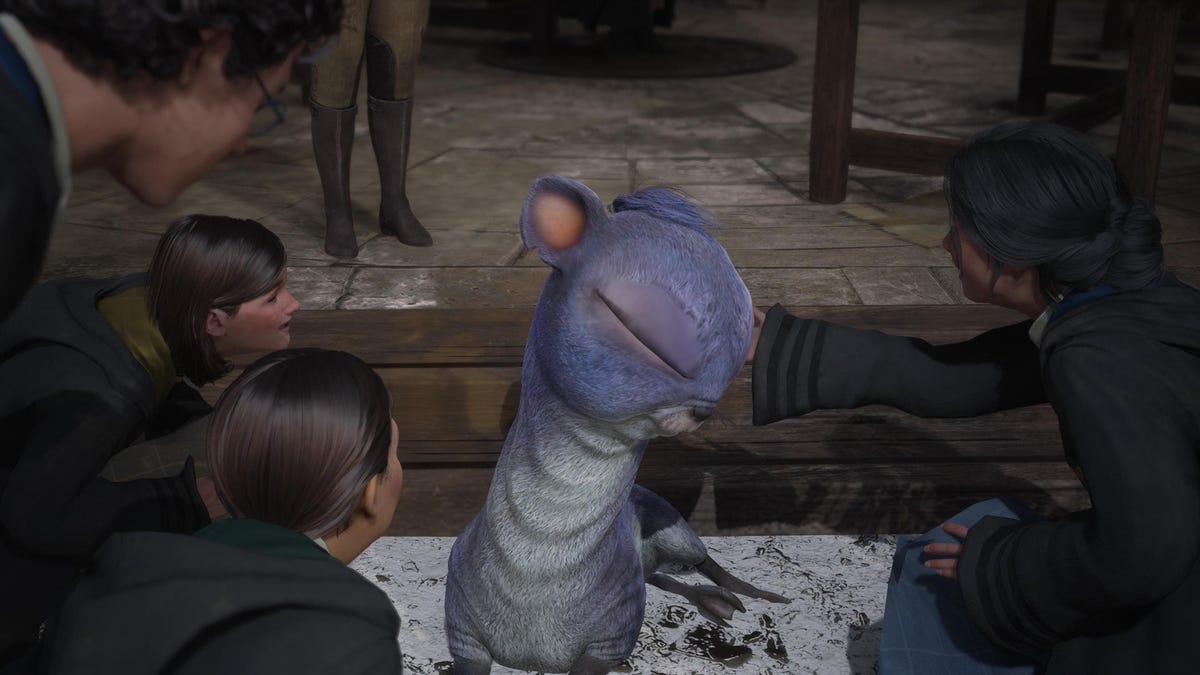 The only true moral stance Hogwarts Legacy acquires is that animal abuse is poor. 1 of the principal enemy types you face are poachers, a quest requires you to a dragon preventing pit that will horrify, and Poppy Sweeting (bless her) is a Hufflepuff college student identified to no cost each individual animal on the hillside with your assistance. The bevy of adorable animals, available for you to coo and dote about at several spots in the sprawling earth, doubles down on the game's one particular honest get: animals are very good, fellas.
Examine Extra: The RPG Elements In Hogwarts Legacy Undermine Its Magic
But Hogwarts Legacy manages to undermine even this lukewarm stance with strange mechanics baked into the match that are antithetical to the main tenets of animal rescue (like adopting animals as a substitute of getting them from breeders or pet suppliers). There are so a lot of odd things this recreation asks you to do with animals that I can not assist but really feel icky. Why does it sense like I'm kidnapping them? Why am I working with their byproducts soon after rescuing them? Why the fuck do I need to have to breed thestrals?
Treatment of magical Harry Potter creatures?
G/O Media may well get a fee
The Hogwarts Legacy advertising products dangled the carrot of animal companionship in advance of the recreation produced, and normally people ate that shit up (while the creator of the Can You Pet the Puppy Twitter account explained being "absorbed into the marketing and advertising device benefitting an abominable TERF" was a "new low"). Magical animals you can feed, brush, and visit in your individual personalized sanctuary are absolutely captivating, and I was quietly energized to get a likelihood to have my personal Puffskein since I have the mind of a toddler and am the type of man or woman who speaks in a horrid newborn voice to each and every animal I meet on the sidewalk.
But the method in which you rescue these animals is bizarre, to say the minimum. Right after attending Beasts Class and doing a several vital quests (which include the 1 that receives you access to your personal Place of Requirement), you will get a aspect quest centered close to the dwelling-elf Deek wherever the diminutive slave will instruct you how to use a little something identified as a Nab-Sack to capture magical creatures.
Then, you're permit free into the world to menace magical creatures by unleashing the Nab-Sack on them, which kind of functions like the Ghostbuster ghost vacuum in that it sucks unwilling creatures (they run absent from you) into the sack as your character promises them they are just trying to assistance. Significantly, you have to strike speedy-time activities to hold the Nab-Sack keyed in on the creature, and if they're particularly swift (it is hard to catch a fucking hippogriff) you can cast freezing spells on them to make things much easier.
Does any of this audio like an ethical way to capture an animal? Chase it all around its normal habitat, cordon it off from its team, then suck it into a bag when it audibly protests? Sure, you can then take them back to the Vivarium in your Area of Necessity and let them roam the magical fields, but you effectively just kidnapped the critter and are gathering the really similar resources the poachers were being killing them for—and if you really don't right away go back to your Vivarium is the bad point just having shook up in your Nab-Sack even though you do other quests?
If you capture way too several animals to match in your Vivarium (each individual biome can maintain 12 beasts at a time, but there can only be 3 diverse species in just about every), you can just, ya know, promote them. Yes, there's a girl at Brood and Peck who will obtain your excess beasts for 120 Galleons, which usually means you ostensibly change into a poacher your self, nabbing animals close to the entire world, rapidly-touring again to Hogsmeade, and offloading them on this woman, who will provide you again their feathers and fur without batting an eyelash.
Although I never ever promote my animals to Brood and Peck, I do head in there to see where by they'd close up if I did. It is a modest space, with no discernible lawn or pen outdoors. I can't support but marvel, as I stare at the sole Diricawl and lonely Jabbernoll flitting their eyes about Brood and Peck, where the fuck all the animals she's acquiring went.
 True animal rescue vs Hogwarts Legacy
Just before I keep on discussing Hogwarts Legacy's backwards choose on animal rescue, it's important to notice my history.
I'm a volunteer animal rescuer, a cat mom of three, and qualified in a New York Town cat colony administration follow named entice-neuter-return or TNR. TNR entails humanely trapping feral cats, correcting them so that they can't make more feral cats, vaccinating them from prevalent feline ailments, and, if they are unable to be socialized and adopted out, returning them to their colony's locale. Although it is not perfect (we'd appreciate each cat to get a household) it's the only way to correctly minimize the amount of money of feral cats in NYC, a location that is specially hostile for them.
I have volunteered at several bully breed precise doggy rescues, as perfectly, taking canine out for walks, dwelling stays, and serving to them get for good residences. I've advocated for the abolishment of breed-certain legislation on Extensive Island. I have a tattoo of my late Staffordshire Terrier, Lucy.
TLDR: I know a large amount about animal rescue. Which is why Legacy's animal stuff hits so strange. Positive, it is just a activity, but it also will make capturing creatures a central mechanic, so it is challenging to overlook how Hogwarts Legacy depicts what it will make you do.
Prized pedigree Puffskeins
At a sure level in my playthrough, Deek will get my notice even though I'm faffing about the Space of Prerequisite due to the fact he has an notion he wishes to share with me. I'm considering he's suggesting I swap close to the layout a bit, probably integrate much more mounted residence-elf heads on the wall as a stark reminder of his position in this fucked up universe, but no, it is considerably weirder than that.
"Deek thought you could want to master how to create a breeding pen so that you can breed beasts," he states. I gasp and look all-around the home for my a few cats, all of whom were being rescues discovered wandering the streets. We do not breed in this property. "Rescuing and breeding beasts go hand-in-hand. Youthful beasts are particularly vulnerable to poachers," Deek carries on, obviously stoked on this plan. He then instructs me that I have to go capture a male and a female thestral and get the blueprint for a breeding pen.
I am, to say the minimum, disgusted. Not only does it feel amazingly unusual to be kidnapping these animals and then breeding them like these men and women in extra rural spots of the country who keep bloodline charts of their Golden Retrievers and sell their puppies for countless numbers of pounds, but Deek's logic is shaky at most effective. Youthful beasts are particularly susceptible to poachers—okay, so why am I not just rescuing present younger beasts? Why am I earning a lot more of them? This goes versus everything I know, every thing I have been taught as a rescuer. We really do not want more animals, we want to protected and secure the kinds that exist.
Perhaps if Legacy marketed some of this animal things as being akin a lot more to a zoo for endangered species, I'd be a lot less apt to uncover the entire thing icky. Perhaps if the video game didn't integrate unicorn hair and puffskein fur into outfits upgrades, or make capturing these animals experience rather violent, or propose that breeding them is the most effective way to help save them, I'd have considerably less of an challenge with my Vivarium total of bong-eyed Mooncalves. But as anyone who has been performing this for 10 many years, I can say that Hogwarts Legacy does not know shit about animal rescue.
If you want to help animals in true lifetime, think about volunteering at your community animal shelter, adopting when you're ready for a pet, and/or donating to the Humane Culture of the United States.