Is dog insurance worth it? Learn your answer to that question here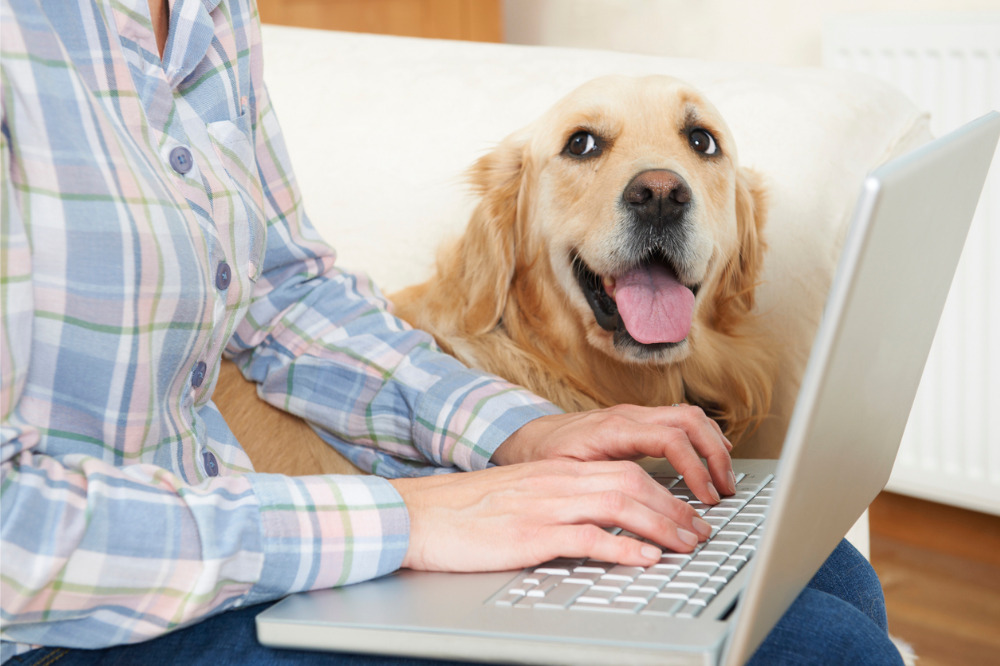 In this article, Insurance Business explains how dog insurance works, what kind of protection it provides, and the benefits it yields for both the pet owners and their pets. This is part of our client education series. We encourage insurance agents and brokers to share this article with their clients to help guide them in finding the best possible coverage for their adorable pooch.
The latest State of the Industry report from the North American Pet Health Insurance Association (NAPHIA) reveals a flourishing pet insurance market, with the number of insured dogs alone more than doubling from about 1.5 million to 3.2 million in the past five years.
Something that Kristen Lynch, executive director of NAPHIA, attributed primarily to soaring veterinary care expenditure, as well as the recent disruption caused by the pandemic.
"The societal and behavioral changes we are experiencing around our relationships with pets have contributed greatly to an unprecedented period of growth for our industry," Lynch said. "A record number of household pet adoptions and purchases during the pandemic, combined with continued work-from-home arrangements, and pet owners' desire to mitigate unexpected veterinary costs have contributed to even higher growth rates in the past several years." 
Financial protection, however, is just one of the many reasons why more dog owners are turning to pet insurance. Here are some of the major benefits of taking out this type of coverage, according to experts.
1. Peace of mind
According to industry specialists, among the biggest advantages of taking out dog insurance is the assurance that pet owners get in knowing that in an event of an expensive illness or accident, they can afford to give their dog the best care possible.
2. Protects your savings
Accidents and illnesses often strike when they are least expected and without proper coverage, these situations can easily drain one's bank account.
To give pet owners a picture of the different treatment expenses that they may encounter while taking care of their furry friends, Forbes gathered annual claims costs data from pet insurers in the past five years. The table below details the cost to treat common health issues for dogs.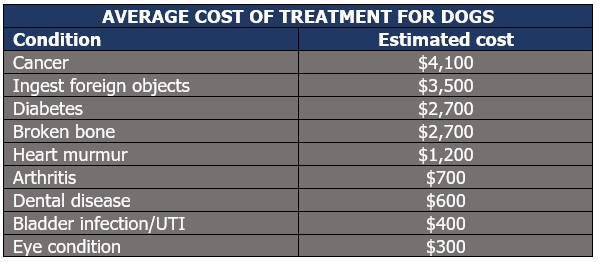 Although some dog owners opt to allocate a portion of their income for pet care, given the high costs of treatment, their savings may not be enough.
3. More treatment options
According to Canine Journal, the worst scenario for owners "is learning your dog has cancer but turning down treatment because you can't afford the bills."
"No one wants to face this decision and signing up for pet insurance can cover much of the cost," the review site noted. "Pet insurance allows you to make the best choices when an emergency arises instead of the least expensive ones."
4. Provides additional protection
Apart from veterinary and treatment costs, some pet insurance policies provide additional coverage. These include:
Pet liability if the dog attacks and injures someone

Advertising and reward costs for lost pets

Behavioral therapy

Breeding and pregnancy expenses

Trip cancellation fees if unable to travel due to a sick pet

End-of-life care, euthanasia, and cremation or burial costs
Just like standard pet policies, dog insurance plans are designed to protect owners from the financial impact of unexpected veterinary expenses. Most policies follow a reimbursement-based model, allowing the policyholders to consult or get treatment from a specialist of their choosing, but there are also a few providers that offer the option to pay the veterinarian directly.
There are several top pet insurance providers offering dog insurance plans. Policies vary between insurers but each outlines which conditions and expenses are covered. Each plan also has a waiting period before coverage kicks in. The time varies depending on the insurance company, but most require a waiting period of 14 days.
Dog owners, however, need to consider a few essential factors, so they can find the insurance policy that best fits their pet's needs. These include:
1: Deductibles
A deductible is the amount pet owners need to cover out of pocket before their policy pays out. The amount varies between insurance companies but typically ranges between $50 and $1,000. Dog insurance deductibles come in two types:
Annual deductible: Policyholders pay the amount in each policy term.

Per-condition deductible: Dog owners pay the amount for each condition or incident.
2: Reimbursement
The reimbursement rate is the part of the veterinary expenses that the dog insurance policy covers. Common reimbursement options are 70%, 80%, and 90%. A few insurers, however, offer up to 100% reimbursement of veterinary costs.
3: Coverage cap
Also called the policy limit, the coverage cap is the highest amount the insurance provider will pay for a claim that the pet insurance policy covers. Typically, the amount is pegged at $5,000, but there are also insurers that offer unlimited coverage.
Pet insurance provides three levels of coverage, according to the Insurance Information Institute (Triple-I). These protections also apply to dog insurance.
1. Accident and illness coverage
The most common type of coverage, accident and illness policies cover injuries caused by accidents and sickness. These include:

Experts advise dog owners to get this type of cover, which is also known as comprehensive coverage, while their pets are still puppies as many insurance providers limit illness coverage as the dog ages. Doing so can also help policyholders save on premiums and reduce the impact of pre-existing condition exceptions.
2. Accident-only coverage
Some insurers offer accident-only plans, also called basic coverage, which essentially covers anything associated with sudden physical injury. This type of policy usually costs less than accident and illness plans, and suits pets with pre-existing conditions.
3. Wellness coverage
Often offered only as a rider, this optional coverage pays out for wellness expenses. These include:

Experts, however, also advise canine owners to take out another form of protection, called pet liability insurance, which covers injuries and property damage that their pets cause others.
Most homeowners' and renters' insurance policies provide liability coverage up to a certain limit. This includes claims resulting from pet-related injuries and damages. Apart from dog bites, some plans cover property damage, including when a pet, for instance, chewed up another person's couch or peed on someone else's laptop.
Canine owners can also purchase a separate dog liability coverage, especially if their pets are among those considered "aggressive" breeds or if they feel that coverage provided by their home insurance policies is not enough.
In a recent blog, Pawlicy Advisor listed the top 10 dog breeds that may need coverage due to different behavioral factors.
To come up with the list, the pet insurance marketplace considered several parameters, including bite force data, temperament scores – which measures how well-mannered a dog behaves in various settings – and percentage of home insurers (among 42 providers) banning the breed. These metrics reflect each breed's risk level when it comes to attacking or biting others.
The table below lists the dog breeds that require coverage the most, arranged alphabetically.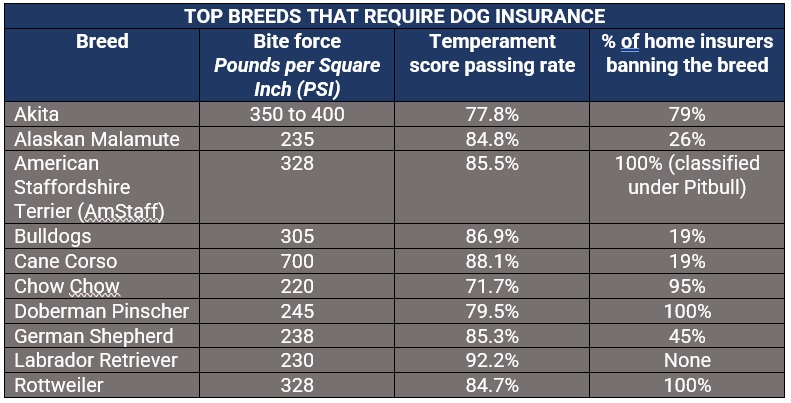 Most dog insurance plans – just like other pet insurance policies – do not cover pre-existing conditions, although some insurers may provide coverage for acute and curable illnesses after a certain waiting period. One thing to take note of is that canines with pre-existing medical issues are not disqualified from getting coverage, rather the policies available to them will exclude cover for the specific condition.
Some other exclusions from dog insurance policies are:
Cosmetic procedures

Elective surgeries

Boarding or daycare

Pet supplies, including food, toys, and treats
The following are typically excluded from basic and comprehensive plans but can be accessed by purchasing a wellness coverage rider.
Routine care

Preventive care

Spaying or neutering

Vaccinations

Wellness tests
Just like in other types of insurance, premium prices for dog coverage are determined based on a range of factors, including:
The dog's age

The dog's gender

Where the dog owner resides

Whether the dog is desexed/spayed or not

The level of coverage

The excess amount
However, there are two factors that have a far greater impact on dog insurance rates. These are:
The dog's size: Bigger canines tend to have shorter lifespans, meaning they are more prone to health issues associated with ageing, including canine cancer, development disorders, and tumors, which experts say may be linked to their accelerated growth.

The dog's breed: Purebred dogs are typically more expensive to insure than crossbreeds as the purer the breed, the greater risk the dog has of developing hereditary disorders.
According to NAPHIA's state of the industry report, the average annual premiums for dog insurance with accident and illness coverage are about $584 or $49 monthly.
To find out how much pet insurance costs for different dog (and cat) breeds, the financial products online marketplace LendEDU compared policies for 114 different breeds and ranked them by monthly premiums. The lists below reveal the 10 dog breeds with the cheapest and costliest premiums for comprehensive coverage.
10 most expensive dog breeds to insure
| Dog breed | Monthly premium |
| --- | --- |
| Newfoundland | $100.79 |
| Jack Russell Terrier | $99.66 |
| Dogue De Bordeaux | $94.19 |
| Alaskan Malamute | $87.38 |
| West Highland White Terrier | $87.08 |
| Shetland Sheepdog | $81.95 |
| Greyhound | $76.75 |
| Staffordshire Bull Terrier | $75.20 |
| Bernese Mountain Dog | $75.08 |
| Bedlington Terrier | $72.72 |
10 cheapest dog breeds to insure
| Dog breed | Monthly premium |
| --- | --- |
| Miniature Yorkshire Terrier | $35.34 |
| Maine Coon | $40.39 |
| Goldendoodle | $40.78 |
| Miniature Australian Shepherd | $41.58 |
| Affenpinscher | $42.44 |
| Boykin Spaniel | $43.74 |
| Alaskan Husky | $44.61 |
| English Springer Spaniel | $44.93 |
| Cavachon | $44.97 |
| Papillon | $46.89 |
Have you brought in a new pooch recently? Do you think dog insurance is something worth getting for your pet? Drop us a message in the comments section below.