One Hawaii woman's quest to save the feral cats of Lanai at the Lanai Cat Sanctuary.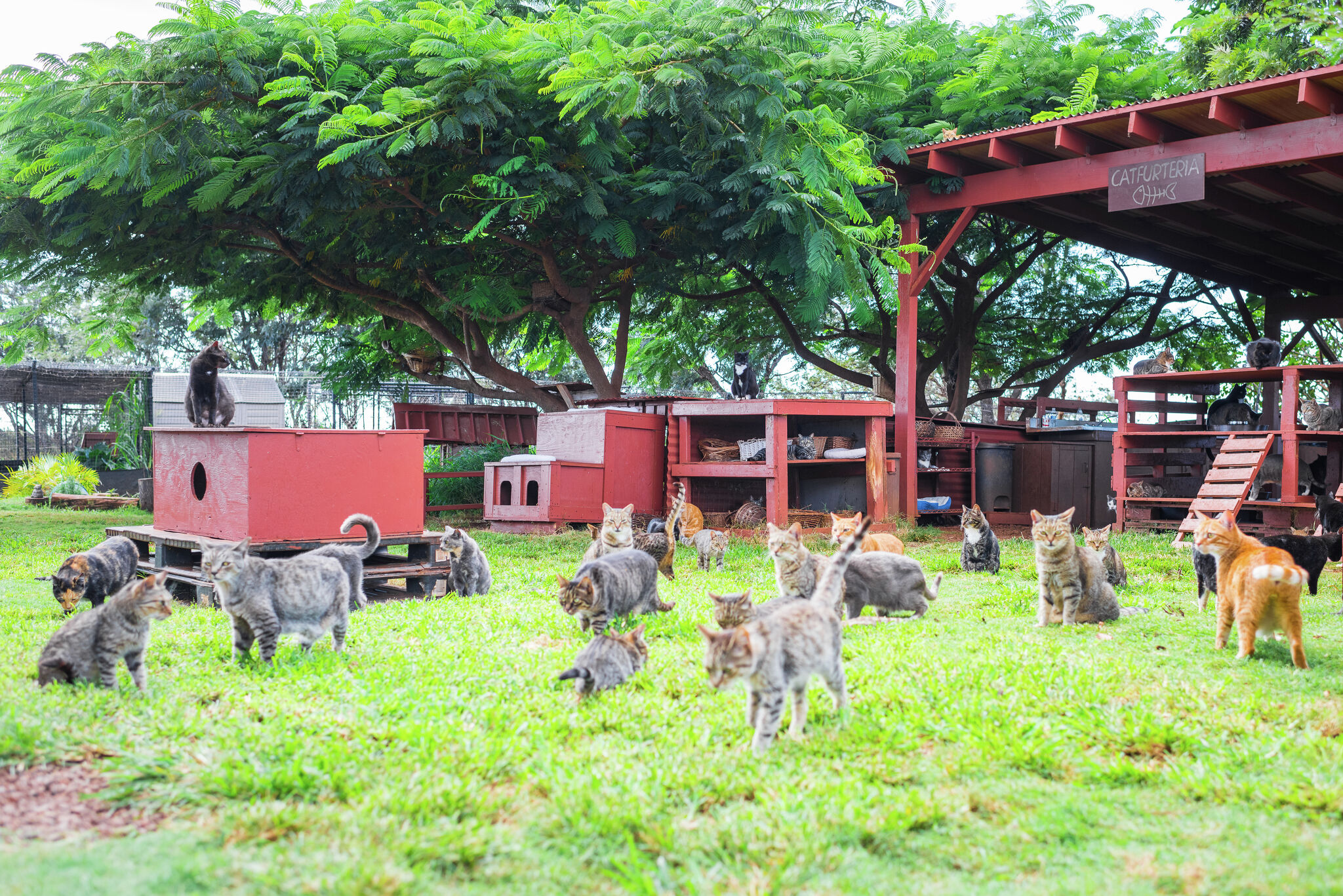 Driving up a rural gravel road on Lanai, one of the least-touristed of the Hawaiian Islands, a sign reading "Lanai Cat Sanctuary" directs us toward our destination. Upon arrival, we're greeted with a "Welcome to Purradise" sign and a small bag of dry cat food for our furry friends. 
Here, at the Lanai Cat Sanctuary, a no-kill sanctuary for feline friends, 665 cats receive medical care, food, love and a better life than they previously had. The sanctuary has a capacity of about 1,000, but factors like age, health and disposition affect this number.
As we enter the outdoor cat sanctuary, cats of every color and size roam and lounge across lawn chairs and in cat houses. Other cats scatter about to collect head scratches and pets from visitors soaking up the cuteness. Overhead, cats dangle from trees like panthers, sleeping away the afternoon. 
A staff member tells me that I'm welcome to freely visit any of the spaces. There are two general visiting areas — the kitten area and the elderly cat area — and I make my way around, kibble bag in hand to see how many of these kitties I can love before we must depart. 
The Lanai Cat Sanctuary began in 2004, after founder Kathy Carroll stumbled upon a kitten on her doorstep. She had just moved to Lanai — which is 98% owned by Oracle billionaire Larry Ellison —  from the continental U.S.and learned how there was no veterinarian on the island. Nor was there an animal control or humane society. 
The kitten needed medical care, and for her to get it, she took the ferry to Maui, rented a car and drove to a vet.