Pennsylvania cat named Cupid, shot by an arrow, searches for home in time for Valentine's Day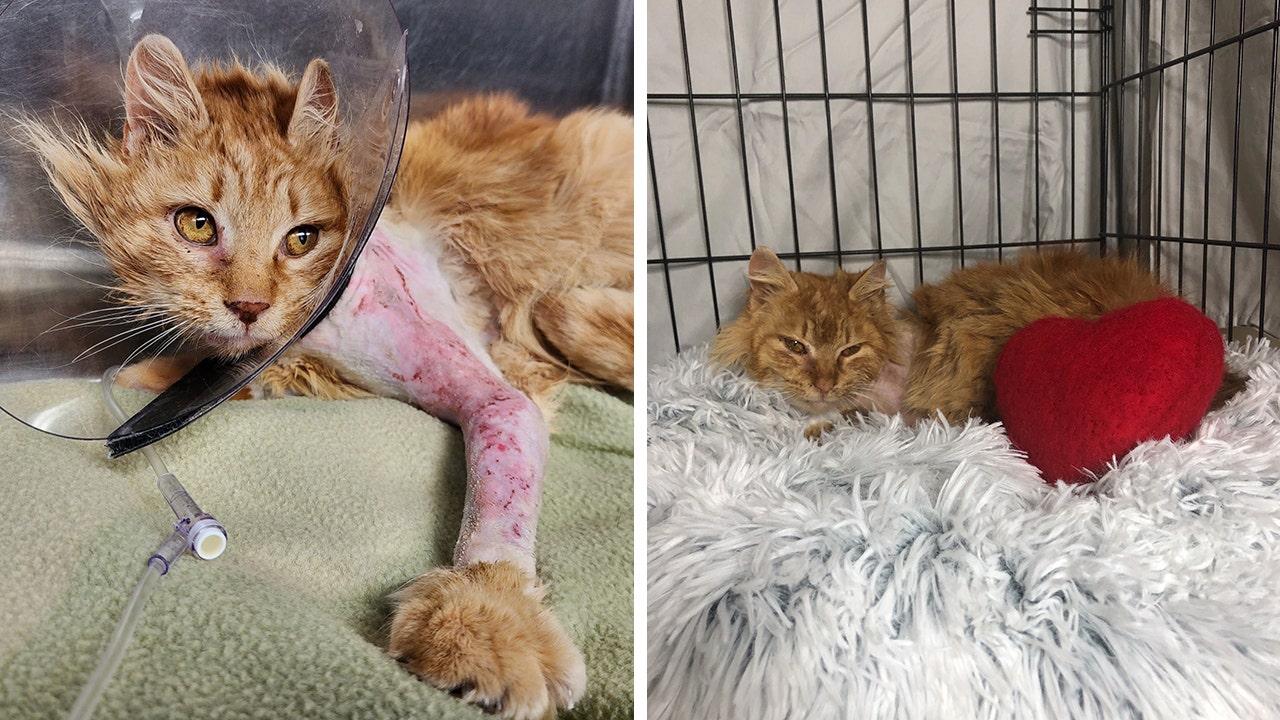 A Pennsylvania cat was found after being struck with an arrow and wandering the streets alone for eight days.
Cupid, a domestic medium haired orange tabby cat, was rescued on Jan. 31 by Stray Cat Blues in Colmar, Pennsylvania.
Heather Heilman, a certified registered nurse and foster home coordinator trapper for Stray Cat Blues, was one of the volunteers who found Cupid. She's currently serving as his foster mom.
TIKTOK STAR KURT THE CAT SPARKS INTERNET FAME FOR OWNER ABRAM ENGLE, WHO ENCOURAGES PET ADOPTION
Cupid was first seen on Tuesday, Jan. 24, in Barto, Pennsylvania, after a resident noticed a cat with an arrow in its neck walking through her backyard via Ring camera video, Heilman told Fox News Digital.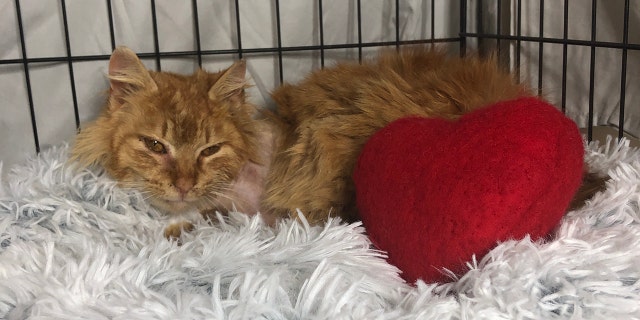 The owner of the home reported Cupid's presence to a local vet in the area — who then reached out to the trapping team at Stray Cat Blues, Heilman reported.
Heilman said an emergency search for Cupid began.
The state police were called due to the fact that his injury was considered an act of animal cruelty. 
It's reportedly still unknown who injured the feline.
Officers helped Heilman and other volunteers in their search for the cat, Heilman said.
STRIKING BLACK CAT FOUND UNDERWEIGHT, DEHYDRATED IN UTAH NEEDS A NEW HOME
On Jan. 31, at 6:30 pm, Cupid was found a mile away from his original sighting location and trapped by Heilman and her team at Stray Cat Blues, she shared.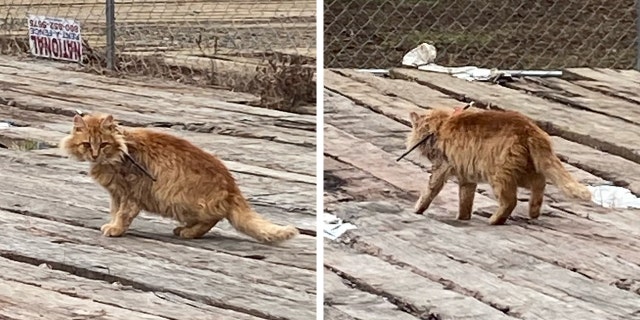 When found, the arrow that had once pierced Cupid was no longer there and had somehow been dislodged, according to Heilman.
Heilman noted that the areas where Cupid is believed to have traveled are full brush and sticker bushes, which may have attributed to the dislodging of the arrow.
SHELTER CAT WHO WENT VIRAL THANKS TO 'SAD AND DEPRESSED' PHOTO IS NOW HELPING OTHER CATS GET ADOPTED
When strategizing how best to trap Cupid, Heilman was anticipating the arrow to be present, meaning the usual cages used to trap stray cats would not be large enough.
Heilman brought a coyote trap that would be large enough to fit both Cupid and the arrow.
After setting the traps at 2:30 on Jan. 31, Heilman received a call several hours later saying Cupid had been found.
WARNING: Images included in this story may be disturbing to some viewers
"[I said], 'What do you mean? Are you kidding me,'" Heilman recalled of how she responded to the phone call.
'SAD CAT' NAMED ELLIE SURRENDERED BY OWNER BECUASE ANIMAL 'WANTED TO CUDDLE,' THEN GOES VIRAL 
"I got very emotional," Heilman stated.
"To walk a mile with an injury and infection, just feeling awful and in pain, is just a testament to his wanting to survive."

— Heather Heilman, Cupid's foster parent
Heilman and her team arrived at the scene and loaded the 70-pound cage containing a nervous Cupid into her truck.
"I covered the trap with blankets so he wouldn't be so scared in the back of the truck [but] I could smell the infection and he couldn't move his leg," Heilman said.
Cupid was quickly taken to Quakertown Veterinary Clinic, where he was treated by multiple vets.
MISSING NEW YORK CAT ACTIVATES HER FAMILY'S RING DOORBELL: 'WE ALL JUST SCREAMED'
Based on the wounds, the arrow that had struck Cupid "penetrated from just above his neck [and] shoulder, exiting above his cervical spine," Dr. Arielle Schoenlein, Cupid's veterinarian, told Fox News Digital.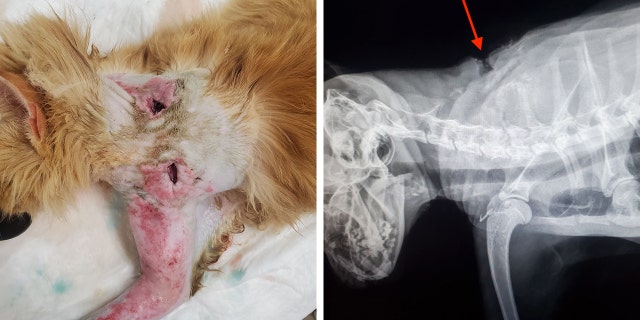 The arrow somehow avoided doing any damage to major arteries or vessels, Schoenlein said.
"Cupid was treated in the hospital with cleaning and debridement of necrotic dead tissue," Schoenlein added.
"He was given antibiotics, pain medication and intravenous fluid support due to his dehydration," she explained.
CAT NAMED GRETA, AN 'AWARD NOMINEE' WHO'S COME A LONG WAY, IS AVAILABLE FOR ADOPTION IN NEW YORK CITY
On Feb. 5, Cupid was released from Quakertown Veterinary Clinic and was placed in Heilman's care.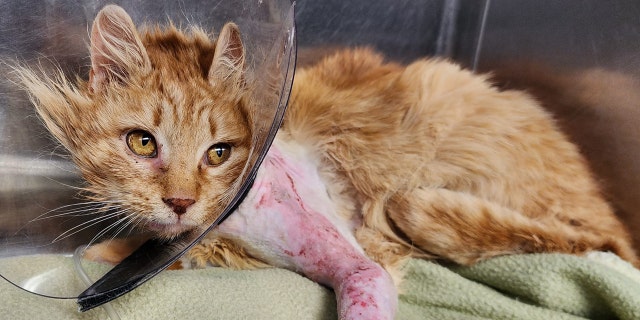 It seems as though Cupid has sustained some nerve damage and does not have full use of his front left leg along with a sustained head tilt, Heilman shared.
"When I got him home I just sat next to him, talked to him, put my hand out," Heilman added. "He slowly rubbed his head up against my hand and I knew he must have been somebody's cat because he was friendly."
WORLD'S OLDEST LIVING CAT IS NEARLY 27 AND LIVES IN ENGLAND: 'SPECIAL CAT'
Heilman will help him move and massage his front left leg as a means of physical therapy, now that he is home with her.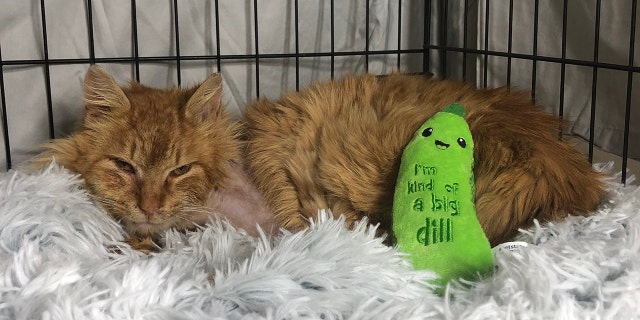 "Just to be out there and survive without an injury … is really tough for homeless cats," Heilman commented.
"To walk a mile with an injury and infection, just feeling awful and in pain, is just a testament to his wanting to survive."
CATS QUIZ! HOW MUCH DO YOU KNOW ABOUT FELINES? TEST YOURSELF!
The team at Stray Cat Blues is hoping to find Cupid a new home in the next month.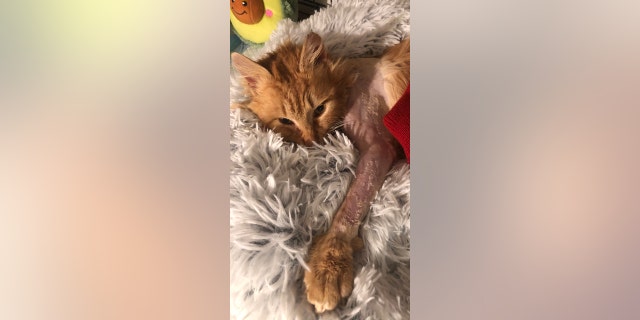 The community has shown their love and support for Cupid by buying him cat toys on an Amazon wish list.
Stray Cat Blues has started a new initiative — zero tolerance for animal cruelty.
This initiative has come out after the discovery of Cupid and will encourage individuals to reach out to their local shelters for help, Heilman stated.
CLICK HERE TO SIGN UP FOR OUR LIFESTYLE NEWSLETTER 
Cupid has a long recovery ahead of him, but Heilman is ready to find him a home that will care for him well.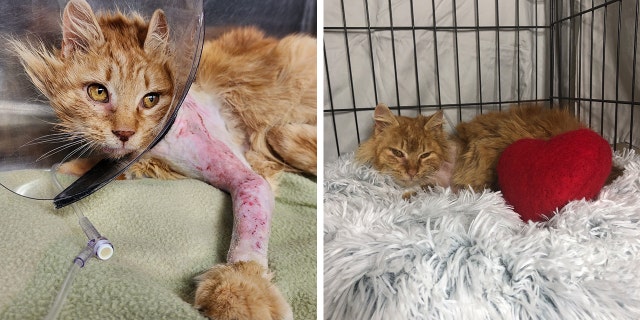 She added, "[A home] where he will never have to worry about being abused or neglected."
If you find a stray cat in your area, proceed with caution — and be sure to protect both yourself and the cat from further injury, Schoenlein warned.
CLICK HERE TO GET THE FOX NEWS APP
"If the wounds are not life-threatening … contact your local SPCA and bring the cat to them for care. If the animal is experiencing a medical emergency, bring the pet to your closest emergency animal hospital," Schoenlein noted.