PPN's Top Pet Products of 2022 | Featured Stories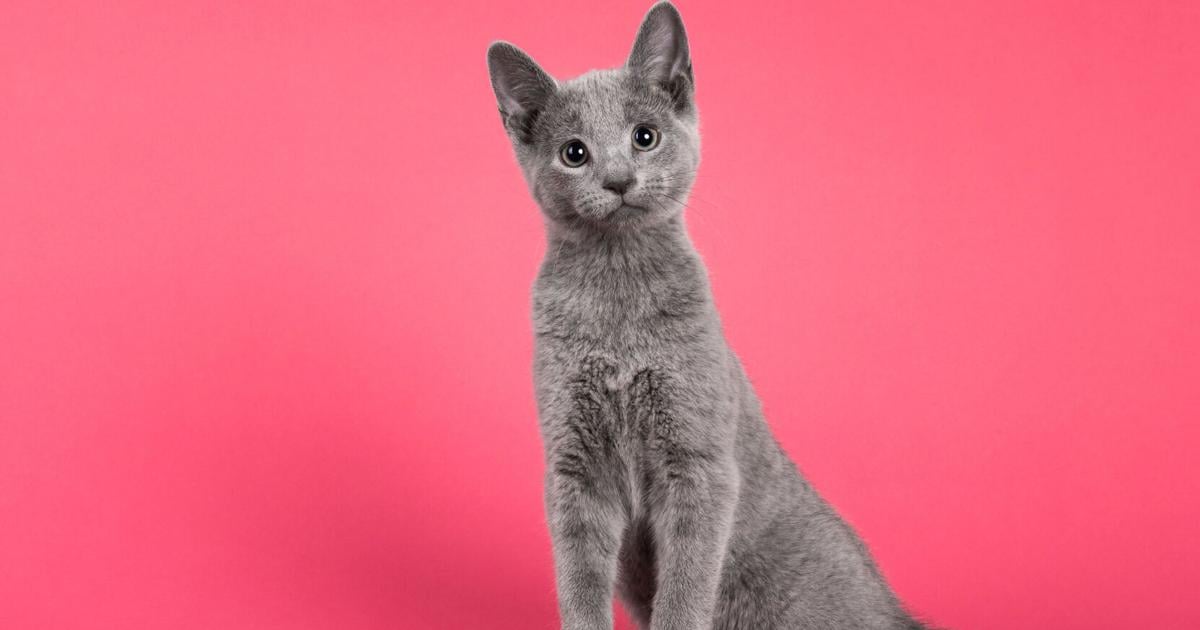 For Pet Product News (PPN)'s editors, the Editors' Choice Awards are a favorite tradition. Every year, we get a chance to discover manufacturers' best new products. In October, we published the Editors' Choice Awards finalists. Now, after much painstaking deliberation, we've whittled down the list to bring you our top picks, products that have earned an Editors' Choice Award.
We hope these products will not only brighten retailers' shelves, but make pets'—and their people's—lives brighter. Turn the pages and get ready to discover the best of the best!
Aquatic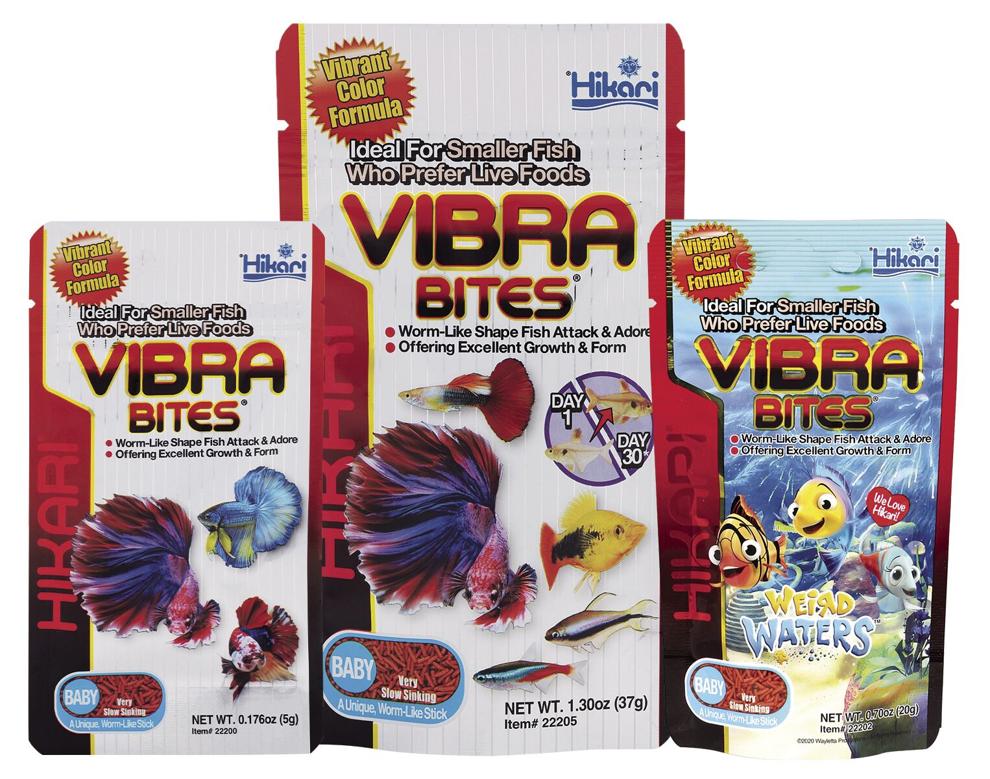 Hikari presents Hikari Vibra-Bites Baby. Great for all types of smaller tropical fish, this flavorful nutrient mix offers many unique benefits, from the pellet design, which mimics a bloodworm moving through the water, to the incredible color-enhancing ability, which will help fish glow with a flood of color, to the exacting nutrient balancing through extensive feeding trials that helps offer growth and form fish keepers won't believe. The oxygen-barrier package helps maintain the quality and perfection of the product. 
---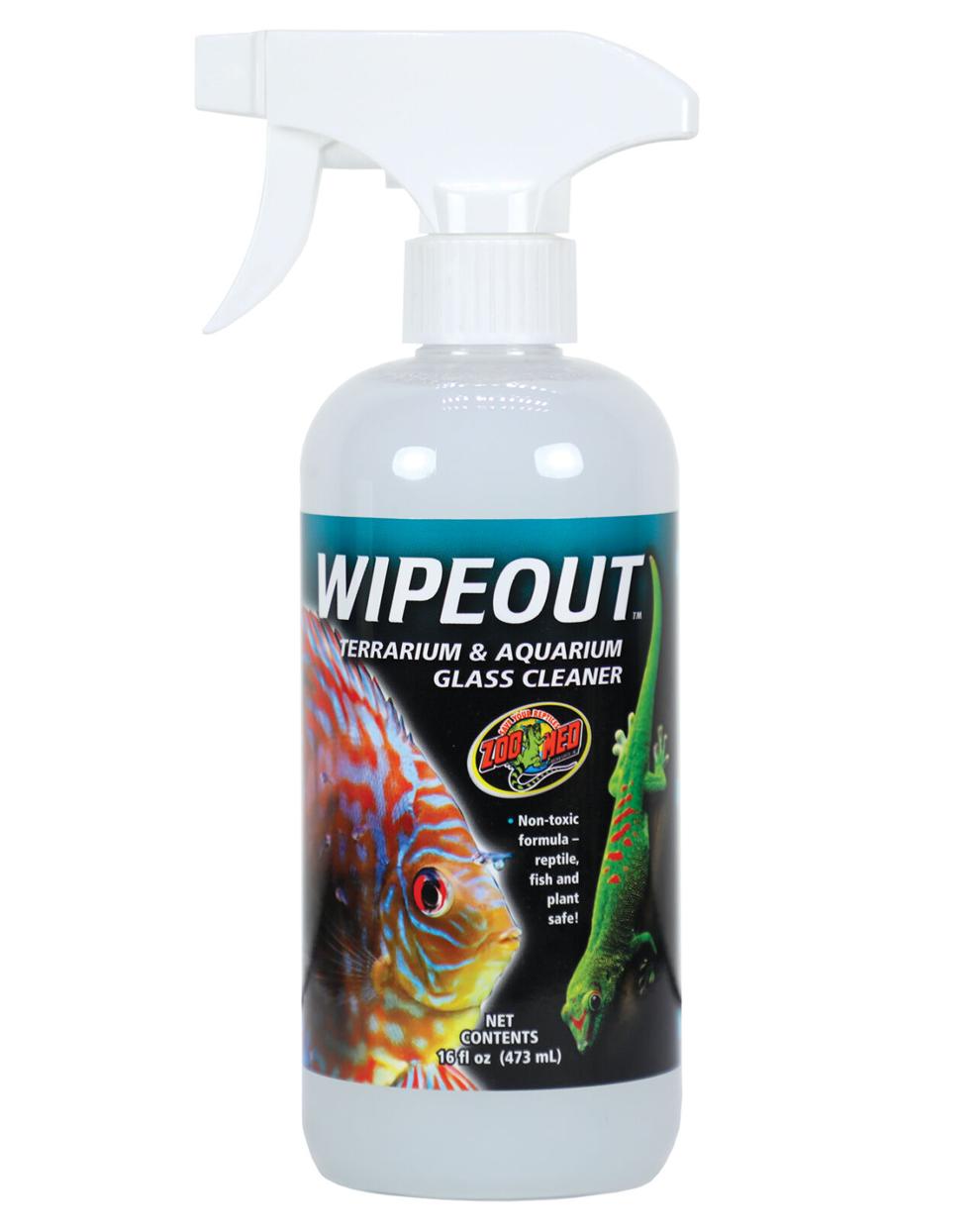 Hobbyists can eliminate mineral buildup and create a clear view into habitats with Zoo Med Laboratories' Wipeout Terrarium and Aquarium Glass Cleaner. It is 100% plant based and removes hard water deposits, dust, fingerprints and other light-blocking deposits without streaking. It is the perfect sustainably made, nontoxic tool for glass or acrylic habitats. The product is safe for fish, plants, invertebrates, reptiles and amphibians. 
---
Exotics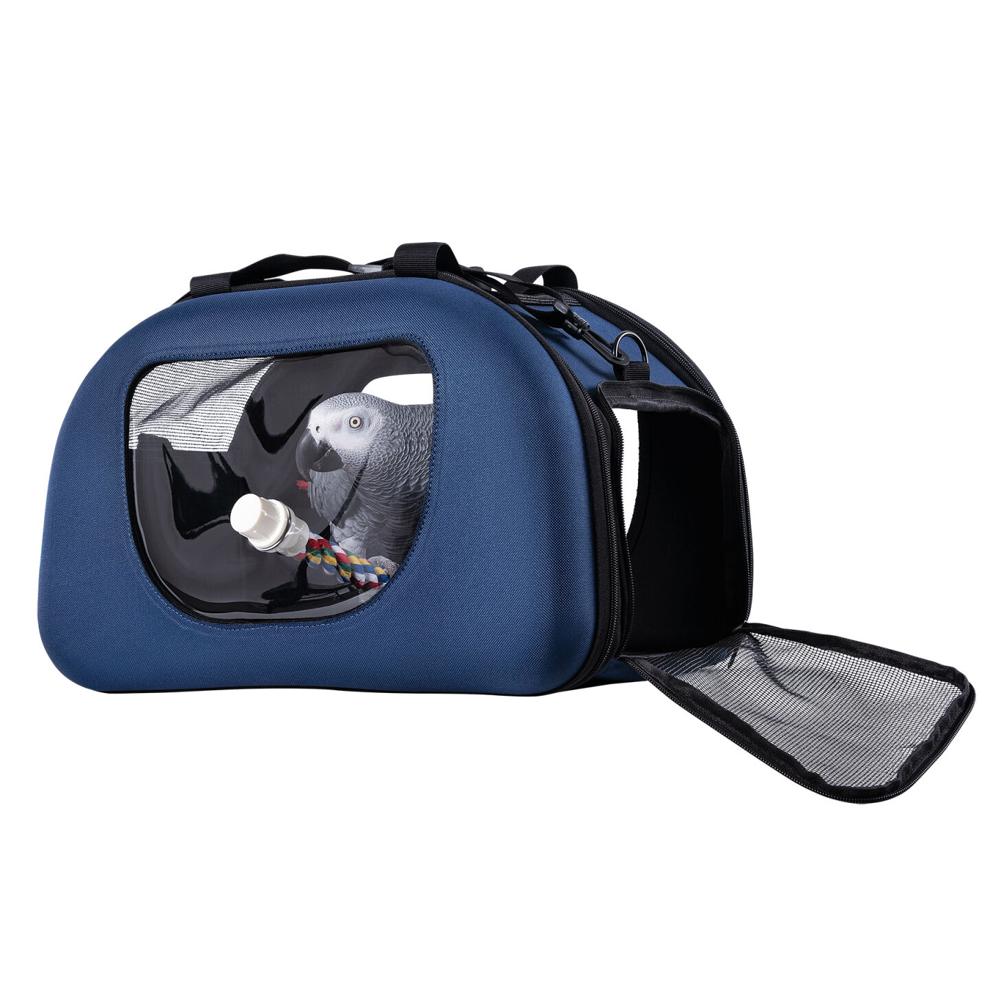 Owners can bring Polly along for the ride in the Featherland Paradise Bird Travel Carrier from Caitec. The carrier features heavy-duty nylon luggage material and is soft sided with a comfortable woven cotton perch. Breathable mesh windows are featured on both sides of the carrier. The adjustable shoulder straps let owners easily transport their feathered companions from home to hotel or to the vet for a checkup. The convenient size fits easily in a car or truck. The carrier can accommodate birds up to 10 in. in height. 
---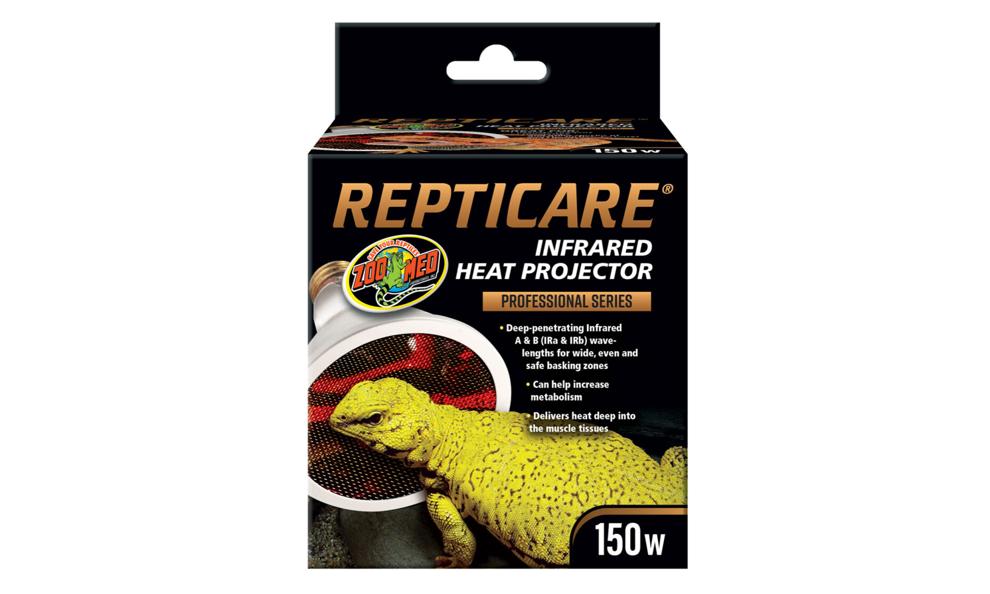 Herp keepers can deliver heat deep into their reptile's body with Zoo Med Laboratories' ReptiCare Infrared Heat Projector. This bulb emits energy-rich infrared (IRa and IRb), which gives immediate, powerful warmth at lower wattages than standard heat bulbs. These infrared wavelengths are directed down into the habitat with a thick glass reflector, and then soaked up by surrounding rocks and décor. Décor will release this heat upward to warm the air and provide belly heat for more natural basking. 
---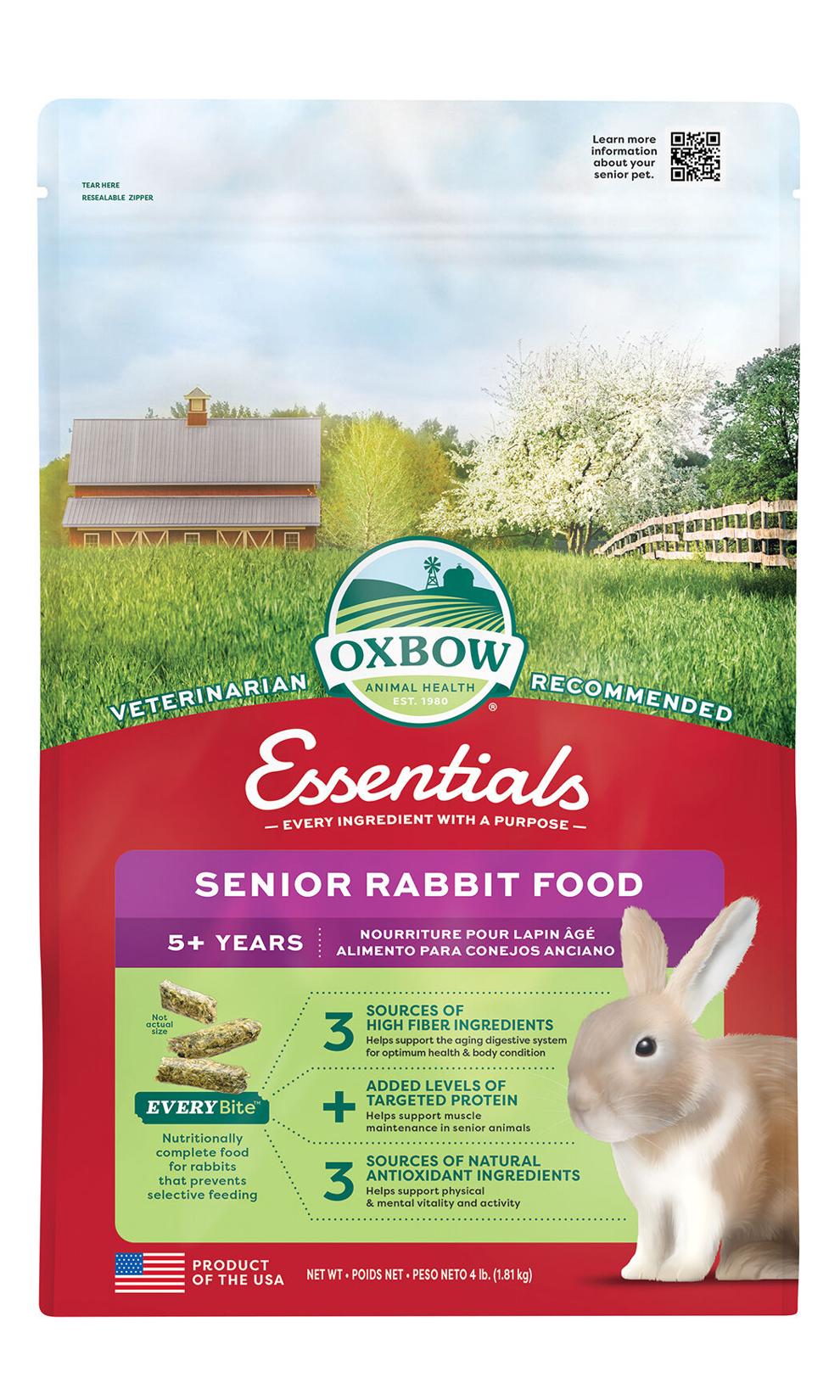 Oxbow Animal Health offers Essentials Senior Rabbit Food and Essentials Senior Guinea Pig Food. The foods are crafted based on the health needs of small animals in their golden years. They are formulated with high-fiber ingredients for digestive health and anti-inflammatories for joint support. 
---
Kaytee's Clean & Cozy Confetti Paper Bedding offers a fun and interactive way to promote pets' natural behaviors. It contains colorful, pet-safe confetti pieces that unroll to encourage a pet's natural burrowing and nesting instincts. This enrichment bedding absorbs six times its weight in liquid, is 99.9% dust free and has a consumer money-back odor-control guarantee. It is designed for all small pets, including hamsters, mice, gerbils, rabbits, guinea pigs, chinchillas and ferrets. 
---
Cat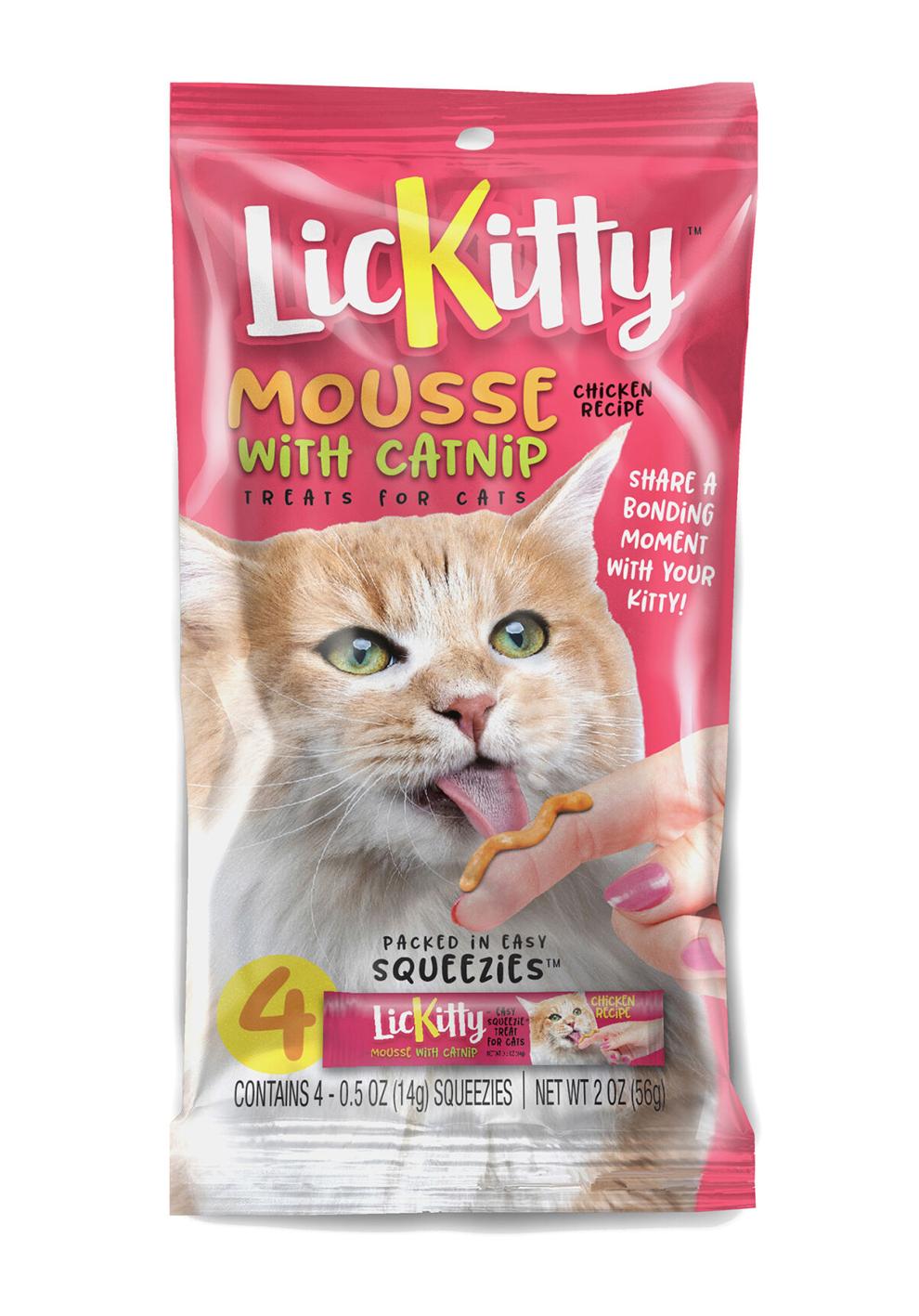 Against the Grain Pet Food presents LicKitty Mousse with Catnip. Cat owners can squeeze the convenient pouch and watch cats go wild for this creamy treat with catnip. They can squeeze a little mousse onto their finger and feed it to their cat for a bonding experience. Or it can be squeezed over a cat's meal to act as a flavor enhancer and moisture booster. It can also be served straight from the package or in a dish. The chicken-flavored treat comes in convenient 0.5-oz. squeezable pouches. 
---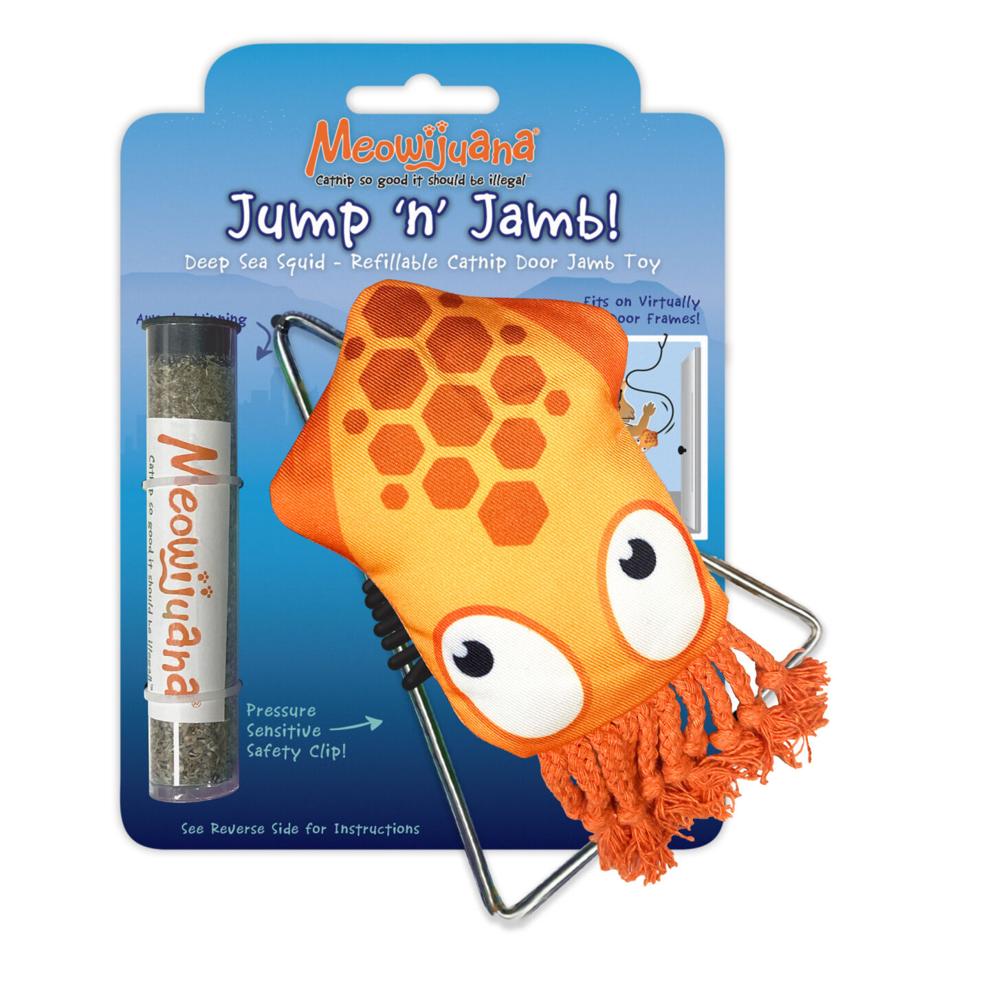 SmarterPaw presents the Meowijuana Jump 'N' Jamb Refillable Catnip Swinging Toy Collection. Owners simply tuck some Meowijuana catnip into the pocket on the side of the toy, clamp the sturdy hanger onto the door frame and watch their cats fly high. The elastic cord can be adjusted to fit any size door frame and a cat's height. Designs include the Jump 'N' Jamb Deep Sea Squid and Get the Monkey Off Your Back. 
---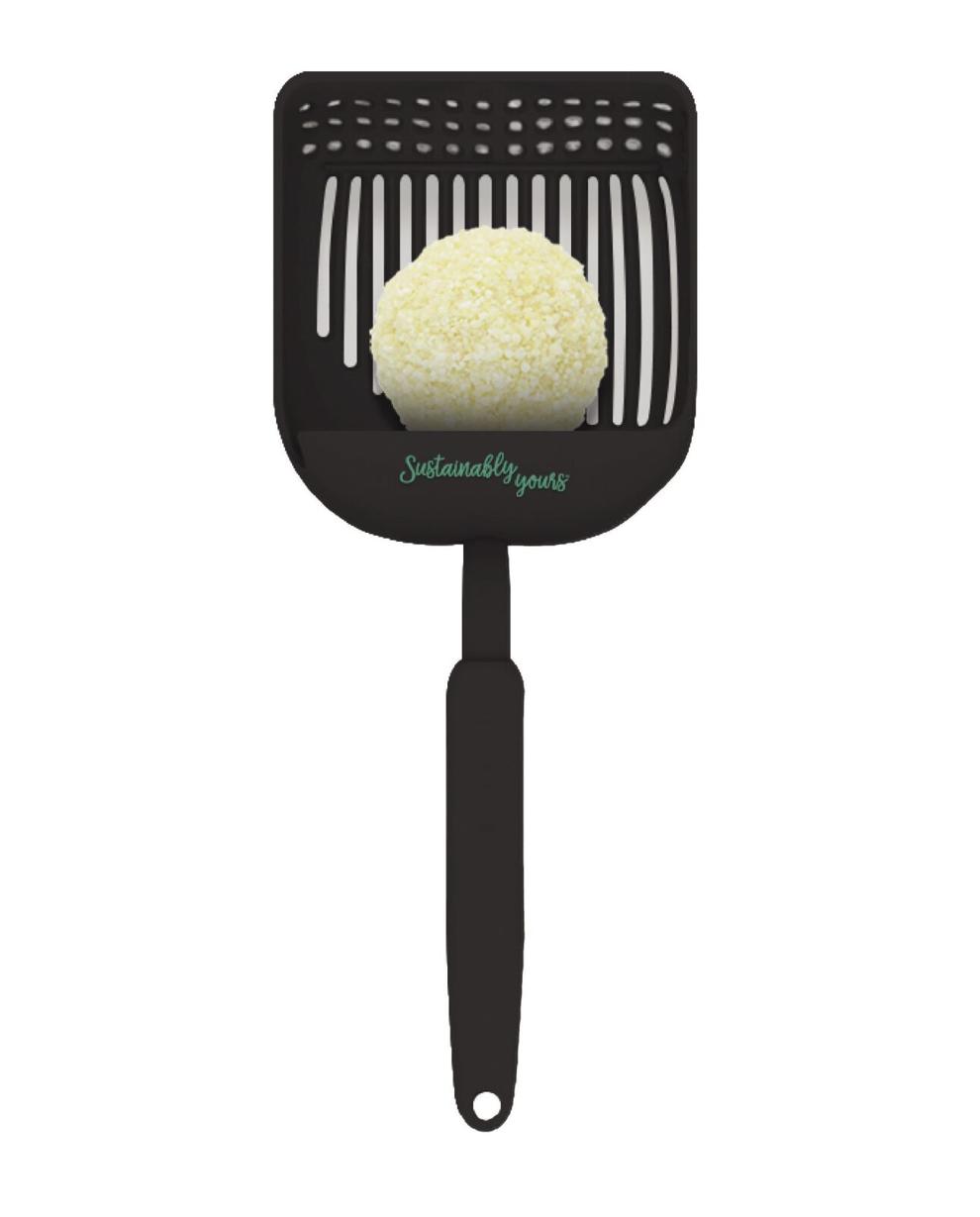 Sustainably Yours offers The Ideal Scoop. Created with 100% upcycled plastic and endorsed by official partner and brand ambassador Jackson Galaxy, the litter scoop will play a part in minimizing the amount of plastic that might otherwise end up in landfills. The scoop is designed to make cleaning faster and easier. In addition to its clump pocket, the scoop has tiny holes to pick up even the smallest particles, leaving a spotless litterbox for every cat to feel comfortable in. 
---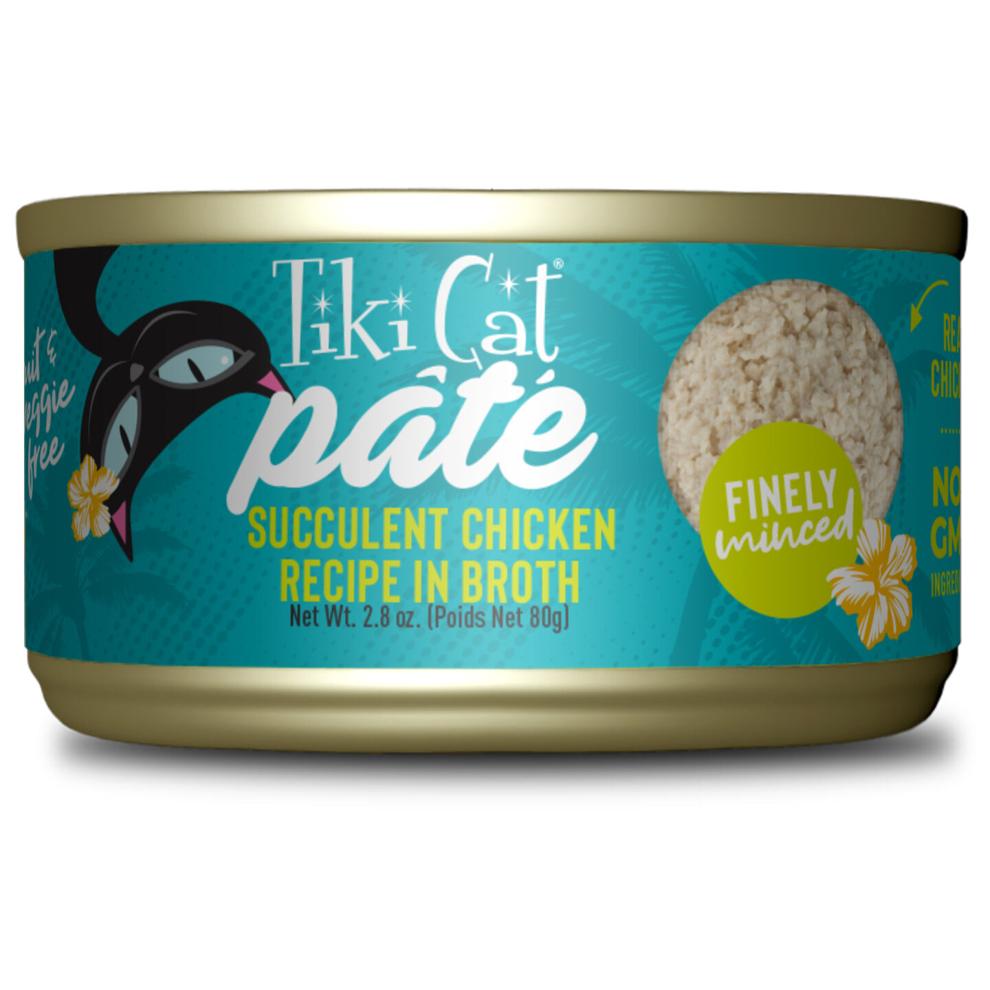 Tiki Cat's Luau Pâté is a nutrient-rich food in a smooth pâté format for cats that prefer meals with a softer texture. The recipes contain real chicken and/or fish like salmon, seabass, mackerel and tuna as their No. 1 ingredient, making them rich in the high-quality protein that carnivorous cats need and crave, while being soft and easy to eat. Based in a flavorful broth, the pâté recipes are also a good source of the supplemental moisture that cats require in their diet. Very low in carbohydrates, they are made with 100% non-GMO ingredients. 
---
Dog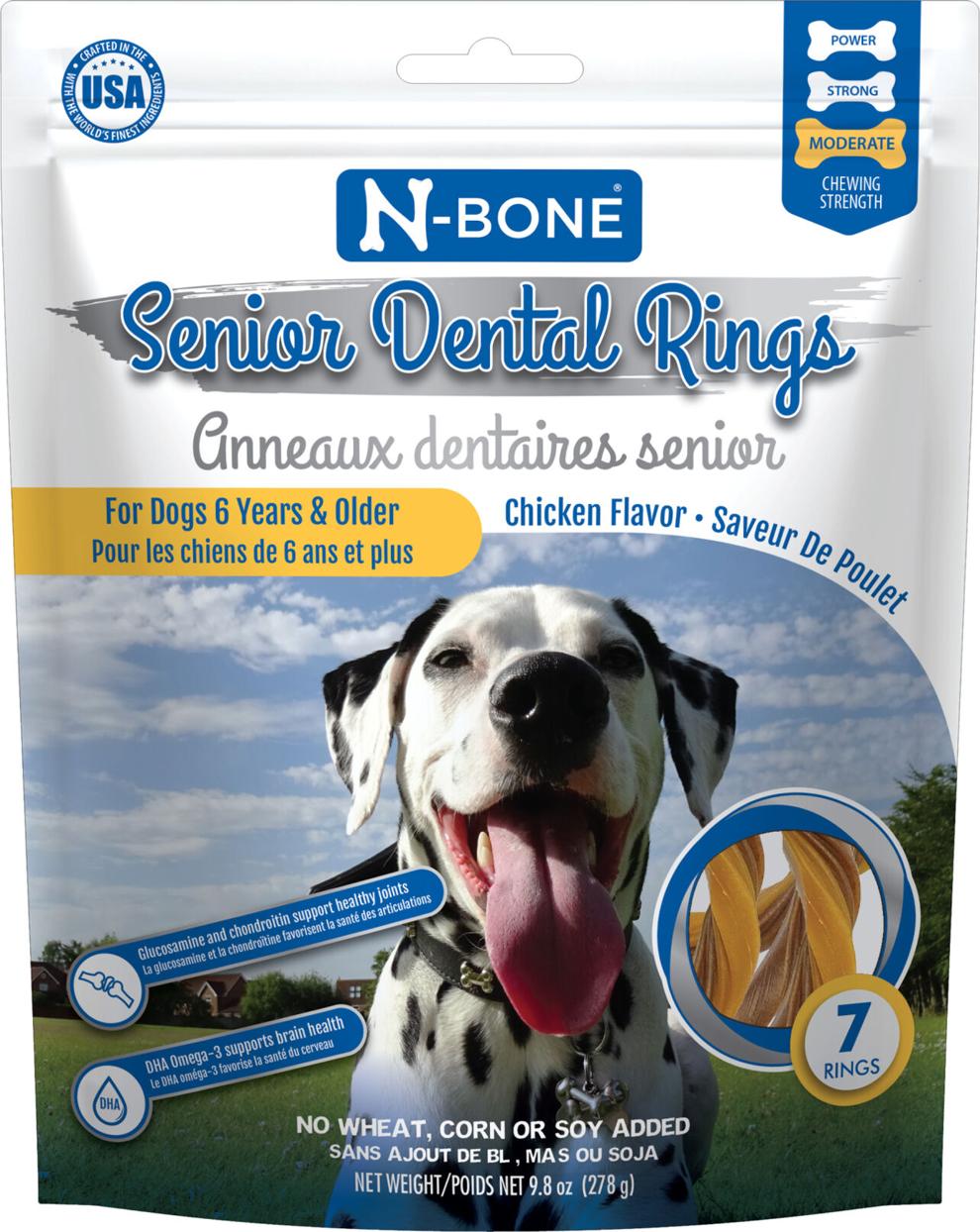 NPIC's N-Bone Senior Dental Rings, designed specifically for senior dogs, come in a ring shape and are fortified with functional ingredients like DHA, glucosamine, and chondroitin to support a healthy brain and joints in dogs during their golden years. Each ring is handcrafted with care in the USA and contains no wheat, corn or soy. The pliable texture is easy to chew and is easy on aging teeth. 
---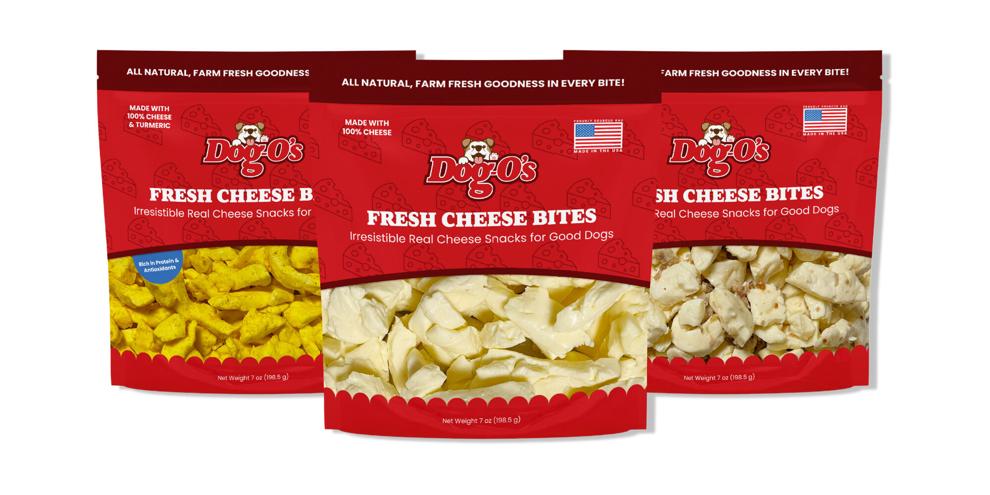 Marcoot Jersey Creamery's Dog-O's Cheese Bites are refrigerated and raw-friendly treats made from 100% USA cheese. These all natural and irresistibly soft cheese treats are available in three flavors: Original, Ginger & Turmeric and Cheese with Bacon. They are made by seventh-generation farmers and a herd of dairy cows in Greenville, Ill. 
---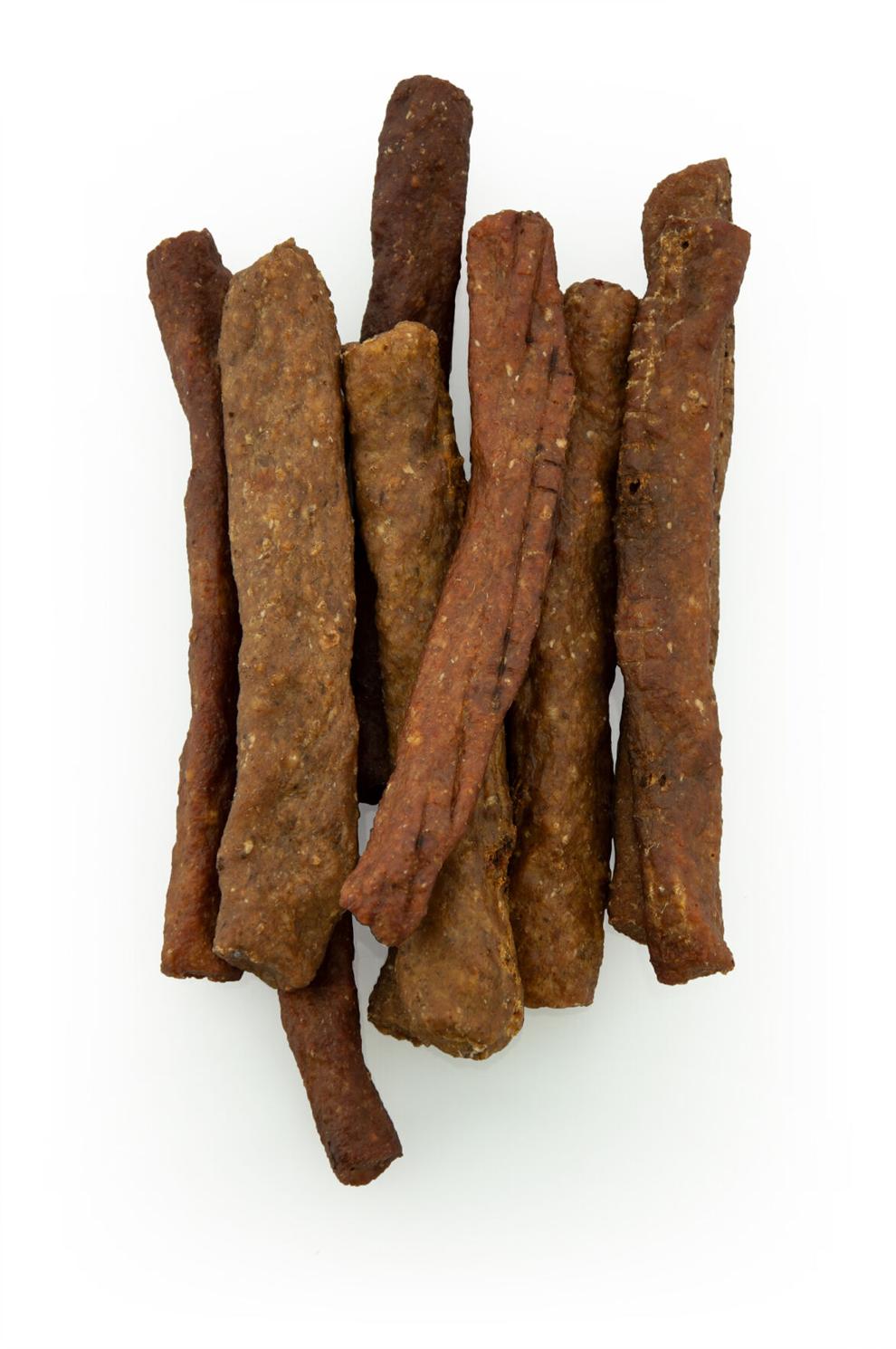 Barkworthies' Daily Health Boost Collagen Chews are made from naturally collagen-rich beef. The chews are formulated to promote mobility, support a healthy skin and coat, and boost digestive health while helping to loosen tartar and plaque through the chewing action. Offered in a variety of shapes and sizes, the chews are also available with several different flavors and protein options including beef, chicken, cheese and peanut butter. 
---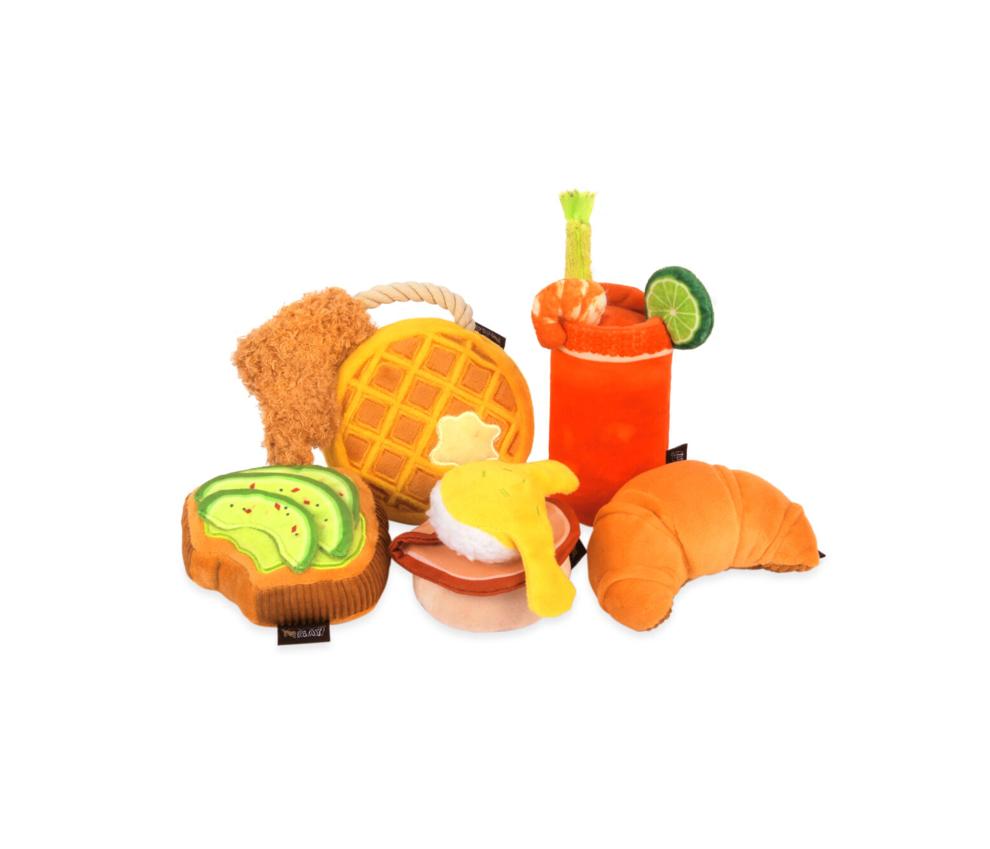 P.L.A.Y. (Pet Lifestyle And You) offers its Mini Barking Brunch Toy Collection. Small but mighty, these toys pack the same amount of fun, quality construction and cool features as the larger versions. The collection features a squeaky buffet of a flaky croissant, eggs benedict, chicken and waffles, avocado toast and a bloody mary. The plush toys are 100% machine washable and feature eco-friendly stuffing and azo-free dyes. 
---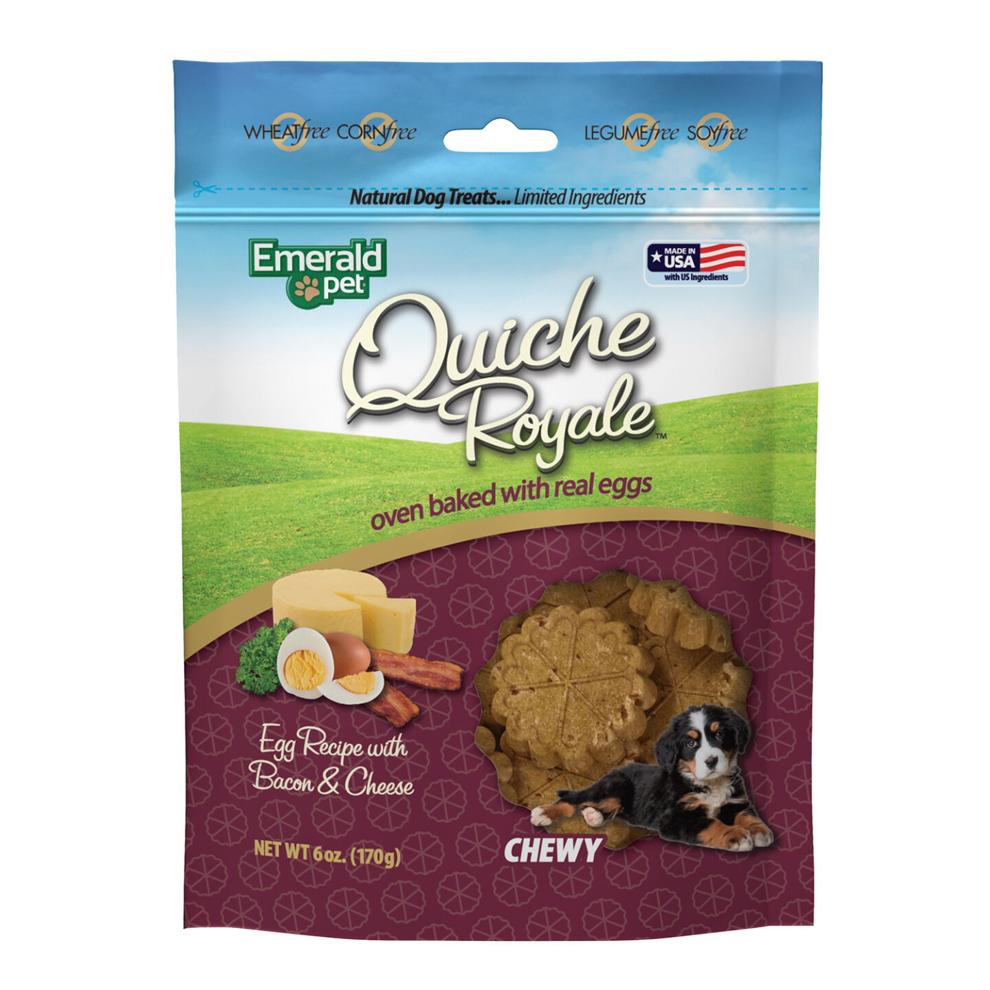 Emerald Pet Products' Quiche Royale dog treats feature whole egg as the first ingredient. The soft and chewy treats are perfect for dogs of all ages and sizes. The recipes are made for dogs with protein sensitivities in mind. Two egg-based meat-free recipes and two egg-based pork recipes follow veterinarian recommendations for dogs on protein-restricted diets. The natural, limited-ingredient dog treats are made in the USA with U.S. ingredients and are wheat, corn, legume and soy free. They contain no artificial ingredients, colors or flavors with no added sugars, sweeteners or salt. 
---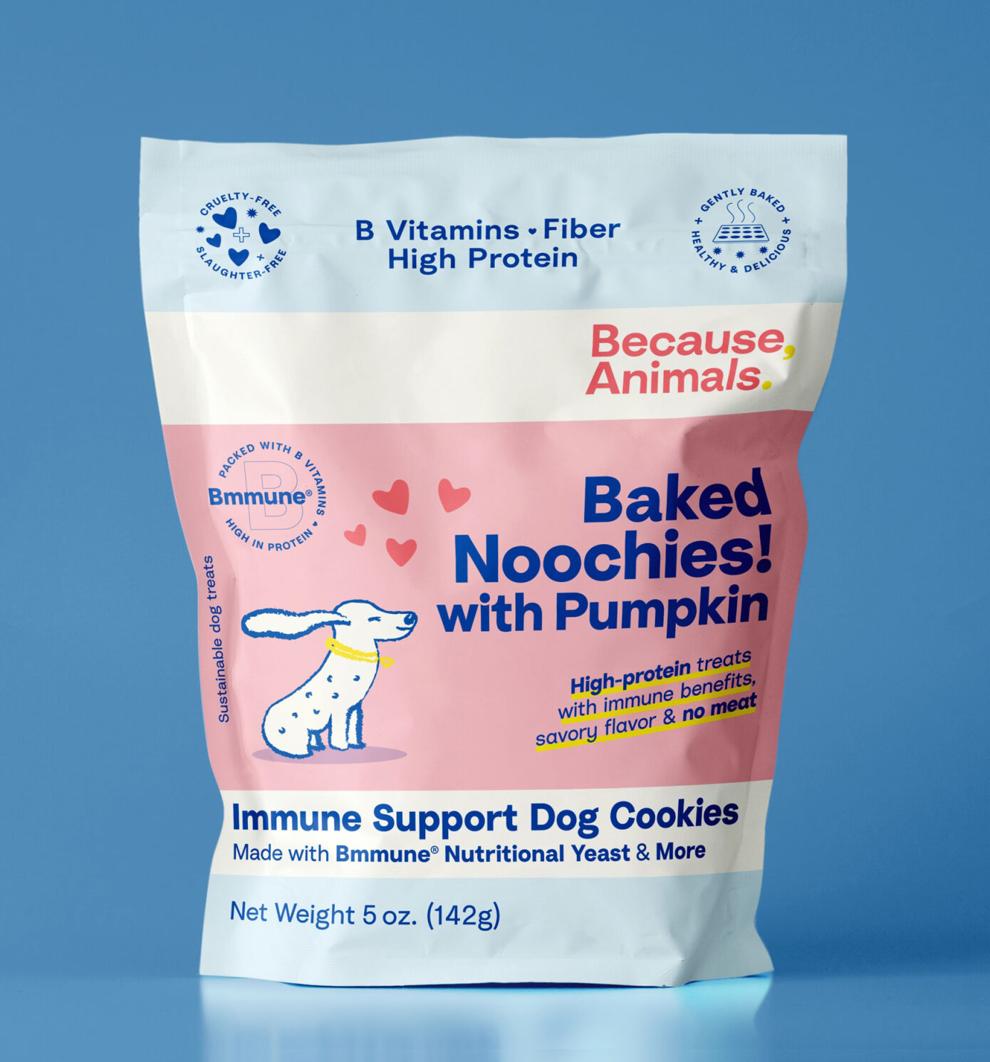 Because, Animals presents Pumpkin Noochies! Organic Dog Cookies with Immune Support, which are made with cultured nutritional yeast, also known as "nooch." Nooch contains all 10 amino acids that dogs need, making it a complete and sustainable animal-free protein. Plus, nutritional yeast is loaded with B vitamins, including B1 to maintain a healthy metabolism, B2 to support immunity and B9 to help with brain development. Nooch is also really yummy with a cheesy, umami flavor that dogs love. Beta glucan, the immunity superstar in Pumpkin Noochies, has been clinically proven to support general immune health, the company states. 
---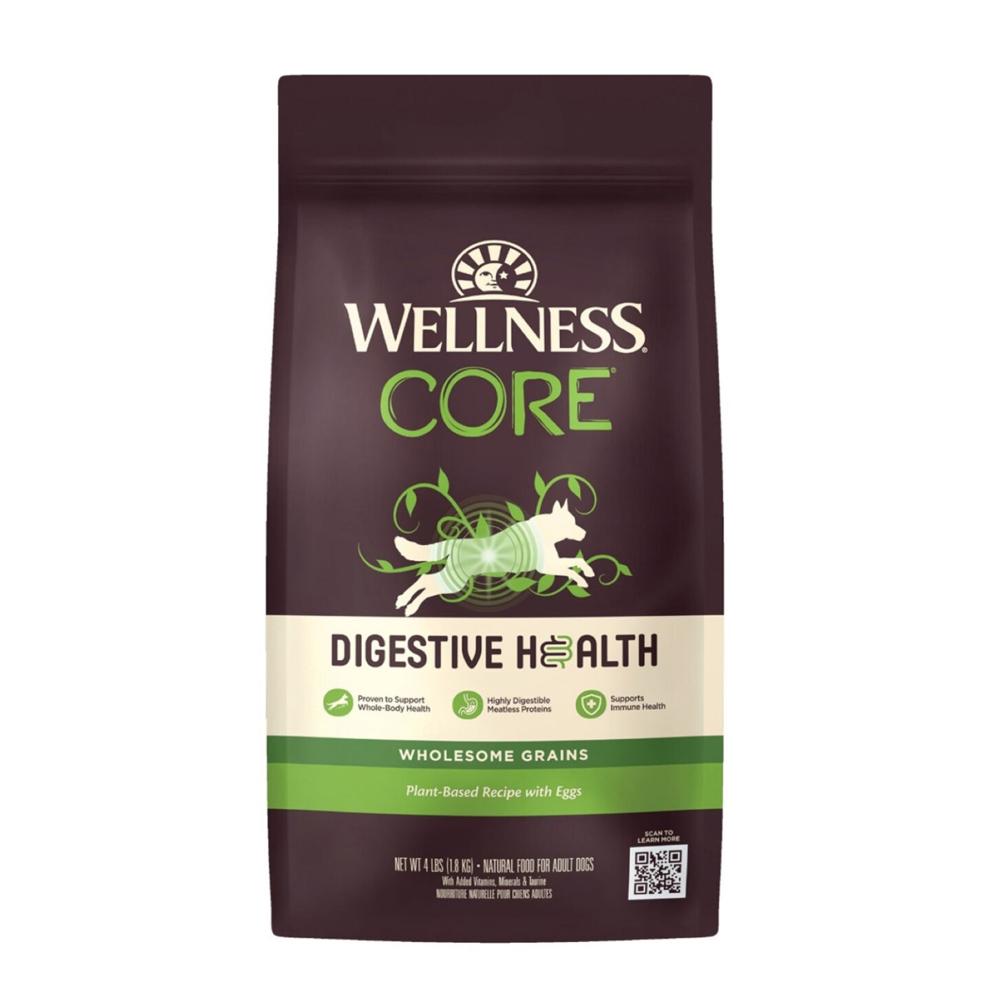 Wellness Pet Company presents Wellness Core Digestive Health Puppy and Wellness Core Digestive Health Age Advantage, allowing pet owners to select digestive health recipes that better target their pet's unique needs. Crafted with probiotics and a blend of prebiotic fibers, this line supports a healthy microbiome and immunity, promotes lustrous coat and healthy skin, and encourages vitality for optimal energy, giving pups and senior dogs alike a happy belly, which is key for total body health, the company states. 
---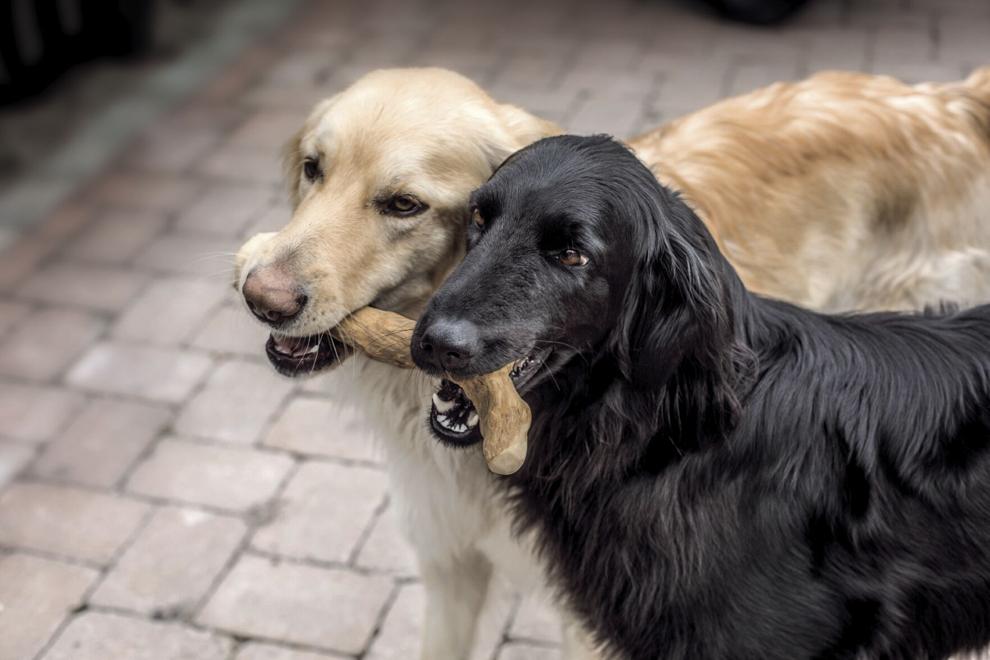 Canophera's Wood Dog Chew Sticks are sourced sustainably from coffee tree wood from the coffee plant. The wood is a byproduct of coffee farming that would otherwise be burned or thrown away, and is a lot harder than other woods, greatly reducing any splintering, the company states. A zero-calorie option for long-lasting chewing, the sticks are available in four sizes, so there is a chew for every dog and every chew style. 
---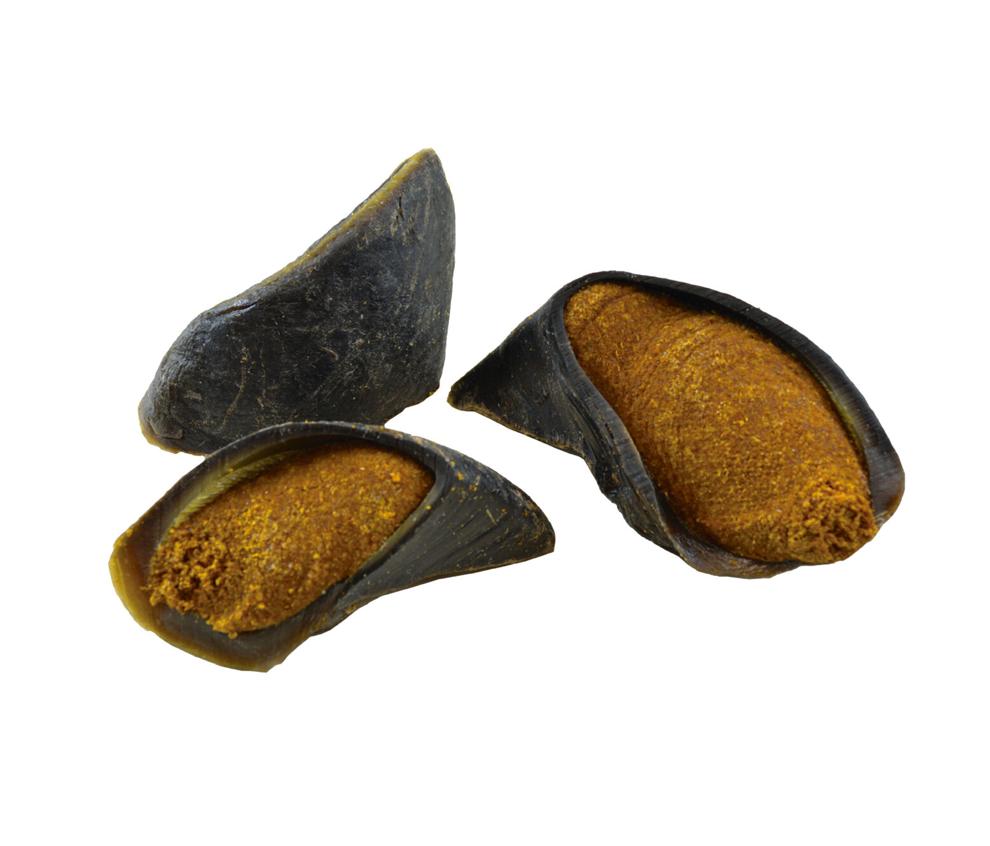 Jones Natural Chews offers Pumpkin Flavor Filling, available in dogs' favorite chews: a bone, a hoof or a beef trachea. These two-in-one snacks are a great combination of textures: creamy filling inside an enjoyable crunchy chew. Dogs love working for the filling and enjoying a chew once the pumpkin is finished, and dog owners can feel good about providing a treat that tastes great and is healthy for their pup. This product, like all Jones Natural Chews, is made entirely from product raised on American farms and includes no artificial ingredients. 
---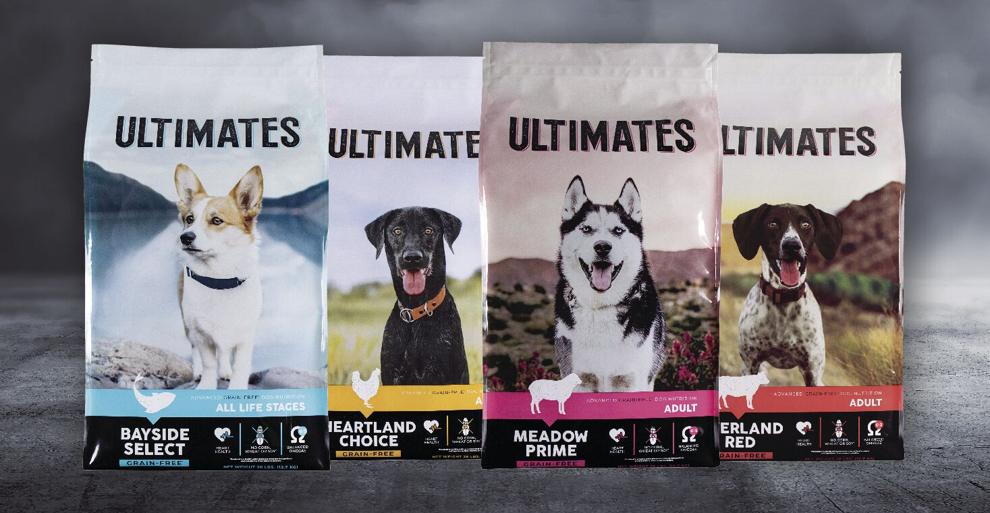 Midwestern Pet Foods presents Ultimates Grain-Free Food for Dogs & Puppies. High-quality meat proteins and nutritious fruits and vegetables provide excellent taste and health, the company states. These antioxidant-rich diets are made with no corn, wheat or soy. The Ultimates Grain-Free line includes three adult recipes and one all-life-stage recipe. 
---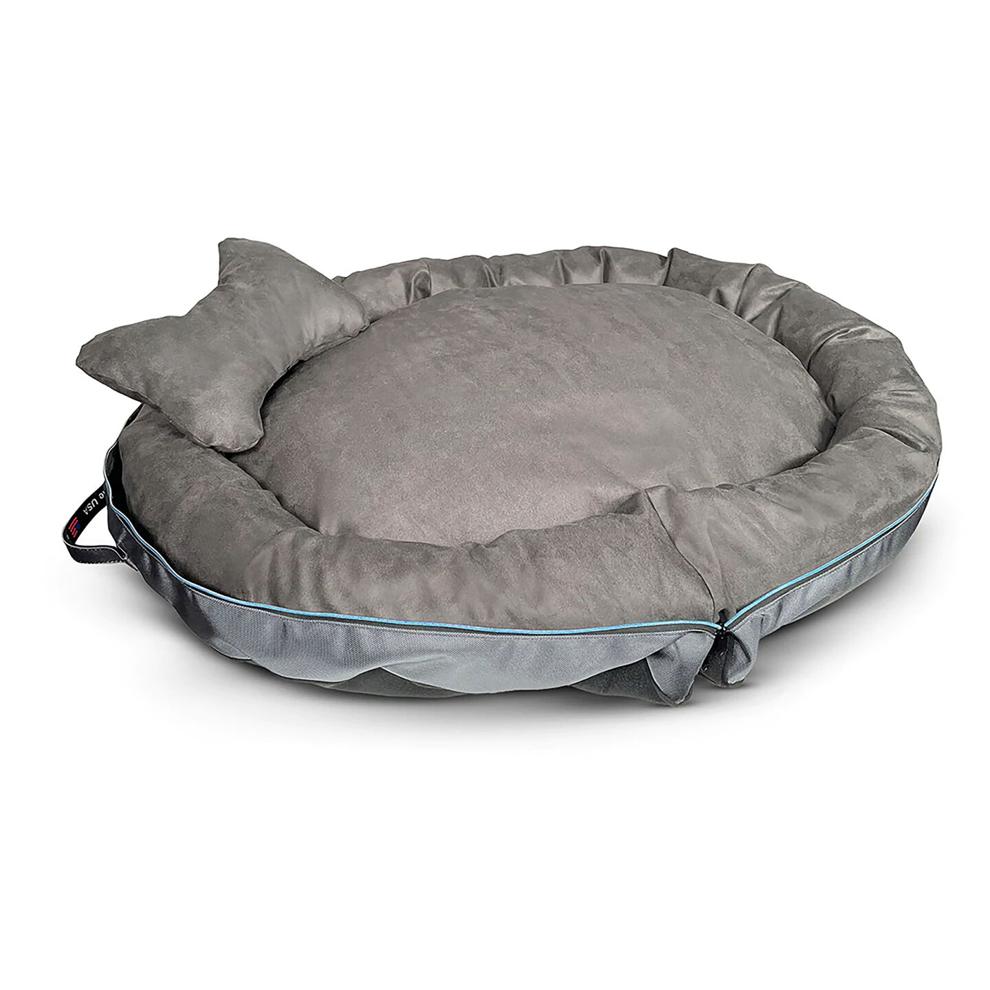 BuddyRest's Road Dog Travel Bed features a unique clamshell design, allowing the bed to be extremely portable, with the ability to fold in half and zip close. A sewn-on handle makes carrying easy. The outside of the bed features the company's Titan Ballistic Nylon for durability, and the bed's AdaptaLoft Cloud Support filling offers durability and comfort. The bed uses BuddyRest Smart Suede Fabric, which stays clean and doesn't smell over time, while also being water resistant. 
---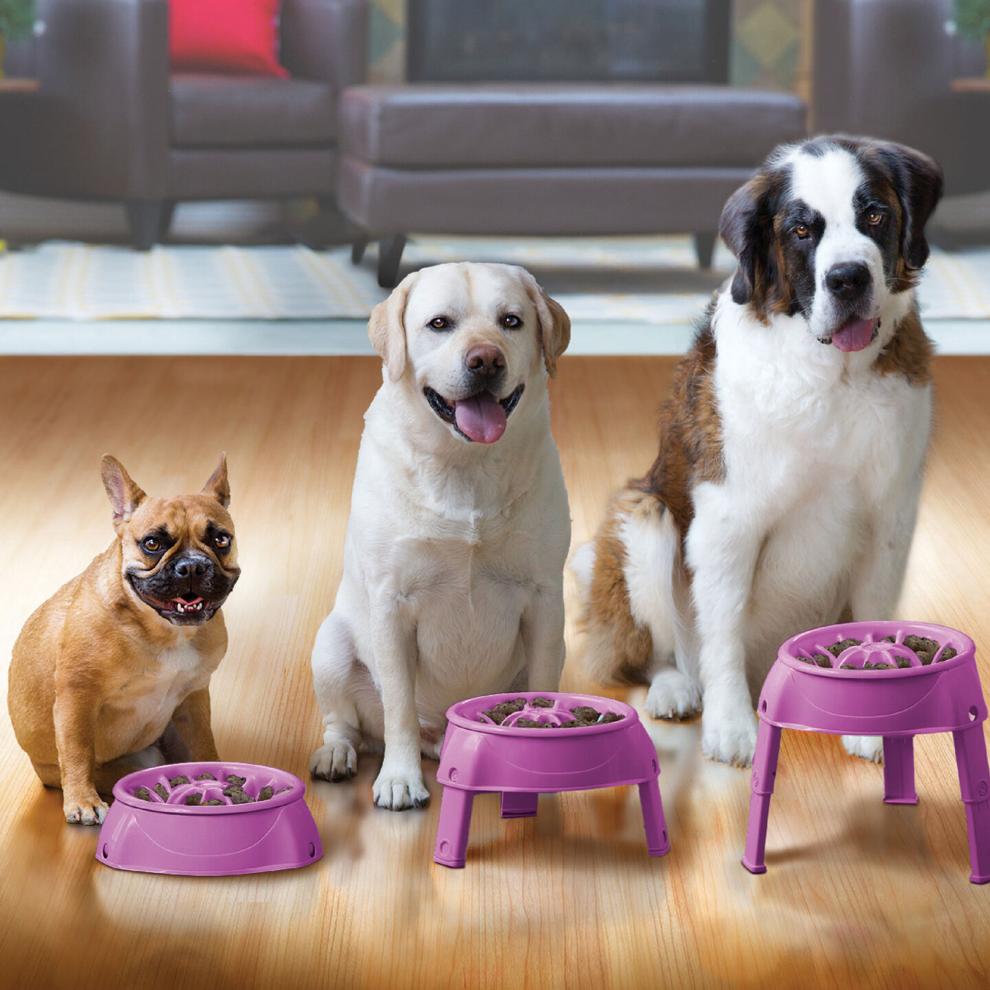 Outward Hound's 3in1 Up Feeder Elevated Slow Feeder Dog Bowl comes with a removable maze insert that helps dogs eat at a healthier pace. Slow feeders are veterinarian recommended for preventing serious issues like canine bloat and obesity, the company states. The elevated bowl aids in digestion while engaging a dog's natural instincts during mealtime. The feeder can be adjusted to suit dogs of all sizes and can go from the floor to 6 and 10 in. high. 
---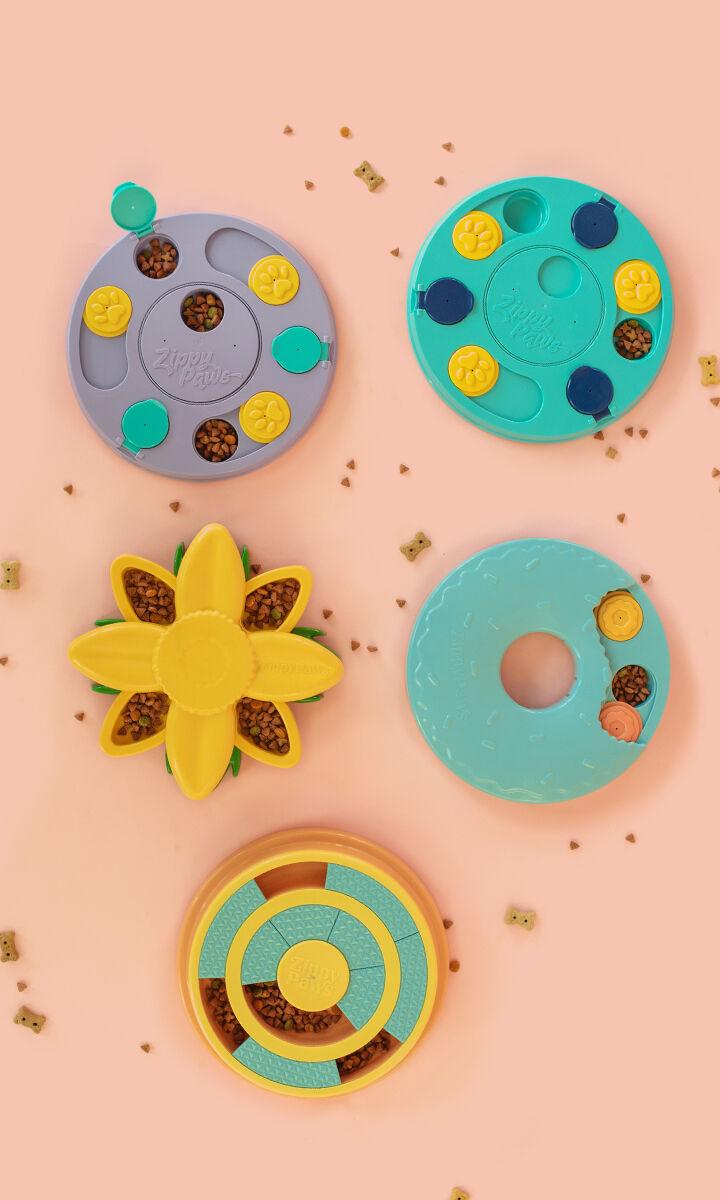 ZippyPaws' SmartyPaws Puzzlers are fun and engaging brain games that challenge dogs to locate the rewards their owners place inside. Owners can start by simply putting their dog's favorite treats or kibble in the puzzle compartments and letting the games begin. Each game features multiple levels of difficulty that require sliding and rotating to reveal the prizes inside. The games are great for keeping a dog's mind active, stimulated and happy while teaching them problem-solving skills and improving their dexterity. 
---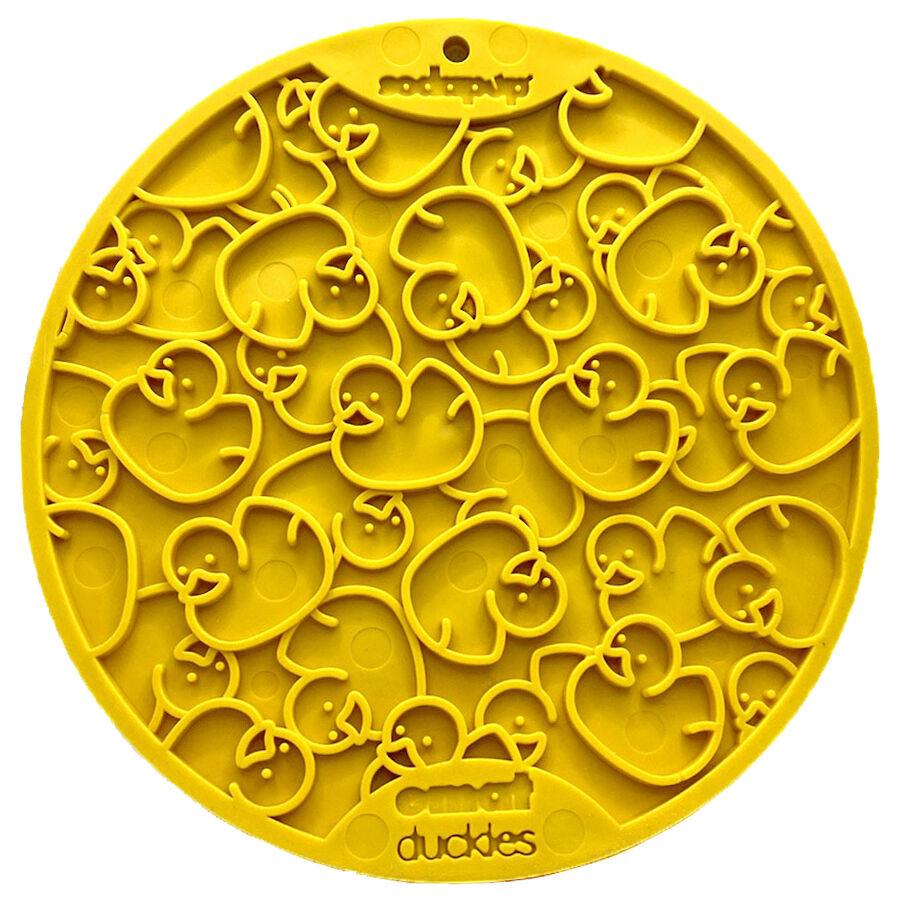 SodaPup offers the Duckies Emat. This lick mat has a rubber duckies pattern on the front and suction cups on the back so that it can be used in the bathtub while owners are giving their dogs a bath. With a more complex surface design compared to traditional lick mats, it takes dogs longer to lick clean. This means more enrichment without more calories. The level of difficulty of the mat is moderate.
---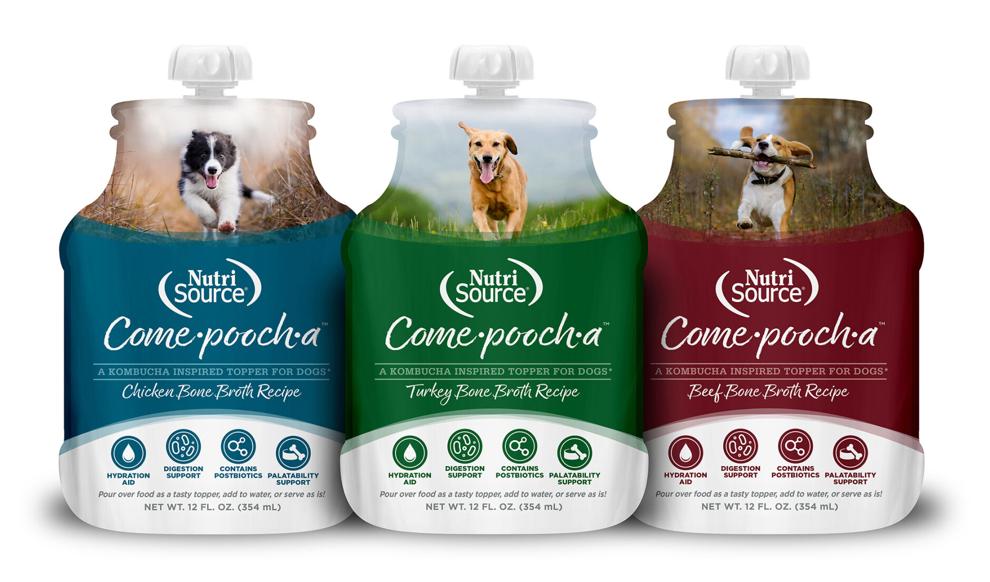 NutriSource Pet Foods presents NutriSource Come-pooch-a. Inspired by kombucha, the savory meaty bone broth topper is packed with activated postbiotics from fermentation product, supporting hydration and digestion in dogs. The topper offers natural postbiotics that thrive in the gut and promote a healthy gut ecosystem. Its aroma and flavor tempt picky and stressed dogs to eat their kibble. The topper can also soften kibble when it's difficult to eat and offer additional hydration support when added to a water dish. 
---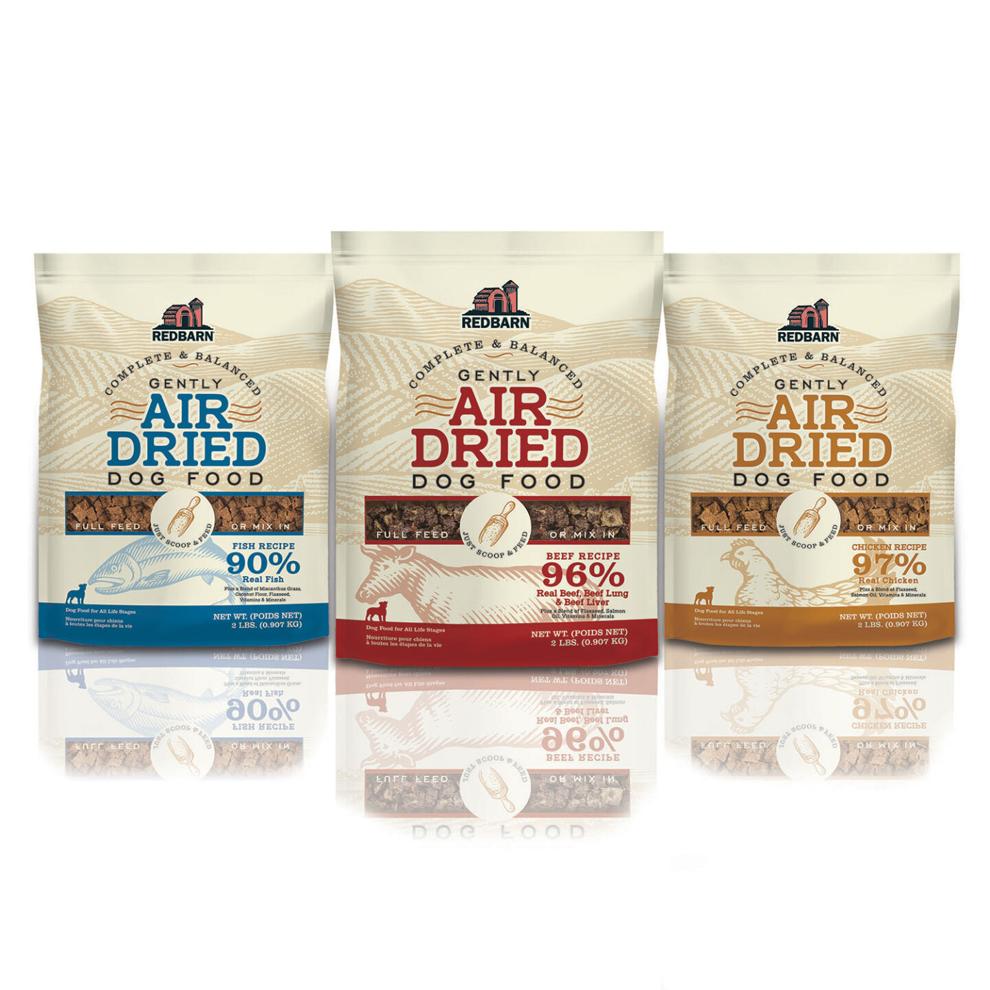 Redbarn Pet Products presents Air-Dried Dog Food. Each recipe starts with six pounds of meat prior to the oven-roasted cooking process. All three recipes are prepared with 90 percent or more meat, fish or poultry. The oven-roasted cooking process used not only creates a tantalizing taste and crunchy texture, but also allows the animal proteins to retain more nutrients than other high-heat cooking processes. Made with simple, wholesome ingredients, the recipes are complete and balanced with a blend of ingredients like salmon oil, flaxseed, and vitamins and minerals.
---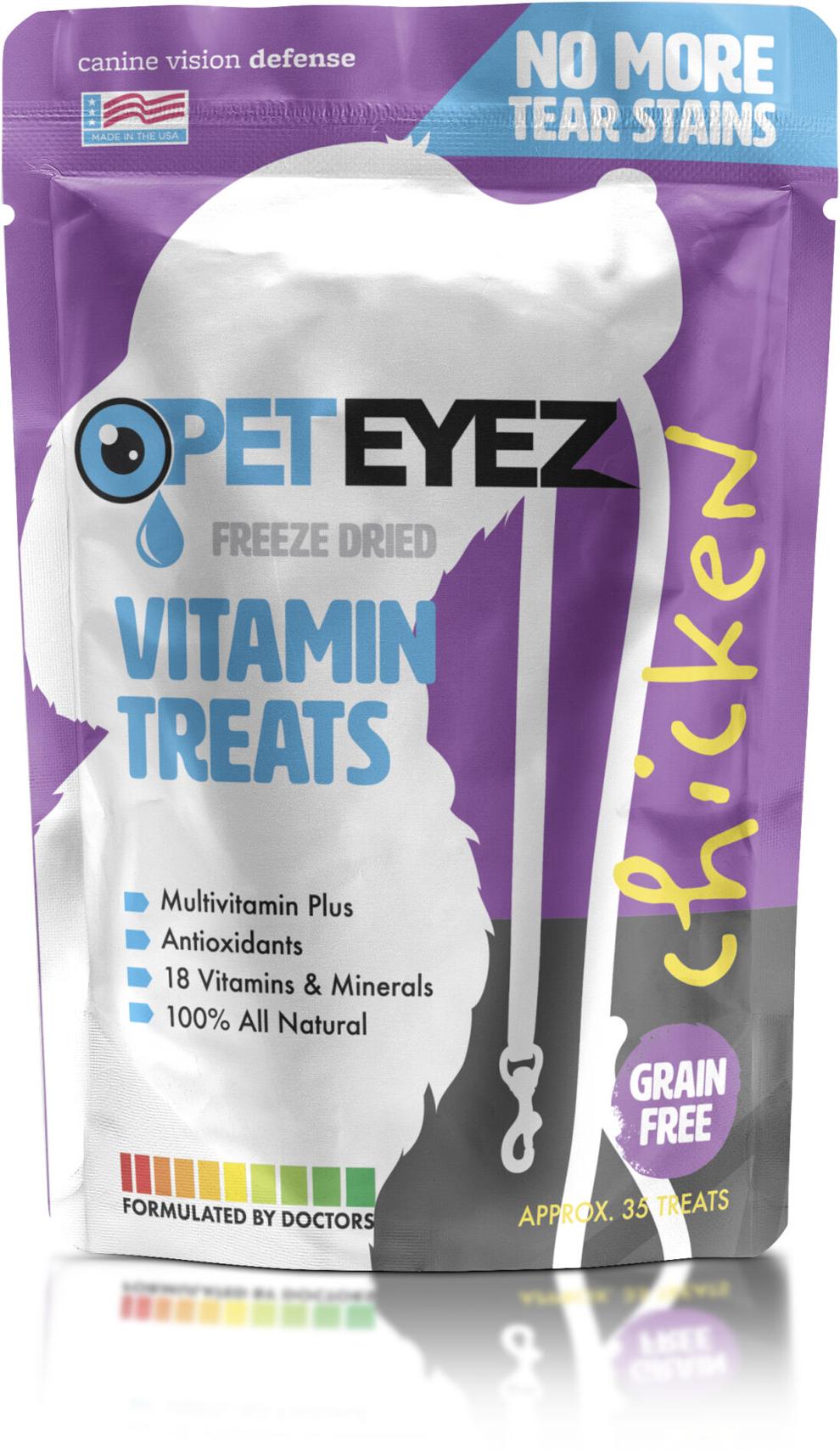 The Fit Organization presents Pet Eyez, no-more-tear-stains dog treats with added nutritional benefits for a younger, healthier-looking dog. Packed with 18 vitamins and minerals, they include antioxidants that are critical in providing essential ocular support while removing the porphyrin that causes tear staining. The treats are 100% all natural, grain free and sourced in the USA. Pet Eyez offers a 30-day money back guarantee.  
---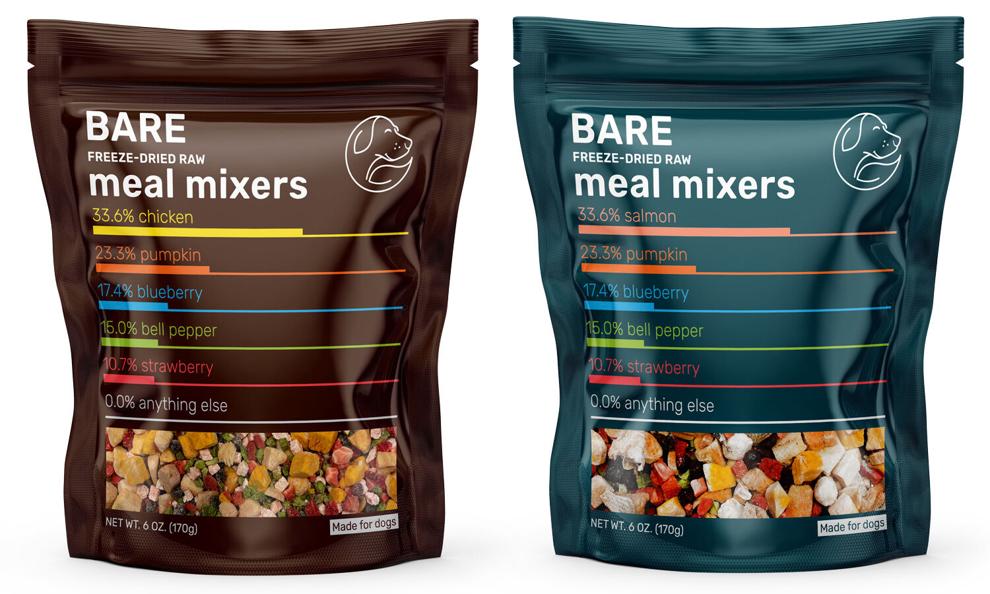 Bare Meal Mixers' products of the same name are freeze-dried raw, whole-ingredient mixtures for dogs that make a healthy snack or can be mixed in with regular kibble. Always made with just five healthy ingredients, and never any additives or preservatives, they bring the power of simple, natural ingredients to any occasion. The mixes contain chicken or salmon plus pumpkin, blueberry, bell pepper and strawberry. 
---
Dog & Cat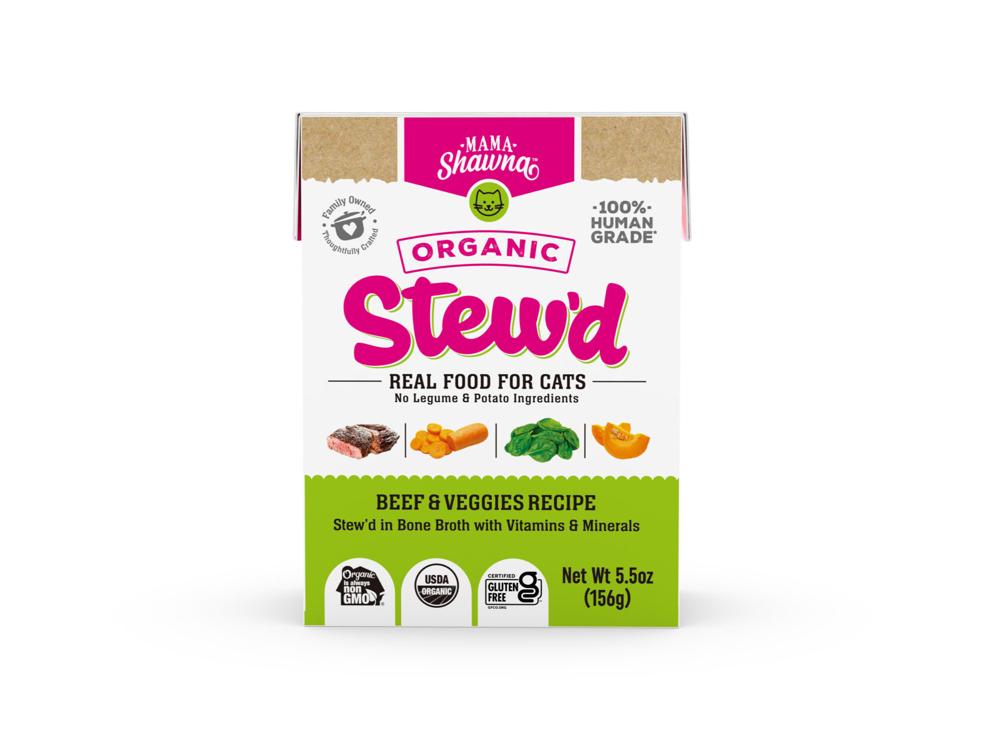 Mama Shawna offers Stew'd, a line of recipes thoughtfully crafted to support dogs' and cats' overall health. Every veggie, protein and ingredient has been selected for its nutritional value and wholesome goodness. Each recipe contains essential vitamins and minerals. The food is made in the USA with human grade ingredients, stewed and packed in an FDA and USDA organic certified inspected facility, and prepared according to the FDA regulations for human food. It is non-GMO and certified gluten free. 
---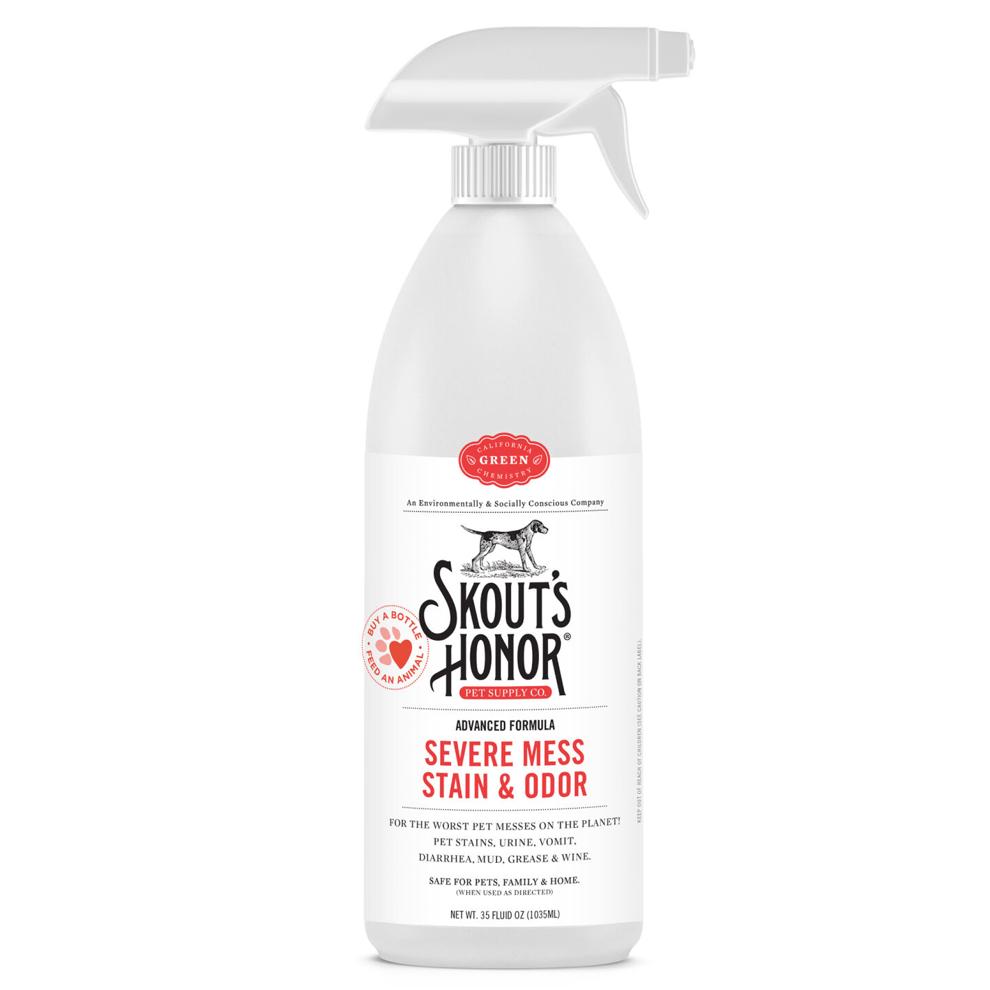 Skout's Honor presents Severe Mess Stain & Odor Advanced Formula, available in a formula for cats and a formula for dogs. In addition to providing extremely powerful and effective solutions for pet owners dealing with everyday and severe pet messes, the cleaning products are earth-friendly and plant powered, made with naturally derived ingredients. They are designed to tackle the worst pet messes including urine, vomit, diarrhea, mud, grease, wine, etc. They can be used on carpets, furniture, clothing, bedding and more. 
---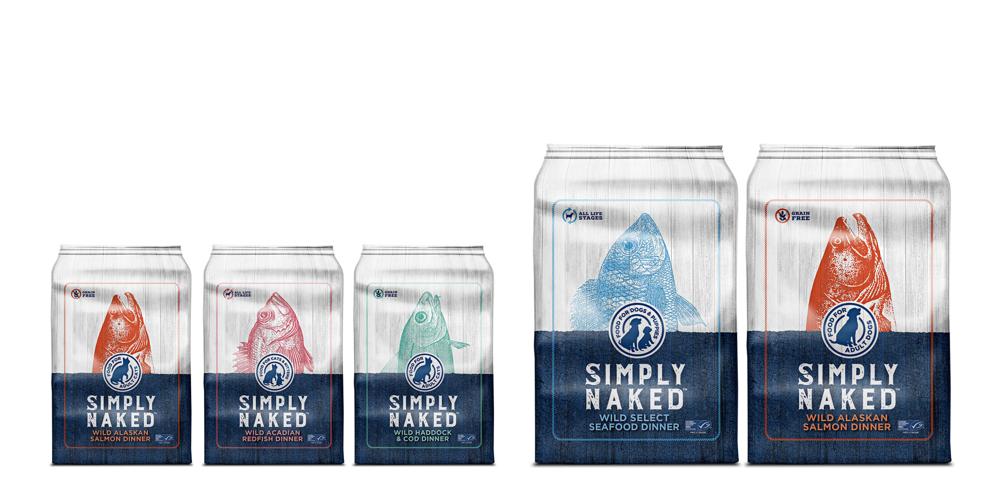 North Coast Seafoods presents Simply Naked Pet Food. The fish-based pet foods offer dogs and cats fish as the first and main ingredient in every recipe, and they're prepared with wild-caught fish from Marine Stewardship Council (MSC) certified sustainable fisheries. The foods are rich in omega-3 and -6 fatty acids, which promote healthy skin and coats while supporting the immune system, heart health, brain development and digestion, the company states. Along with fish, a good source of lean protein, the foods contain wholesome ingredients packed with essential vitamins and minerals, antioxidants and prebiotics, and micronutrients for a complete meal in every bowl. 
---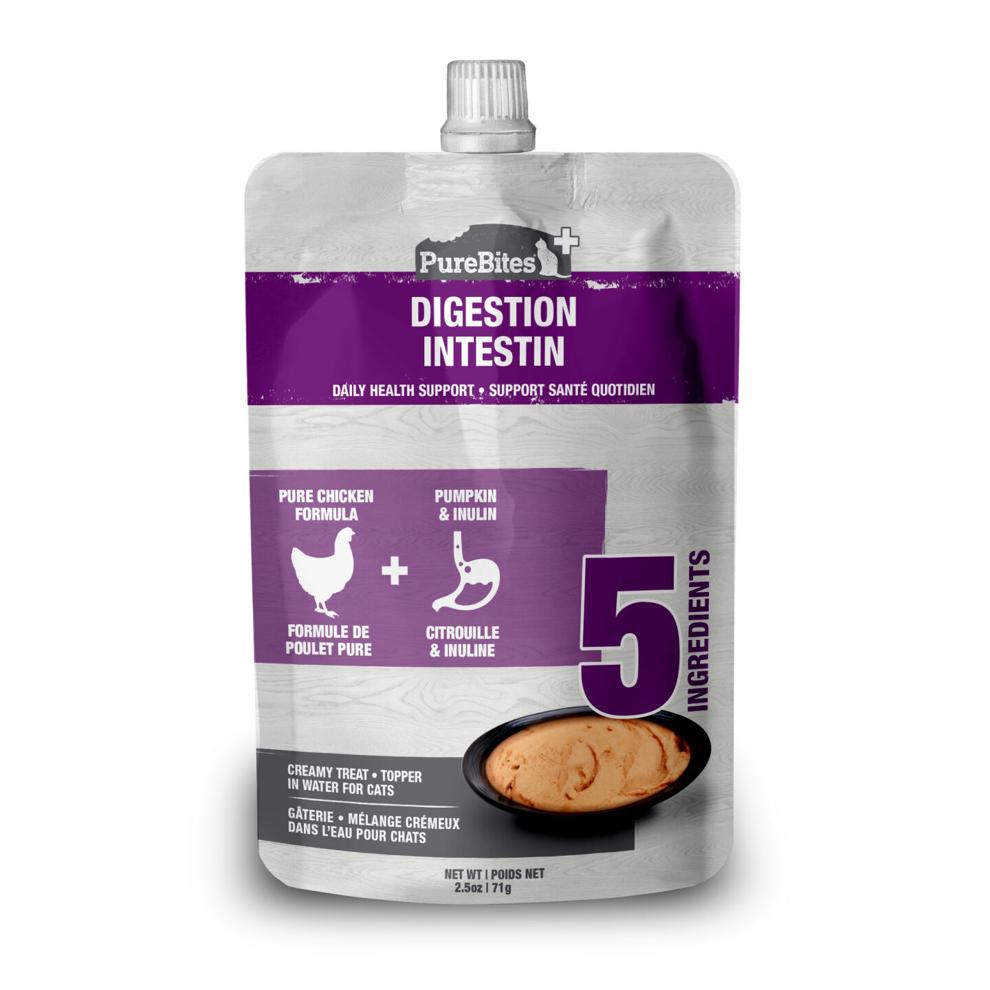 Pure Treats' PureBites+ Squeezables dog and cat treats are made with only five simple human-grade ingredients. They can be fed as a healthy and functional treat, mixer or topper. They are made fresh and pure in a creamy texture and in a fun and interactive squeezable pouch, locking in the taste pets crave and superior nutrition that pet owners love. They come in formulas to support digestion, skin and coat, and heart and eye health.