The Best Royal Canin Dry Cat Foods Reviewed
It's only natural to want the best for your feline companion. The most beautiful environment is filled with the best toys, treats, scratching posts, and the most suitable diet. However, selecting cat food from a wide range of options isn't always an easy task.
To make the food selection process a lot easier, we researched the best Royal Canin Dry Food for your satisfaction. These products have been selected based on quality, unique solutions, and consumer reviews. Royal Canin has a wide range of products from which to choose. With this, you don't have to do guesswork when choosing an appropriate dry food for your fur baby. Included with each entry is a list of pros and cons for that food. With all that said, you are the one who knows your cat the best and will know exactly what they'll like.
Best Overall: Royal Canin Fit & Active Dry Cat Food
The Royal Canin Fit & Active Dry Cat Food is our favorite Royal Canin recipe for your cat. But, when it comes to an outdoor cat, you can never be too cautious about safety and nutrition. You never know what they are up to when they are out and about, making them susceptible to harmful bacteria.
This product is carefully designed for adult cats aged 1 and above who have outdoor access. With its purrfect blend of antioxidants, vitamins, and minerals, you can be confident that your feline best friend will have the immune support and energy needed to live a happy, long life. In addition, this product's caloric content also aids in weight maintenance.
Although it contains many vitamins and minerals, the protein content is low, and the carbohydrates are high, which is not ideal for cats.
Recently, a tester introduced this product to his Maine Coon, who leads an active lifestyle. He was up to his perfect weight, and his coat looked better after going through a full bag of the food.
Pros and Cons of Fit & Active Dry Cat Food
| Pros! | Cons! |
| --- | --- |
| contains antioxidants vitamins and minerals. | Low protein content |
| Supports immune system and boosts energy. | high in carbohydrates. |
| Aids in weight maintenance. | |
Best for Kittens: Royal Canin Feline Health Nutrition Kitten Dry Cat Food
Best for Kittens
Kittens require a peculiar diet rich in vitamins and minerals to develop properly, especially as they enter their second growth stage. At this stage of their kittenhood, there is an increase in activity level and a corresponding decrease in growth rate. As such, kittens aged 4 to 12 months require different nutrition than younger kittens.
The Royal Canin Kitten Dry Cat Food comes in handy here. It's packed with an exclusive blend of antioxidants that supports a kitten's developing immune system. It also features a combination of highly digestible proteins, fibers, and prebiotics to aid digestion and keep their bodies in good shape. This dry food is easy to chew and gentle on kittens' growing teeth thanks to main ingredients like chicken by-product meal, brown rice, brewers rice, and chicken fat.
Based on a veterinarian's recommendation, one of our testers switched to this product. "My 4-month-old kitten can't get enough of it," she says. He's also been gaining weight."
Pros and Cons of Feline Health Nutrition Kitten Dry Cat Food
| Pros! | Cons! |
| --- | --- |
| Contains highly digestive proteins and fibers | Chicken by product isn't the healthiest for cats |
| contains prebiotics to aid digestion | |
Best for Indoor Mature Cats: Royal Canin Feline Health Indoor 7+ Dry Cat Food
Best for Indoor Mature Cats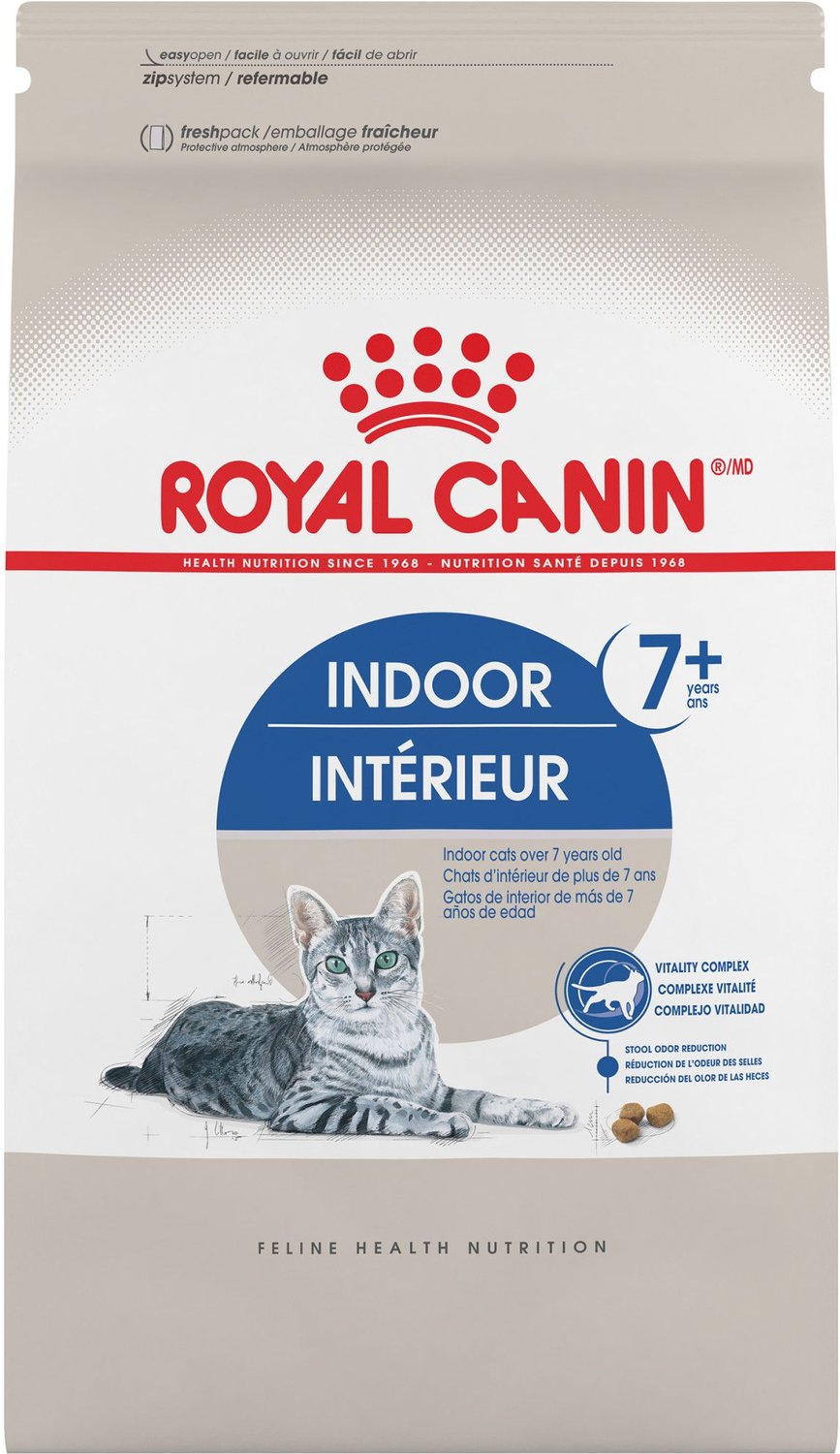 Is your cat's muscle mass decreasing, or have you noticed a decline in its sense of taste and smell? These symptoms indicate that your cat is aging and needs extra nutritional support to remain healthy during its mature years.
This product is perfect for mature cats aged 7 and above as it contains key nutrients that promote your cat's relaxed lifestyle. It also incorporates a variety of vitamins and minerals, including vitamin C, EPA, and DHA, to keep your cat healthy and active. Unfortunately, digestion, litter box odor, and renal issues are all quite common in mature cats. The good news is that this recipe gives them a fighting chance against these health problems by featuring 0.49% phosphorus and 27% highly digestible proteins.
Curious about the size of the kibble? It can be easily broken down in the cat's mouth to protect sensitive teeth and gums.
My cats, ages 6 and 8, gave this product their approval. One tester said of the Royal Canin Feline Health Indoor 7+ Dry Cat Food, "Their fur is shinier, waste and activity level have also changed."
Pros and Cons of Feline Health Indoor 7+ Dry Cat Food
| Pros! | Cons! |
| --- | --- |
| It caters to the needs of aging cats | It's relatively expensive |
| It eliminates litter box odor | Corn is listed as the first ingredient |
Best for Siamese Cats: Royal Canin Siamese Adult Dry Cat Food
Best for Siamese Cats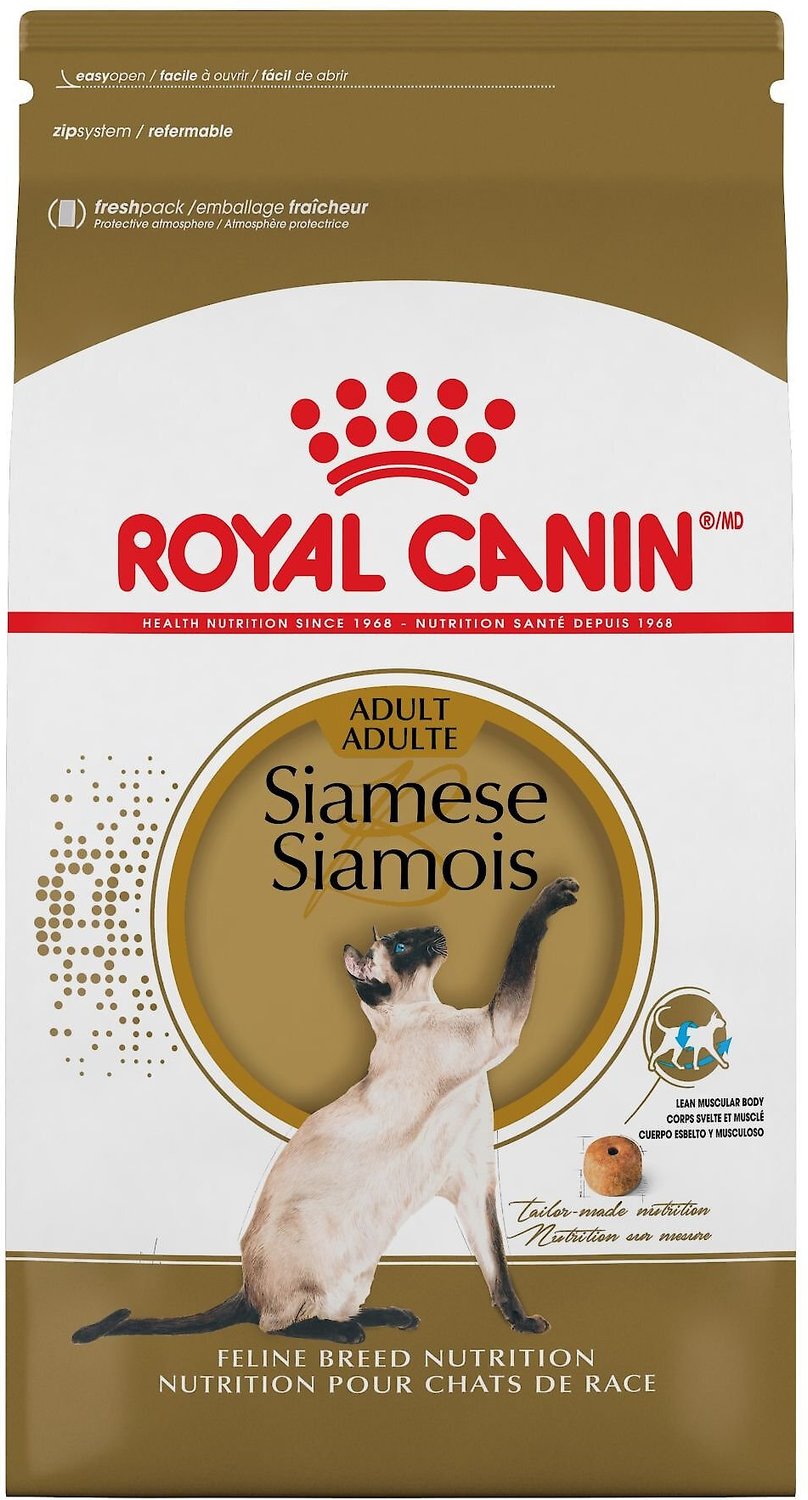 Siamese cats are one of the popular cat breeds known for their distinct appearance, friendliness, chattiness, and pale coloring around their paws, faces, and tails. 
However, this feline breed is prone to diarrhea, progressive retinal atrophy, and gastrointestinal disorders. Not to worry, you can increase your Siamese cat's chances of living a full, long life with quality care and nutrition. This breed-specific formula contains targeted levels of protein, prebiotics, fat, and other vital nutrients such as vitamins, amino acids, and omega fats for purebred Siamese cats aged 1 and above. These help to promote healthy digestion, maintain your fluffball's sleek physique, boost gut bacteria, and keep their coat lustrous and shiny.
The kibble is a ring shape to fit a Siamese cat's long and narrow jaw. It not only allows them to chew properly but also promotes oral hygiene. 
For 3 consecutive months, we fed this to a 2-year-old Siamese with a low appetite. It's safe to say that he likes this product because he has more energy, eats slower, remains fuller for longer, and doesn't throw up.
A user shares their experience with the Royal Canin Siamese adult dry cat food, saying " My rescue Siamese has been eating Royal Canin Siamese Dry Cat Food for three years and has had no GI issues. The individual pieces are shaped in such a way that she must take her time to bite her food, preventing her from eating too quickly. She weighs 9 pounds, which the vet says is normal. Her coat is stunning!"
Pros and Cons of Siamese Adult Dry Cat Food
| Pros! | Cons! |
| --- | --- |
| It's specially formulated for Siamese cats. | It has corn ingredients |
| It has a high protein content | It's pricey |
| | Chicken by-product is listed as the first ingredient |
Best for Long-Haired Cats: Royal Canin Indoor Long Hair Dry Cat Food
Best for Long-Haired Cats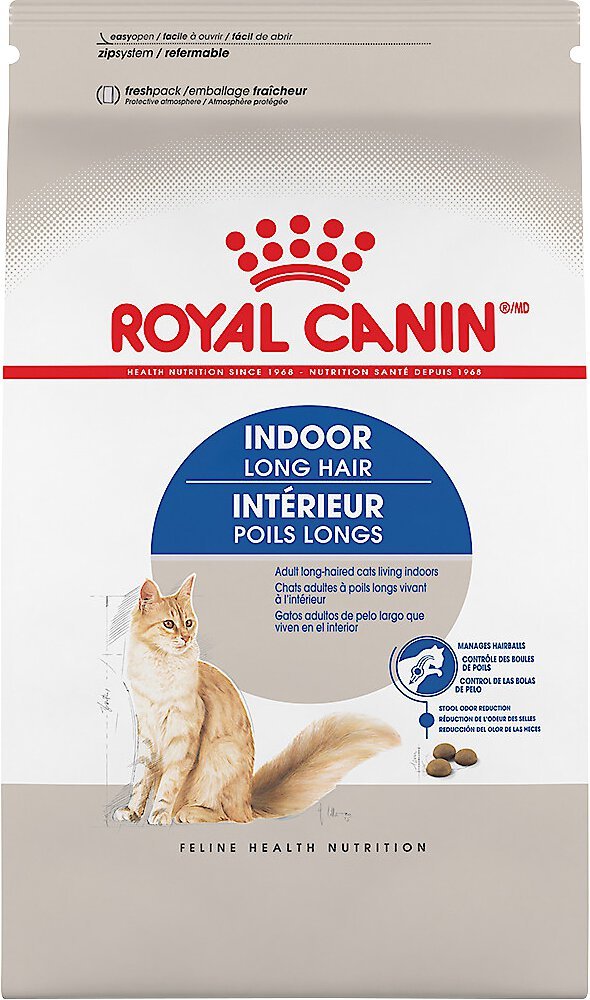 Recommended for long-haired cats between the ages of 1 and 7, this product does a job of tackling hairball, weight gain, and digestive problems in your feline friends.
The formula contains fatty acids, such as EPA and DHA, to help keep your pet's skin and coat healthy and shiny. It also features a nutritious blend of fiber for hairball maintenance.
Its highly digestible proteins reduce litter box odors and your cat's overall waste output, while the caloric content ensures that your cat maintains an ideal weight. Although it does contain low moisture content which may increase drinking and peeing.
"I have seen far less shedding, fewer hairballs, and brighter coats since my long-haired cats have been eating it," one of our testers said.
Pros and Cons of Indoor Long Hair Dry Cat Food
| Pros! | Cons! |
| --- | --- |
| Contains omega-3 fatty acids | It is low in moisture content |
| Helps maintain healthy skin and coat | Makes cats drink/pee more |
| Contains highly digestible protein | |
Best for Mother and Baby Cats: Royal Canin Mother & Baby Cat Dry Cat Food
Best for Mother and Baby Cats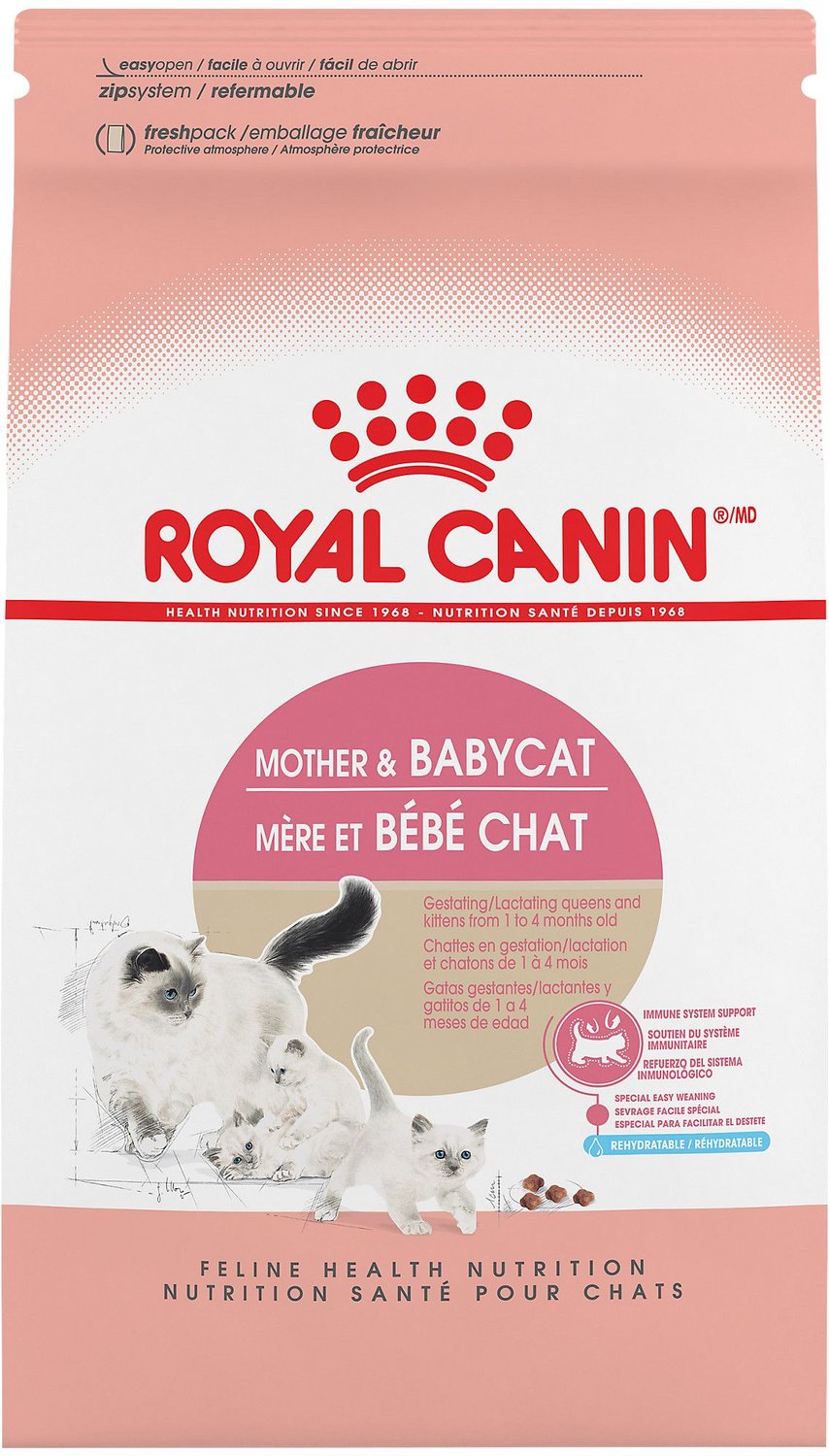 One thing about Royal Canin? They produce recipes to meet specialized cats' needs. This product isn't an exception.
Rich in protein, fat, DHA, and other essential nutrients, this dry cat food is specifically formulated to support young kittens (1-4 months) and pregnant and nursing cats. It is also packed with antioxidants, prebiotics, and vitamins to support the digestive and immune systems. 
This product helps your kitties develop healthy brains while also ensuring milk production and the overall well-being of the nursing mother cat. The one-of-a-kind, tiny kibble can be rehydrated with warm water for a softer food that helps kittens transition to a more adult diet.
One of our testers fed this product to their fur babies. In their words, "It's ideal for kittens who are learning to eat dry food for the first time. There's also plenty of nutrition for nursing mothers."
A foster parent explains the proven benefits of the Royal Canin mother & baby cat dry cat food. They said, "It's ideal for when the little fuzz balls are ready to transition from mother's milk alone to wet food, then dry food. Because the pieces are small, they can easily chew them. Some of the kittens I've fostered have even expressed a preference for this Royal Canin over wet food. Mom cats, of course, adore it, providing them with all the nutrients they require."
Pros and Cons of Mother & Baby Cat Dry Food
| Pros! | Cons! |
| --- | --- |
| Rich in essential nutrients | Contains a lot of carbohydrates and maize |
| helps kittens develop healthy brains | |
| Helps moms in milk production | |
Choosing The Best: What To Look For
Health Conditions
Your cat's health can influence the ideal type of food for your cat. Cats with diarrhea, for example, may require foods high in moisture. Pregnant or lactating cats need a high-protein diet. It's best to always check with your veterinarian about your cat's nutritional needs.
Life Stage
Every stage of your cat's life has different dietary requirements. So, from kitten to adult to senior, you should consider your cat's life stage before buying a product. For instance, kittens typically need more protein and calories than adult cats for their proper development. On the other hand, senior cats' foods shouldn't have as high caloric content as adults' foods.
Activity Level
Is your cat an outdoor or indoor cat? How often do they engage in physical activities that may lead to calorie loss? These are some of the questions you should answer before making a purchase.
Up Next…
Take a look at a few of our other cat articles.