LIVING WILD: Sanctuary for reptiles and amphibians thriving in Mineral Wells | Mineral-wells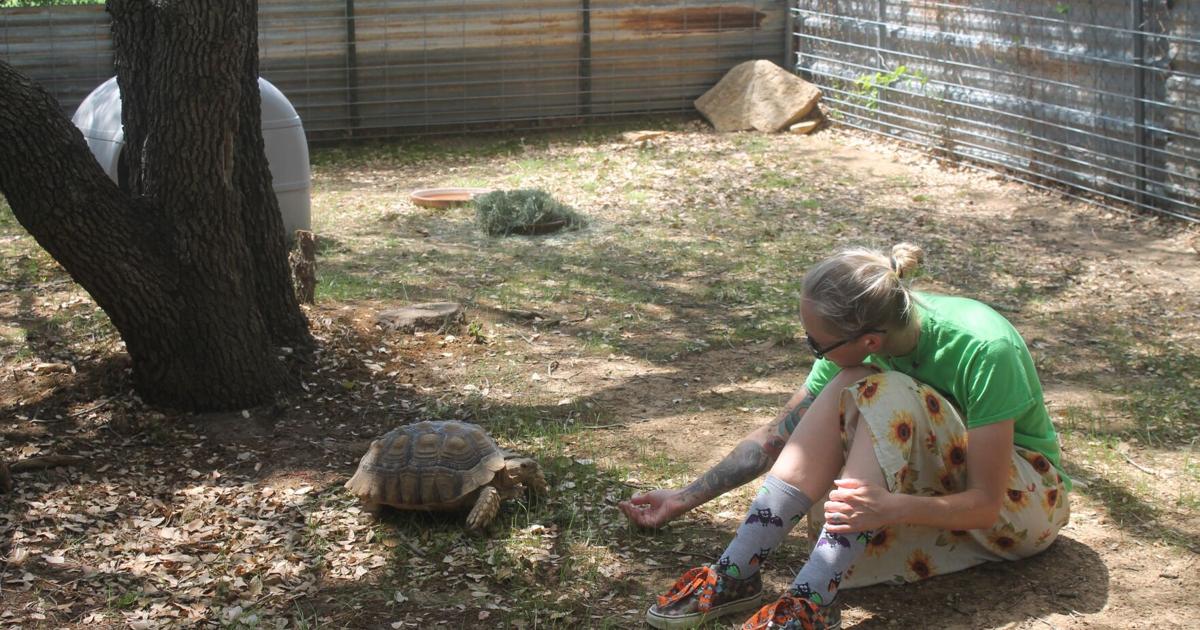 MINERAL WELLS — A recent sunny day brought an opportunity for Pickles to enjoy a little outdoor physical therapy for his injured legs, so his caregiver placed him in a clear plastic tub and carried him outside.
It was wild.
"Here, now you can see," Kathryn Neil cheerfully told the bearded dragon and sat at a nearby picnic table in her backyard. "The sunshine is super for everybody."
The monitor lizard began to scuttle about, chiefly by his short front legs with the larger rear ones looking sort of coordinated as the front legs pulled him forward. Pickles clearly favored the side of the clear tub nearest to Neil, his reptilian face aimed directly at her unless a visitor across the table was speaking — then, it would tilt toward that speaker before returning its aim at Neil.
"As you can see, he's bright and alert," said Neil, founder and director of Living Wild Outside in northeast Mineral Wells. "When it comes to the reptiles, they have to have a certain tenacity to them. They have to want to live."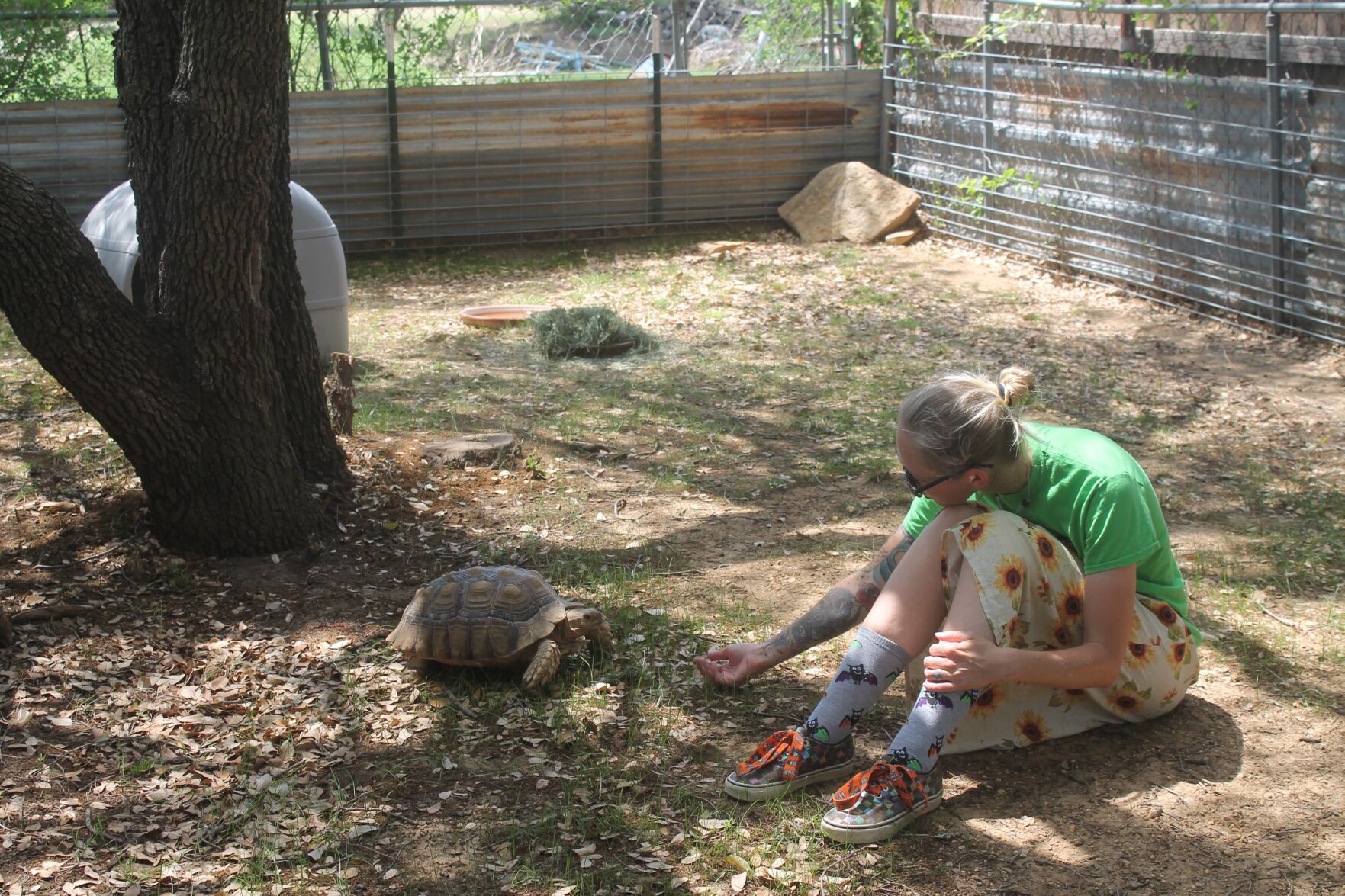 All around her were cages on the ground, leading to an open-air box turtle enclosure. A snake house stood where other people would have a garden shed, while aquatic turtles huddled beneath logs and other cover in three repurposed stock tanks.
"We try and give them as much of an outside vibe as we can," Neil, a former Texas Parks and Wildlife walking tour guide, said of the menagerie of critters in her care.
Living Wild Outside, the well-chosen name for the nonprofit reptile and amphibian sanctuary Neil started in December 2020, averages about 50 guests at any time. Many of its residents are like Pickles, arriving in some state of distress or injury.
"Most of them are surrenders," Neil said. "Some of them come from shelters. … Last year, we had 123 adoptions. Those are the real heroes, because if they didn't come I've got no space."
Don't take that to mean box turtles, boa constrictors and bearded dragons are there for the taking. Neil is choosy about turning over the animals she's nursed back to health.
"I'm really picky about where they go," she said. "I look at Facebook and Google your house."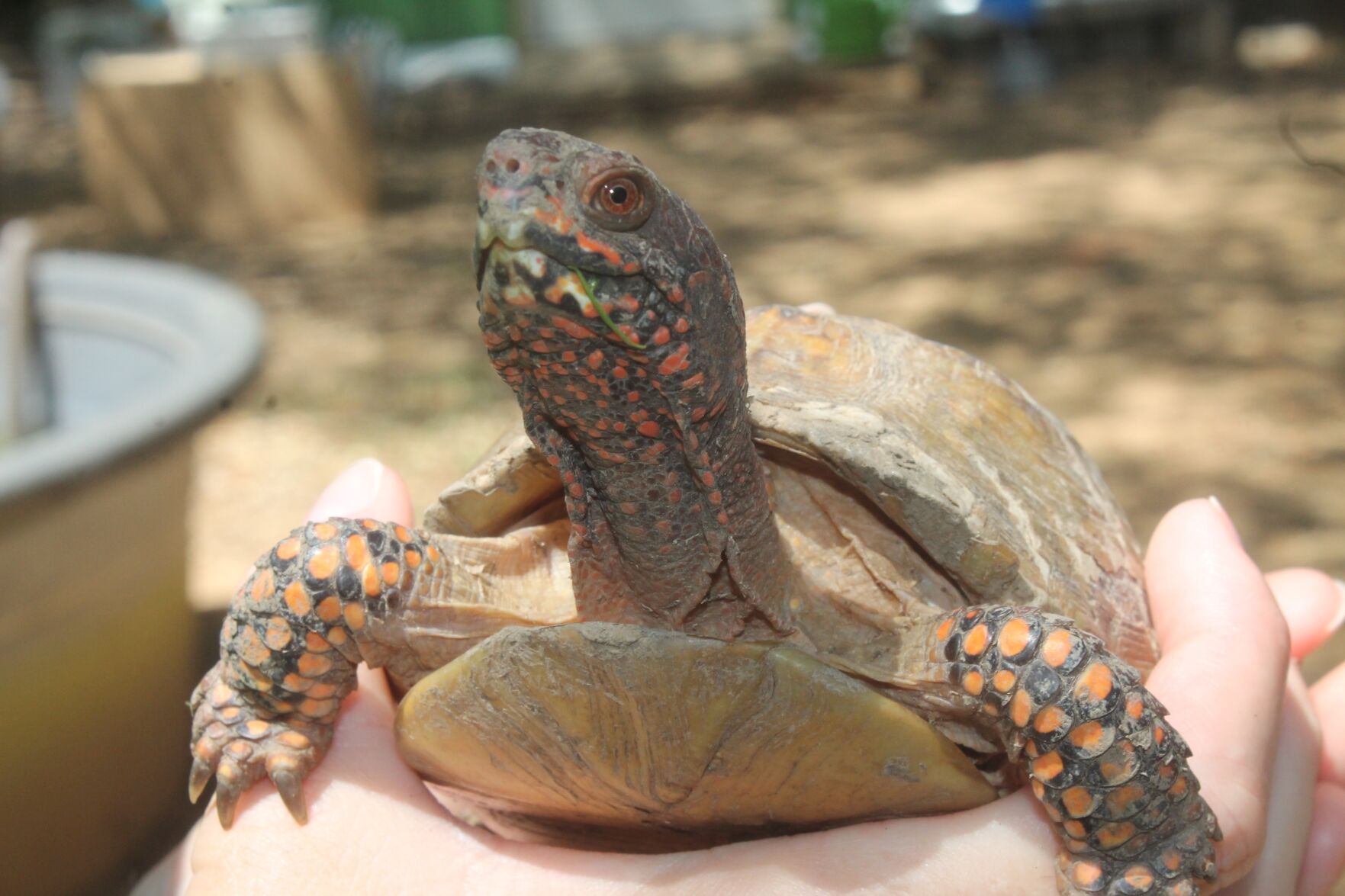 She's not being nosy, but even a tiny Russian tortoise requires 600 feet of grazing range. (For the box turtles, which are native Texans, potential adopters need a Parks and Wildlife permit).
Some animals are permanent residents like a red-eared slider turtle named Crush, who earned her descriptive name by surviving the car that shattered her shell.
The injury left a gaping hole in Crush's shell, but the membrane beneath was not punctured and healed over.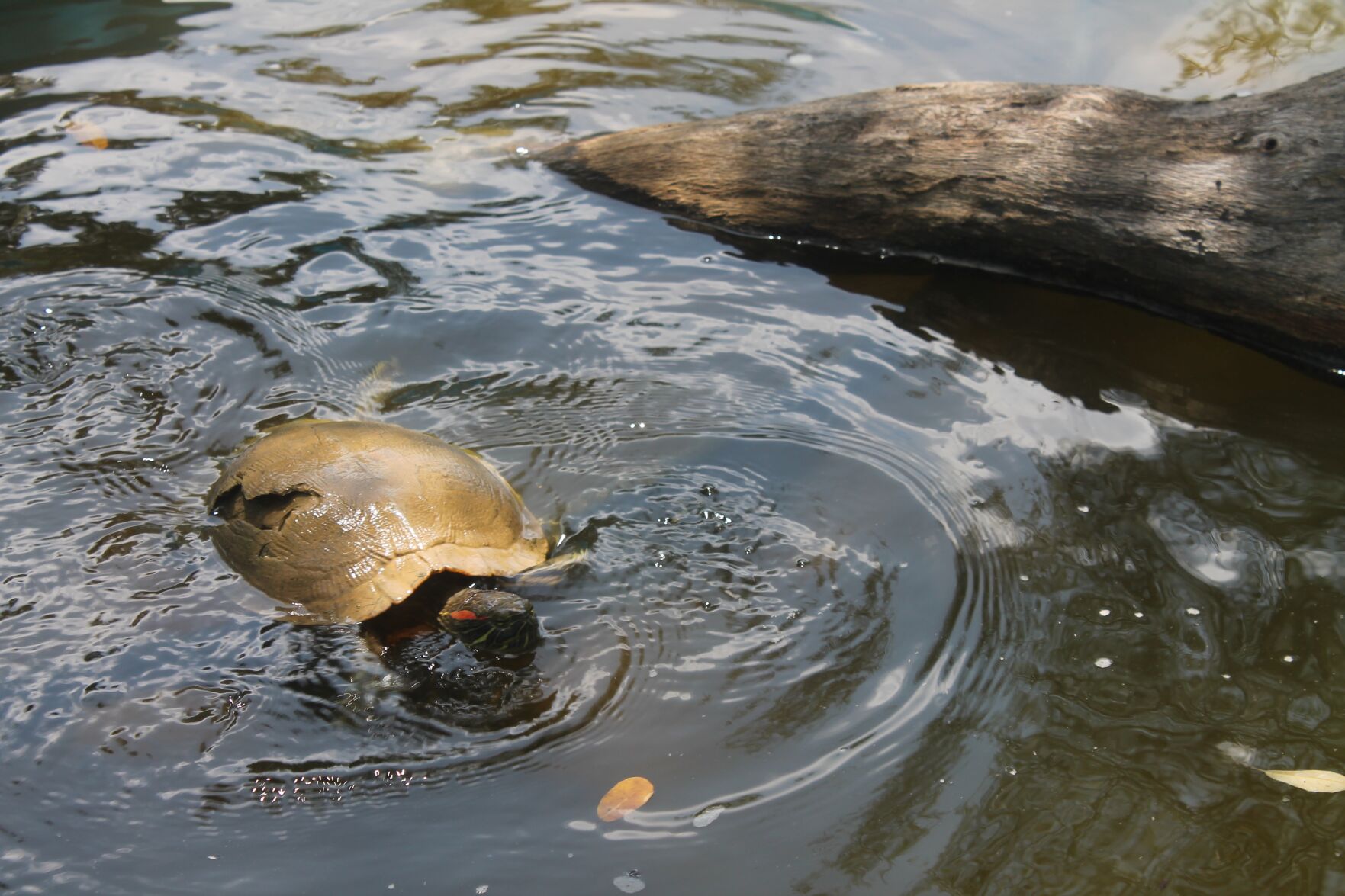 "She's happy and healthy and doing well," Neil said.
Everyone seems to be doing well at Living Wild Outside. That becomes crystal clear to a visitor, but what's fantastically evident is the face-to-face relationships Neil and her charges share.
The aquatic turtles in their stock tanks will emerge from cover at the sound of her voice. Crush seems to want to fly from the water as she pulls herself across an in-pool lip to reach the side where Neil stands.
Sometimes, she retires to the box turtle enclosure for a shady reading spot. When she does that, those turtles will gather around the woman with a tiny turtle tattooed on her neck like pre-schoolers who think it's story time.
And then there are Pickles and his reptile brethren and their preference for Neil's voice.
"Reptiles are just creatures that are unloved," she said. "And this was something that needed to happen. … It's always a work in progress here."
She brings out Marcy, a savannah monitor she described as "one of our severe abuse cases" who needed tender loving care for a change.
"She hated everything," Neil said of Marcy. "And how do you stop a creature from hating?"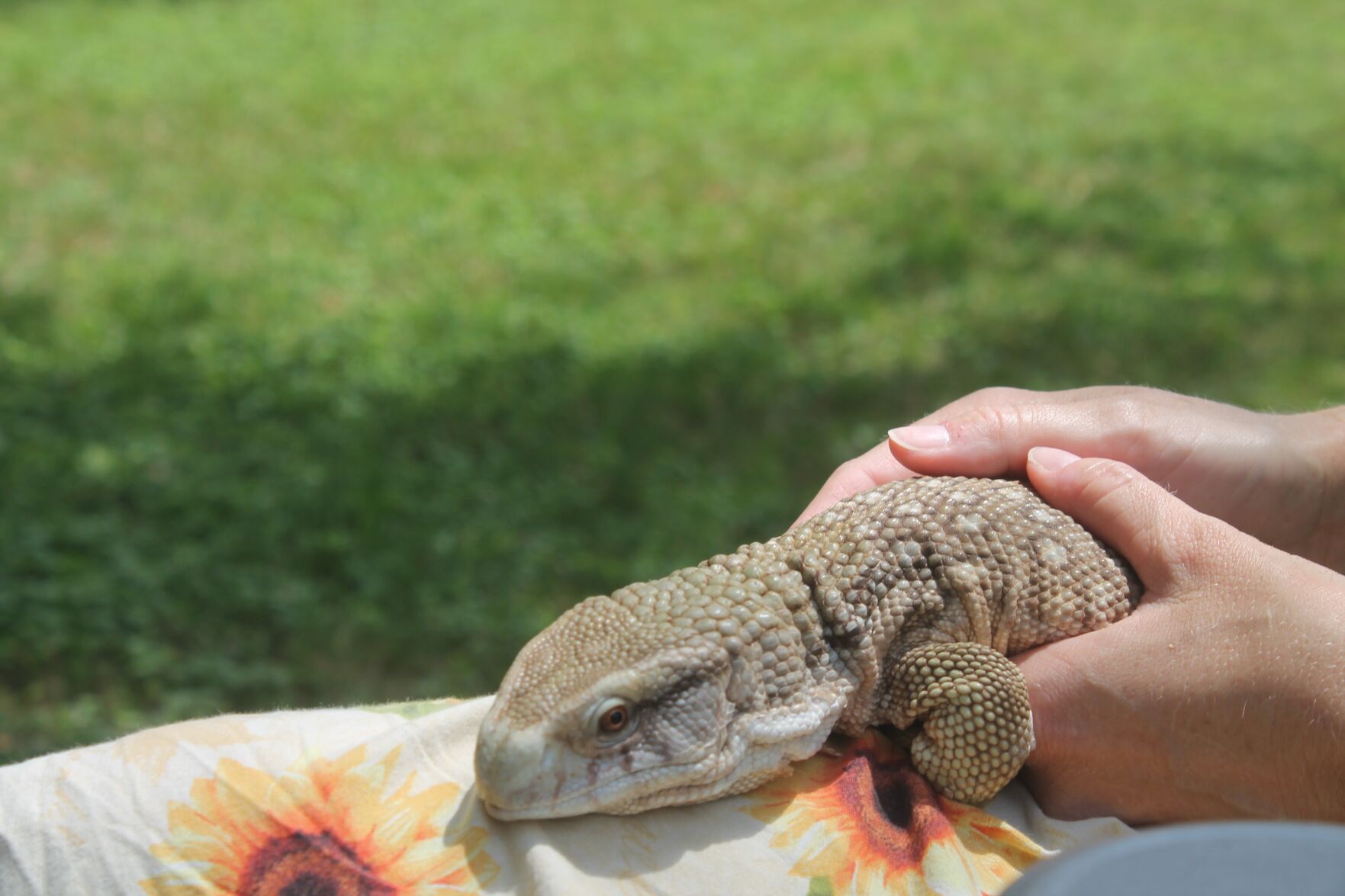 TLC has succeeded for Marcy.
"And she lets everybody pet her," Neil said of the calmer, happier Marcy. "Anybody that comes out just falls in love with the reptiles. They are just sweet creatures. … All reptiles are pretty intelligent. Every reptile knows his name."
Like the box turtles at story time, reptiles just want attention.
"And if you don't give it to them, they'll get depressed," she said.
That goes as well for the largest resident of Living Wild Outside, a dumerils boa named Ms. Gypsie.
"She's eight feet long and weighs 15 pounds. She's had a long, hard life, just covered in scars," Neil said, probably unaware of the dark humor in her next statement. "She loves children."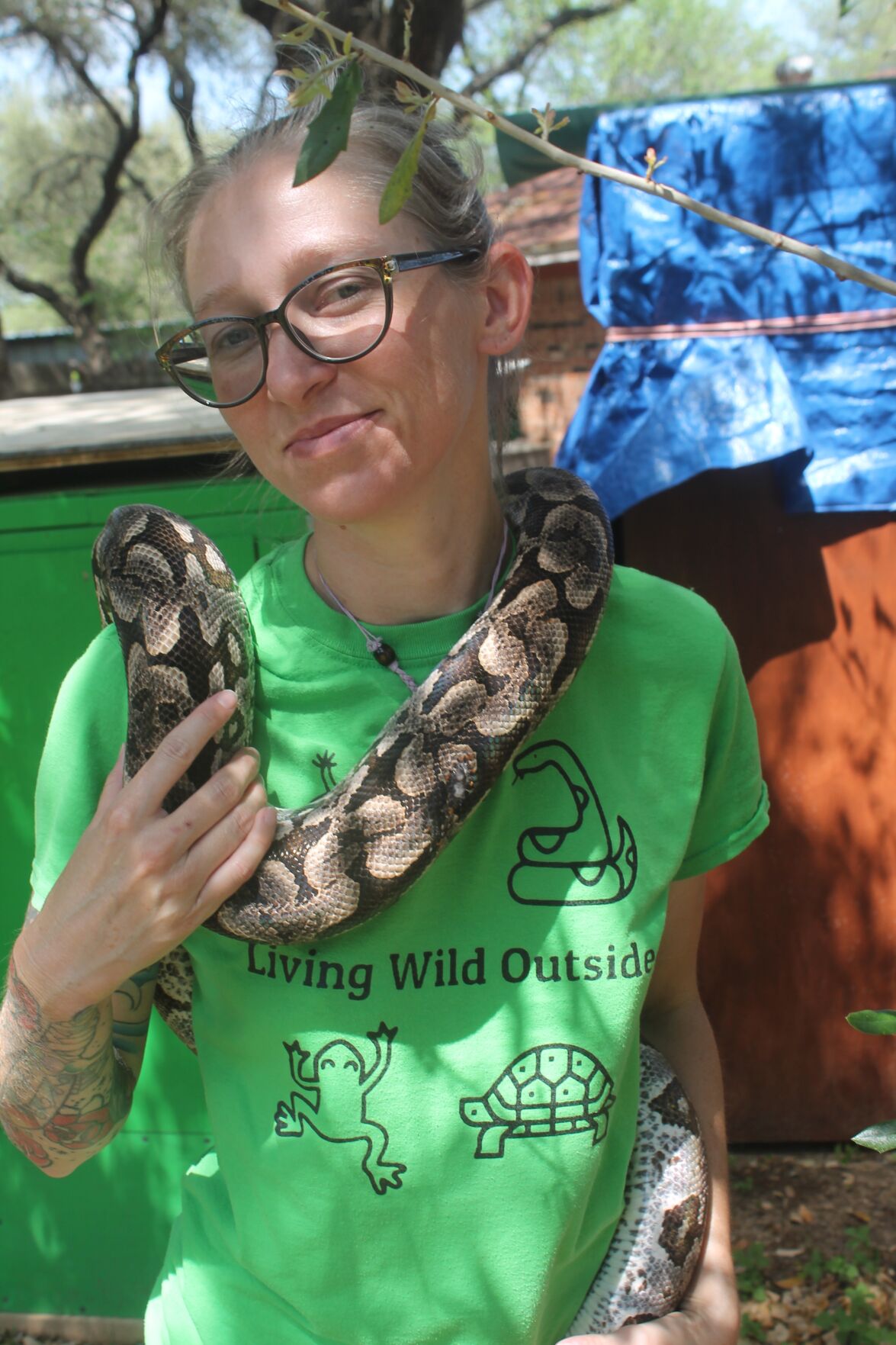 Neil said the veterans seem to let newcomers know they've landed on safe soil.
"When they get here, No. 1, whatever problem they have is over," she said. "And everybody is, 'Hey, it is chill here.' So, I'm glad to be able to provide that for them."
Neil envisions her nonprofit enterprise expanding.
"We are an ever-growing facility," she said. "So, in five years, I'd better have 10 acres."
That larger Living Wild Outside will have a medical clinic and a kitchen. Neil said friends have indicated they'll help her build a zooscape, a natural habitat, for those future residents.
"I already have a business plan written out," she said. "I'm just waiting for that opportune moment."
By that, she means, who wants to donate 10 acres to a natural good idea?
Neil shares the gospel of creepy-crawly conservation when she's away from her sanctuary. She plans free shows, highlighted by a backlit sheet to draw huge moths from hiding, at Mineral Wells State Park at 8:30 p.m. this Friday and at 9 a.m. on May 28. Another morning show is set on June 11 with a nighttime production on June 17.
Neil also hopes to participate in upcoming story time sessions at the library in Mineral Wells, including a "special reptile program" there soon.
Meanwhile, the mission creeps forward at Living Wild Outside.
"When they've had a bad life and come here and see another side of the spectrum, they are just grateful," she said.